Disney CEO Bob Iger's Billion Dollar Bets Solid Stock Barometer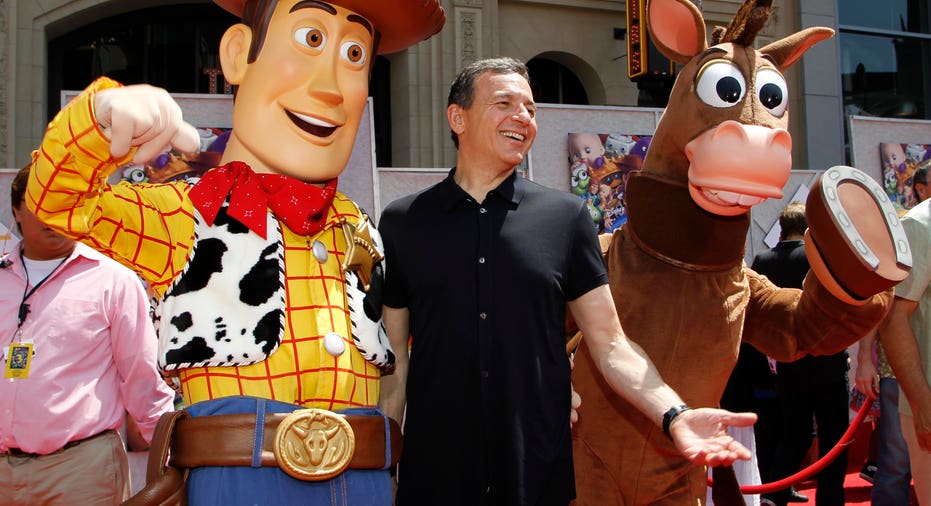 Disney (NYSE:DIS) CEO Bob Iger is no stranger when it comes to doing acquisitions; in fact he's done seven deals since becoming CEO in 2005 and four of those are valued between $1 and $7.2 billion.
BAMTech, the video streaming company announced earlier this month, is aimed at helping revive ESPN, the media giant's crown, which has been losing subscribers. It follows Pixar, Lucasfilm and Marvel.
Despite Disney's deep pockets these deals aren't chump change even for a company of this scale.
Plus billion dollar deals don't always pan out for shareholders. Just look at Yahoo's (NASDAQ:YHOO) $1 billion acquisition of Tumblr. The company recently disclosed the unit is declining in value. Also there was eBay's (NASDAQ:EBAY) $2 billion purchase of Skype which it later dumped for less than what it paid.
In Disney's case, Iger's deals "are home runs" according to Mediatech Capital Partners' Porter Bibb. He tells FOXBusiness.com, "one has to applaud Iger for seeing potential in these standalone properties. He has melded these with the Disney family."
FOXBusiness.com, along with our partners at the WSJ Market Data Group, crunched the numbers and it turns out Iger has a pretty decent track record at turning deals into winners for shareholders.
1. Pixar $7.4 Billion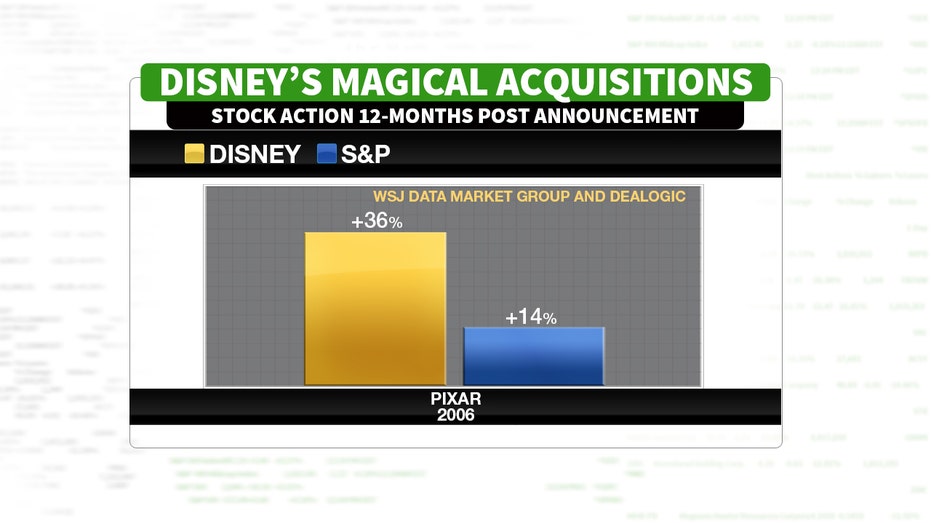 ---
Who knew Woody and Buzz Lightyear would become trailblazers. Disney's 'Toy Story,' on track for film number four in 2018, was the first computer animated film created by Pixar under the direction of innovator John Lasseter who also oversees Disney Animation. Pixar is cranking out hits like 'Finding Dory', the sequel to 'Finding Nemo' released this summer, is close to cracking $1 billion at the global box office. Former Apple (NASDAQ:AAPL) CEO Steve Jobs made an early bet on Pixar before selling it to Disney for $7.4 billion in 2006. In the 12 months that followed, Disney shares jumped 36%, more than double the S&P 500's gain.
2. Marvel $4.2 Billion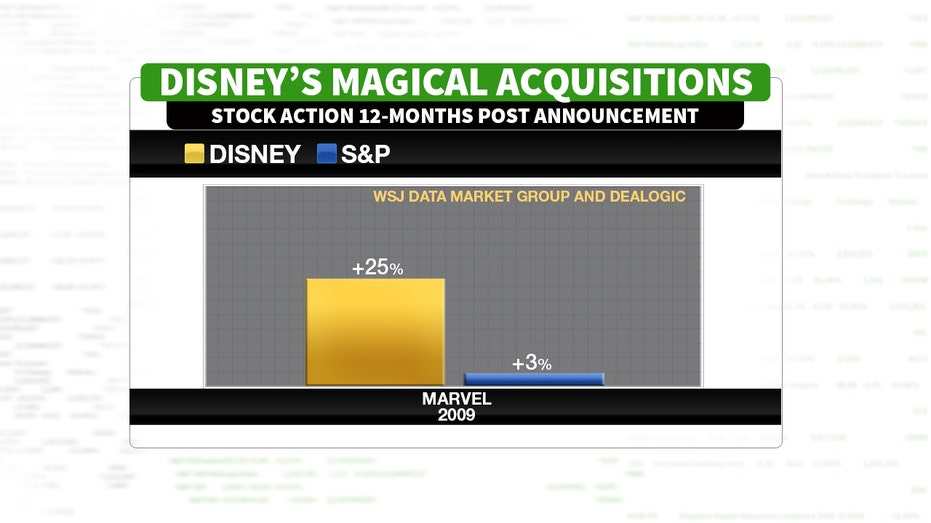 ---
Whether it's 'Iron Man' or 'The Avengers'….they're both pulling their weight. Marvel's 'The Avengers,' 'Avengers: Age of Ultron' and 'Iron Man 3' together have earned $4.1 billion at the global box office and are among the top ten films of all time, according to Boxofficemojo.com.  The franchise has earned Disney back what it paid for the brand in 2009 and then some. Today the entire Marvel team is pulling double duty in the theme parks around the world. Iron Man Experience is set to open at Hong Kong Disneyland while Marvel Universe is up and running at the newly opened Shanghai Disneyland.  Marvel made big money for Disney investors who saw the stock rise 25% versus the S&P 500 which rose a modest 3% in the 12-months following the deal.
3. Lucasfilm $4 Billion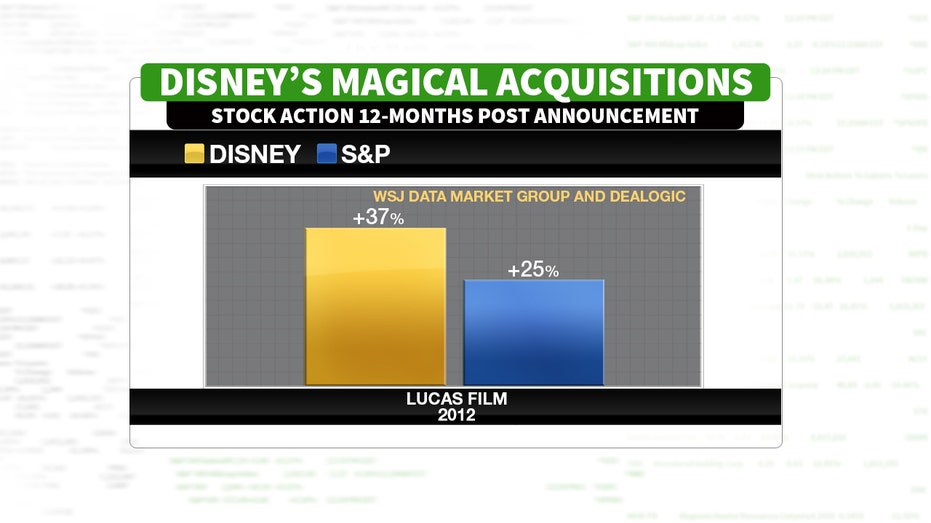 ---
Disney paid George Lucas a cool $4 billion for his studio in 2012 putting the 'Star Wars' franchise, one of the most successful ever, at Disney's disposal. Five of the top ten films in history belong to Disney and the highest earner to date is 'Star Wars: The Force Awakens' which has scored $2.1 billion at the global box office. It's powering other units including Studio Entertainment and Consumer Products & Interactive Media which saw record quarterly profits in 1Q 2016 rising 86% and 23% respectively, as reported by the company. More themed attractions are planned for Anaheim, California and Walt Disney World Resort. The force was with the stock which jumped 37% beating the 25% gain for the S&P 500 in the 12 months after the deal was announced.
4. BAMTech $1 Billion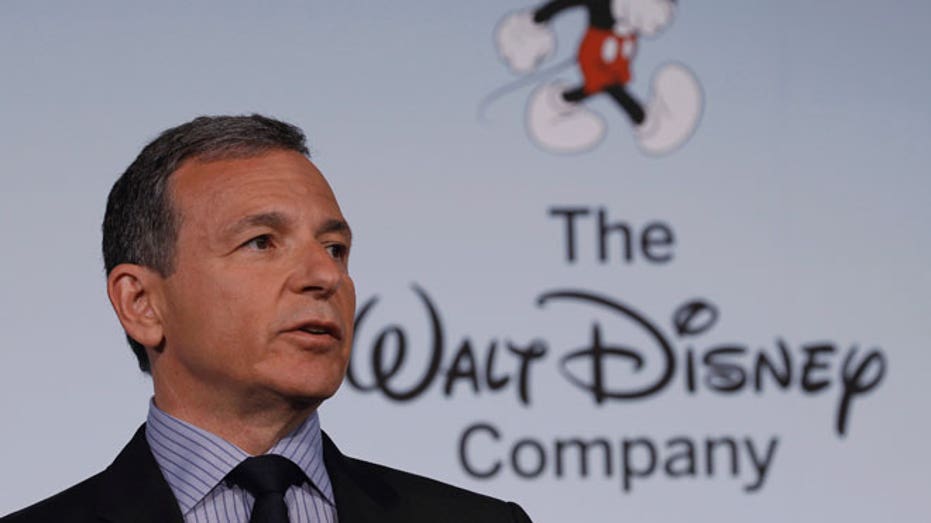 ---
It is too soon to tell if BAMTech will be a home run for Disney but investors seem excited. Analysts predict the video-streaming service will not only handle ESPN content but will also be used for a boat load of other Disney content. Iger paid $1 billion for a 33% stake but hinted he'd like the rest which is owned by Major League Baseball.  "I don't want to say that our purchase of a controlling stake is inevitable, but we wanted to maintain the option to do that, sort of a bit of a walk before we run," said Iger during a call with investors following the deal news adding, "Although admittedly, we're walking very fast initially with the size of this investment." JPMorgan's (NYSE:JPM) Alexia Quadrani says "patient investors will be well rewarded". Her target is $118 per share, a 20% jump from current levels.
Suzanne O'Halloran is Managing Editor of FOXBusiness.com and a graduate of Boston College. Follow her on @suzohalloran.