Disney and Apple Share a Problem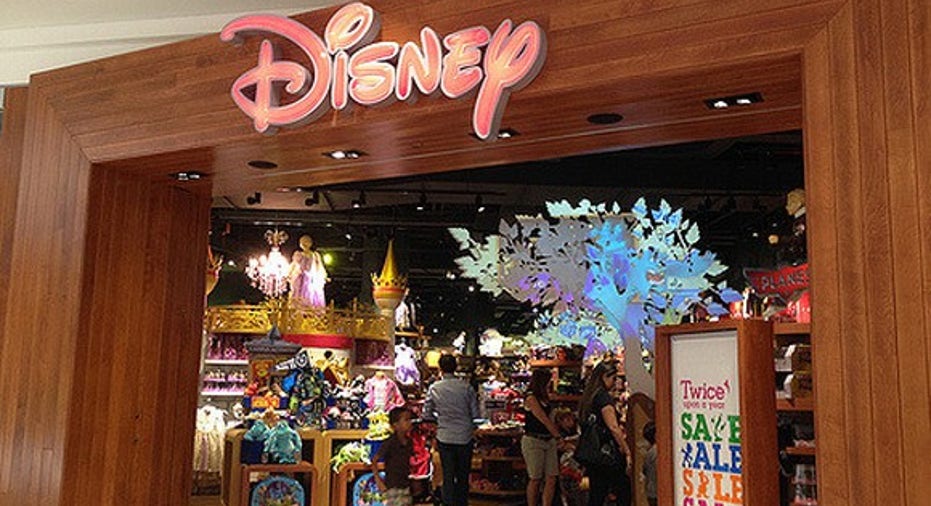 Shares ofWalt Disney Co went off the rails again after its latest quarterly report. The entertainment giant missed estimates for the first time in five years, and shares dropped 4% the next day, leaving the stock down 20% from its all-time high last year even as the S&P 500has recovered to striking distance of its record.
The culprit in Disney's report was a familiar one. Subscribers continued to leave ESPN, the crown jewel of cable, as Americans cut the cord. Revenue from media networks, the company's biggest segment, where ESPN resides, was down slightly, even as operating income increased 9% thanks to lower programming costs and higher affiliate fees.
Still, what was most telling about the disappointing report is that it came despite the company benefiting from the release of the highest-grossing movie of all time -- Star Wars: The Force Awakens. The recently released Zootopiaalso provided a lift as studio entertainment revenue rose 22% in the quarter with operating income up 27%. But despite those gains, media networks make up close to half of the company's operating income and more than double that of studio entertainment.
Over the past decade, Disney has spent on big-ticket acquisitions like Pixar, Marvel, and LucasFilm for its studio division. ESPN, on the other hand, came into Disney's hands almost accidentally through its acquisition of Capital Cities/ABC. As the market's response to the report makes clear, ESPN is the more valuable of the two.
A victim of their own success
Disney's problems are reminiscent of another titan who recently retreated following a disappointing earnings report.Apple shares pulled back after the company reported its first quarterly revenue decline in 13 years. iPhone sales, by far the company's most important category, declined by 16%, indicating that the tech giant may have finally saturated the key smartphone market. The iPhone has been the most successful branded product in the history of the world, but investors constantly demand growth and therein lies the problem with products like iPhones and Disney's movies division, which did well in the most recent quarter, but isn't guaranteed to churn out megablockbusters year after year.
What's made ESPN so valuable in the past is that the network provided a consistent, dependable revenue stream for Disney. The unspecified decline in subscribers that the company noted in the recent quarter was bad news to investors.
Apple put a number to its iPhone decline -- units dropped 32% from Q1 to Q2. At one point, the iPhone benefited from a carrier-financed upgrade cycle, but that is no longer the case. And unlike more stable business models, the product itself doesn't generate recurring revenue, instead producing it through a one-time sale. That means that Apple needs to either improve the iPhone or find new markets for it in order to boost sales, which has become more difficult. A saturation point was going to come eventually. As growth has slowed, Apple has turned to services, the segment that includes the App Store and Apple Music, leveraging its installed base of over 1 billion devices, at least half of which are iPhones.
In its most recent quarter, services revenue improved 20% to nearly $6 billion. It's now Apple's second-biggest category, ahead of iPad and Mac, and its most promising. However, its current level of growth won't be enough to offset continued declines in iPhone sales.
Disney is confronted with a similar problem. Recent investments in film franchises like LucasFilm and Marvel have given the company a trove of characters that will lead to dozens of movies, but even those cannot replace the profit and consistency of ESPN and its other cable franchises. CEO Bob Iger has touted the company's model, which allows it to take such characters and parlay them into rides at its theme parks and sell as toys and other consumer products. Those two divisions are important businesses as well, but still don't compare to media networks.
A recurring problem
Disney is seeing its recurring reach from cable reach its peak. Subscribers have fallen at ESPN from a peak of 99 million in 2013 to 92 million last year. Revenue has continued to increase during that time thanks to higher affiliate fees, but the plateau appears to be arriving as last quarter's report makes clear. While the revenue stream isn't about to disappear, the slow trickle away from cable and toward streaming services is going to continue.
Apple, similarly, is seeing iPhone sales peak, which explains its pivot to services. While that revenue stream could be the company's strongest down the road, in the near-term the company's fate will be determined by iPhone sales.
For Disney, too, the key question, despite its studio blockbusters, remains what to do about ESPN.CEO Bob Iger has insisted that ESPN would be viable if and when it decides to go over the top, but the company seems to be hesitant to break the bundle, which is unsurprising considering that ESPN receives the highest affiliate fees.
Disney continues to grow with EPS improving by a respectable 11% in the quarter. As Iger said on the earnings call, the company has a nearly unmatched stable of intellectual property, which should continue to leverage box office hits and consumer products. However, the struggles at ESPN and its cable division aren't going away, and that should continue to keep the stock price suppressed as even a blockbuster like Star Wars won't replace it.
The article Disney and Apple Share a Problem originally appeared on Fool.com.
Jeremy Bowman owns shares of Apple. The Motley Fool owns shares of and recommends Apple and Walt Disney. The Motley Fool has the following options: long January 2018 $90 calls on Apple and short January 2018 $95 calls on Apple. Try any of our Foolish newsletter services free for 30 days. We Fools may not all hold the same opinions, but we all believe that considering a diverse range of insights makes us better investors. The Motley Fool has a disclosure policy.
Copyright 1995 - 2016 The Motley Fool, LLC. All rights reserved. The Motley Fool has a disclosure policy.