Directors departing Wynn Resorts' board as lawsuits pile up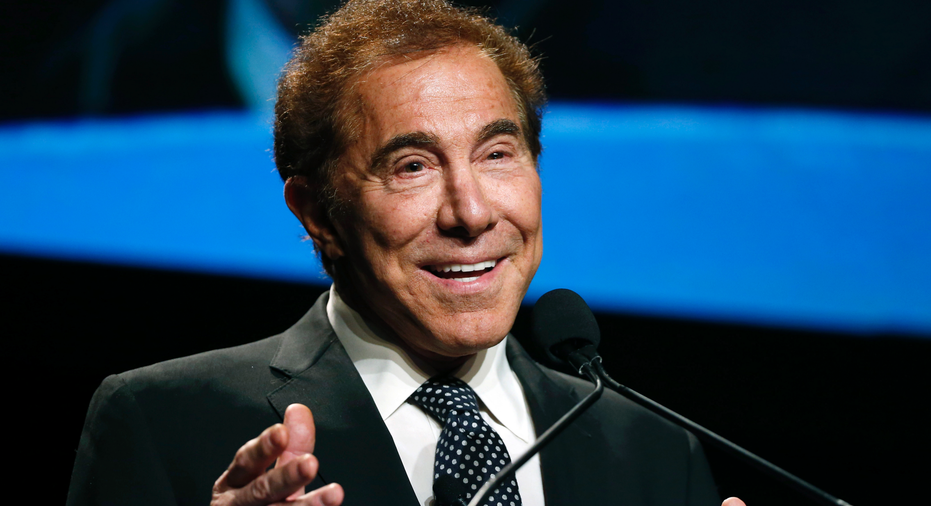 Las Vegas-based Wynn Resorts on Wednesday announced the departure of two members of its board of directors as lawsuits against its members and the company's founder continued to pile up amid a sexual misconduct scandal.
The announcement of the board changes came hours after the state of Oregon revealed it had sued gambling mogul Steve Wynn and the company's board of directors for allegedly failing to act in the best interests of shareholders and stop sexual misconduct at Wynn Resorts.
Former company director Ray Irani and director Alvin Shoemaker are now named defendants in several lawsuits brought by shareholders, including Oregon, as well as current and former company employees. The shareholders accuse them and other board members of breaching their fiduciary duties by ignoring what their lawsuits described as a longstanding pattern of sexual abuse and harassment of company employees by Wynn.
The company in a securities filing said Irani's Monday resignation was effective immediately. It also disclosed that Shoemaker will not run for re-election after his current term expires next year.
Wynn Resorts CEO Matt Maddox on Wednesday told investors in a conference call that the board, of which he is not a member, has been "extremely active over the past month" and intends to "expand and refresh its ranks to bring new prospects to the boardroom." He added that the board is "actively engaged" with several candidates.
Oregon's civil case , alleging massive breaches of fiduciary duty that caused damage to the company and impaired long-term shareholder value, was filed Tuesday in district court in Las Vegas. Last month, New York's public pension fund, the nation's third largest, filed a similar lawsuit.
The offices of Oregon Attorney General Ellen Rosenblum and Oregon Treasurer Tobias Read announced the lawsuit, saying Oregon's pension system held 8,506 shares of Wynn Resorts worth $1.3 million and that the investment is suffering a loss because of misconduct and inaction.
The lawsuit is part of another front opening up in the #MeToo movement that aims to hold those involved in sexual misconduct, and those who cover it up, accountable. The movement launched after an October expose of movie mogul Harvey Weinstein by the New York Times.
"This filing will help hold the Board of Directors and Mr. Wynn accountable for their profound dereliction of fiduciary duty," Read said.
Wynn Resorts spokesman Michael Weaver said he had no comment on the lawsuit. Wynn has denied he harassed and assaulted women. He resigned as chairman and CEO of the company Feb. 6.
"The story of Steve Wynn is a cliche: a powerful man preying on the powerless," the lawsuit said. "But the Directors of Wynn Resorts were not powerless. They were the only people with the knowledge and ability — and duty to the company — to investigate and stop Steve Wynn's conduct."
Instead, the board of directors "devoted substantial company resources" to covering up the alleged misconduct, the lawsuit claimed.
Since the Wall Street Journal broke the story in January on Wynn's alleged misconduct that goes back years, Wynn Resorts has lost $2 billion in market capitalization, the Oregon lawsuit said.
Oregon's action is the latest known "derivative lawsuit" filed in state court in Las Vegas against the board and the billionaire.
Besides New York and Oregon, at least four other shareholder groups have filed lawsuits. Derivative lawsuits allow shareholders to take legal action on behalf of a company when they believe its officers or directors are not meeting their fiduciary duties. If the complaints are successful, Wynn and the company's board members could be ordered to pay monetary damages to Wynn Resorts, not the shareholders who filed the lawsuits.
San Diego-based attorney Todd Neal with the firm Procopio said the lawsuits seek monetary damages for the alleged loss in share price because of breaches of fiduciary duty, compliance with company policies and the possible removal of company board members.
Irani, 83, is the former executive chairman and CEO of Occidental Petroleum Corporation, an international oil and gas exploration and production company, according to Wynn Resorts. He was a member of the casino operator's corporate governance committee until Monday and is a "life trustee" of the University of Southern California.
Shoemaker, 79, has been a board member since December 2002 and serves in the compensation and audit committees. He is a member of the board of directors of Huntsman Corporation.
___
Selsky reported from Salem, Oregon.
___
Follow Andrew Selsky on Twitter at https://twitter.com/andrewselsky and Regina Garcia Cano at https://twitter.com/reginagarciakNO