DigitalGlobe Inc. Returns to Growth -- for Now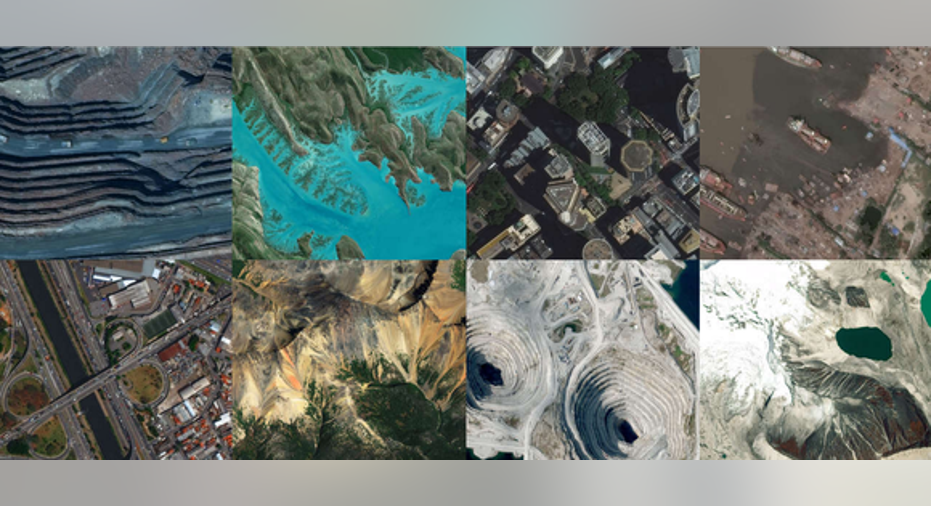 IMAGERY COLLECTED BY DIGITALGLOBE'S VARIOUS SATELLITES. IMAGE SOURCE: DIGITALGLOBE.
DigitalGlobe reported first-quarter 2016 results Wednesday after the bell. With shares already up 20% year to date on the heels of last quarter's encouraging performance, the satellite image purveyor offered investors a surprise return to revenue growth and profitability.Let's take a closer look at what DigitalGlobe achieved in its latest quarter:
DigitalGlobe results: The raw numbers
| Metric | Q1 2016 Actuals | Q1 2015 Actuals | Growth (YOY) |
| --- | --- | --- | --- |
| Revenue | $175.4 million | $169.4 million | 3.5% |
| Net income (available to common shareholders) | $7.3 million | -$5.9 million | N/A |
| Earnings per share | $0.11 | -$0.08 | N/A |
DATA SOURCE: DIGITALGLOBE.
What happened with DigitalGlobe this quarter?
U.S. government revenue fell 3.9% year over year, to $110.3 million, an expected result as DigitalGlobe realized the deferred revenue earn-out on prior Global-EGD awards in the first quarter of last year. The decline was also partially offset by a 10% increase in the U.S.G. analytics business.
Diversified commercial revenue rose 19.2% year over year, to $65.1 million, including a 35% increase in revenue fromDirect Access Program (DAP) customers, to $33.2 million.
Adjusted earnings before interest, taxes, depreciation, and amortization (EBITDA) grew 30.5% year over year, to $95.4 million.
Adjusted EBITDA margin expanded 1,124 basis points, to 54.4%
Cash flow from operations increased 1.2% year over year, to $57.6 million.
Free cash flow was $17.8 million, down from $25.6 million in the same year-ago period, once again primarily due to timing of milestone payments related to DigitalGlobe's WorldView-4 satellite, which is scheduled to launch in Sept. 2016.
Subsequent to the end of the quarter, announced it has entered into a letter of intent for three-year direct access capacity on WorldView-4 with an unnamed "new international defense and intelligence customer."
This brought the value of contracts and letters of intent for both WorldView-3 and Worldview-4 to a total of $355 milllion, of which 65% is under firm contract. This also increased the amount of annualized contracted revenue from international defense and intelligence customers to $43 million, up from $38 million last quarter. Nearly all of this contracted revenue will start flowing in 2017.
Repurchased 4,116,271 shares of common stock for $60.9 million, at an average price of $14.80 per share, leaving around $55 million remaining under DigitalGlobe's original $335 million repurchase authorization.
What management had to sayCEO Jeffrey Tarr stated:
Looking forwardTo be sure, DigitalGlobe reiterated its full-year 2016 outlook, which calls for revenue of $670 million to $700 million (down 4.6% to 0.3% from 2015), and adjusted EBITDA of $330 million to $355 million (down 7.2% to 0.2% from 2015). And while that might seem strange considering DigitalGlobe's relative outperformance in Q1 -- after all, analysts' consensus estimates predicted the company would turn in a loss of $0.03 per share on lower revenue of $166.5 million. However, CFO Gary Ferrera explained during the subsequent conference call that DigitalGlobe expects some of the increase in DAP revenue during the quarter was due to revenue potentially being pulled forward from the second quarter.
And that's fair enough. With that in mind, DigitalGlobe's latest quarter once again contained no significant surprises -- something about which you'll be hard-pressed to find shareholders willing to complain in light of the stock's harrowing 30%-plus post-earnings plungeon light guidance six months ago. In the end, as long as DigitalGlobe continues to focus on operational efficiency while readying new satellite launches in the coming months, the company should remain nicely positioned to return to sustained, profitable growth.
The article DigitalGlobe Inc. Returns to Growth -- for Now originally appeared on Fool.com.
Steve Symington has no position in any stocks mentioned. The Motley Fool recommends DigitalGlobe. Try any of our Foolish newsletter services free for 30 days. We Fools may not all hold the same opinions, but we all believe that considering a diverse range of insights makes us better investors. The Motley Fool has a disclosure policy.
Copyright 1995 - 2016 The Motley Fool, LLC. All rights reserved. The Motley Fool has a disclosure policy.