Did Apple, Inc.'s iPad Finally Return to Growth Last Quarter?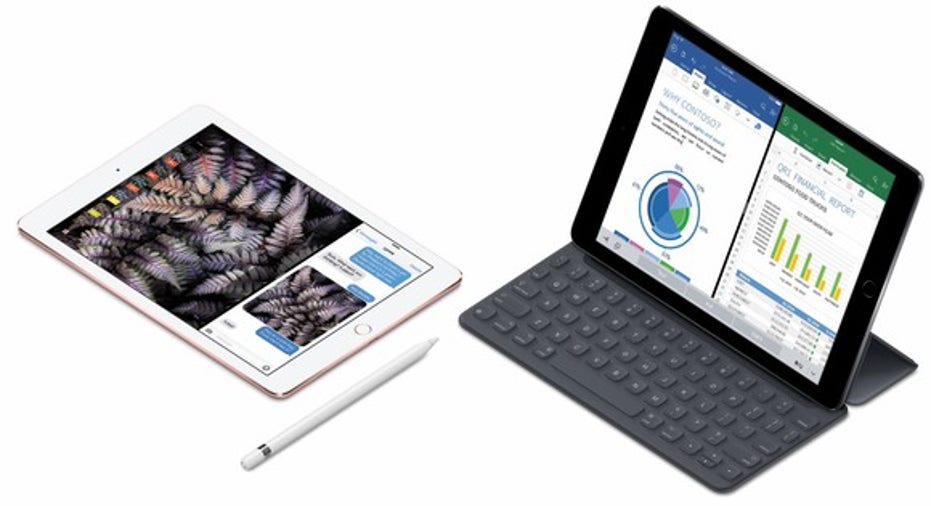 Since the beginning of 2014, Apple has reported persistent sales declines for its iPad product line.
While the iPad has never been as important to Apple's profitability as the iPhone, these declines have still hurt. In fiscal 2013, iPad sales totaled $32.0 billion, representing 18.7% of Apple's total revenue. Just two years later, iPad sales had declined to $23.2 billion, or 9.9% of Apple's revenue. iPad sales continued to decline at a double-digit rate in the first two quarters of fiscal 2016.
iPad sales peaked in 2013 and have been declining ever since. Image source: Apple.
However, Apple launched its new 9.7-inch iPad Pro in late March, near the beginning of its third fiscal quarter. This likely helped the iPad product line return to revenue growth at long last.
An easy comparison
It shouldn't have been too hard for Apple to deliver iPad sales growth last quarter. In the third quarter of fiscal 2015, it sold fewer than 11 million iPads-- the worst sales result since 2011. (Apple sank to another low in the following quarter, when iPad shipments dropped below 10 million.)
At the same time, Apple had the benefit of a product launch last quarter. The 9.7-inch iPad Pro became the first new iPad to be launched in the spring since the third-generation iPad came out in 2012.
This is why Apple CEO Tim Cook felt confident enough to tell investors during Apple's April earnings call that the iPad would deliver its best year-over-year revenue result in more than two years during the third fiscal quarter.
However, Cook still shied away from predicting that iPad sales would grow. Indeed, CFO Luca Maestri stated on the same earnings call that Apple expected a sequential decline in iPad sales, in line with normal seasonality. Based on Apple's lackluster Q2 iPad sales, this would also imply a year-over-year decrease. Nevertheless, there is a good chance that the iPad finally snapped its streak of revenue declines last quarter.
Did iPad sales rise last quarter?
According to mobile marketing company Fiksu, the new 9.7-inch iPad Pro represented 1.1% of all iPad usage by the end of last quarter. Assuming that there are 200 million to 250 million iPads in active use, this means that Apple probably shipped at least 3 million units of the 9.7-inch iPad Pro, including some that went into channel inventory.
Apple may have shipped 3 million units of the new 9.7-inch iPad Pro last quarter. Image source: Apple.
The larger 12.9-inch iPad Pro and smaller 7.9-inch iPad Mini 4 also continued to sell at a slow but steady rate during Q3. Furthermore, iPad Air 2 usage rose significantly during the quarter, suggesting solid sales of that older, discounted model.
Estimating unit sales based on changes in usage is an inexact science. But based on the available data, it seems likely that iPad unit sales fell in the 10 million to 11 million range, approximately in line with or slightly below the year-ago sales total.
However, even if iPad unit sales declined somewhat on a year-over-year basis, iPad revenue probably rose. That's because Apple's new iPad Pro devices are significantly more expensive than the average iPad sold in recent years. The smaller iPad Pro's starting price is $599, while the larger model tops out at $1,229 for a 256 GB model with cellular capability.
In Q3 of fiscal 2015, the average selling price for an iPad was just $415. Given that the two iPad Pro models appear to have generated 30% to 40% of total iPad unit shipments last quarter, the average selling price (ASP) was probably closer to $500. With a $500 ASP, Apple would produce double-digit year-over-year iPad revenue growth even if it only shipped 10 million iPads last quarter.
Apple needs some good news
Demand for Apple's new iPads is clearly lackluster relative to a few years ago, when new iPad releases would always spark a surge in sales. Yet demand may have been sufficient to get iPad revenue (if not unit sales) growing again last quarter.
This would be great news for Apple, especially if management views the return to growth as sustainable over the next several quarters. Now that Apple can no longer rely on steady iPhone sales growth to lift its overall results, it's more important than ever for the company to get iPad sales growing again.
The article Did Apple, Inc.'s iPad Finally Return to Growth Last Quarter? originally appeared on Fool.com.
Adam Levine-Weinberg is long January 2017 $85 calls on Apple. The Motley Fool owns shares of and recommends Apple. The Motley Fool is long January 2018 $90 calls on Apple and short January 2018 $95 calls on Apple. Try any of our Foolish newsletter services free for 30 days. We Fools may not all hold the same opinions, but we all believe that considering a diverse range of insights makes us better investors. The Motley Fool has a disclosure policy.
Copyright 1995 - 2016 The Motley Fool, LLC. All rights reserved. The Motley Fool has a disclosure policy.