Did a Lack of Discounts Hurt Honda's Sales?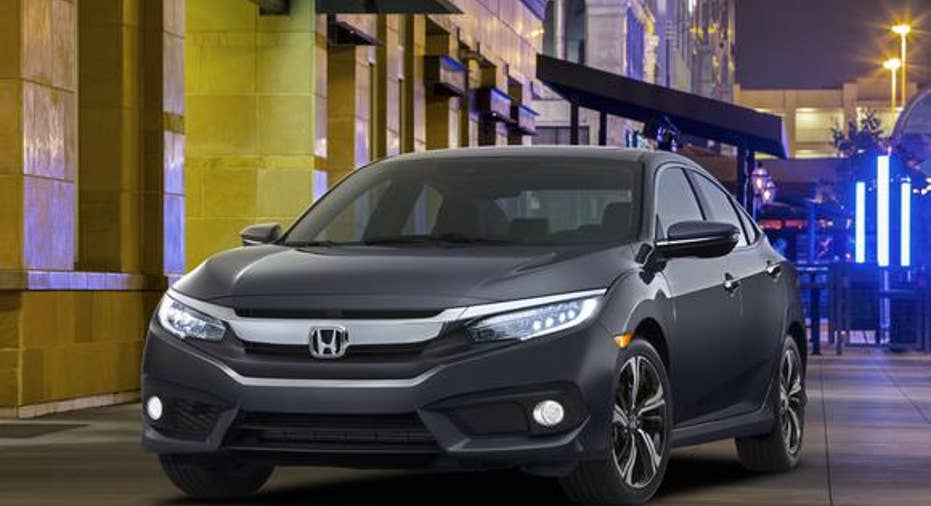 One reason why Honda might have been stingy with discounts last month: the all-new 2016 Civic. Image source: Honda.
Toyota and Nissan cranked up the discounts in November, while rival Honda didn't.
Guess which one of the three saw its U.S. sales decline last month?
Nobody posted blowout sales gains in November There's no prize for guessing that Honda saw its sales decline. Honda's U.S. sales fell 5.2% last month versus November of last year, while both Toyota (up 3.4%) and Nissan (up 4%) managed small gains.
To be fair to all three contenders, it was a difficult year-over-year comparison. Last month had two fewer "selling days" than did November of 2014. "Selling days" exclude days like Sundays and holidays when new-car dealerships are typically closed. All three automakers managed a fairly solid sales pace, and all three saw good sales of key sedan and crossover SUV models.
But Toyota and Nissan boosted their incentive payouts, while Honda -- armed with some new models -- remained its usual stingy self. Might that have been the difference?
Discounts probably helped Nissan and Toyota"Incentives" include the cash-back and cheap-financing offers that are often heavily advertised on TV and online. They're funded by the automakers, and they cut directly into profits.
That doesn't automatically make them bad: Customers have come to expect some level of incentives (or put another way, everybody likes to get a "great deal" on a new car). A vehicle's pricing will generally take some level of incentives into consideration. (That's especially true on pickup trucks, where four-figure discounts are just part of doing business.)
But the difference here is pretty dramatic. According to estimates from TrueCar, Nissan paid out a whopping $3,577 per sale in incentives last month. That's far above the payouts from both Toyota and Honda. In fact, it's more typical of levels seen from the Detroit automakers. (Their average incentives are generally high because all three sell lots of pickups.)
But Toyota also gave its incentives a boost last month, with a package that included "zero-percent" financing on its top-selling Camry sedan. TrueCar estimates that Toyota's average payout was $2,204 in November. That's far behind Nissan's, but it's up almost 14% from what Toyota was paying a year ago.
Meanwhile, Honda paid out a relatively meager $1,931, down 6.3% from a year ago, according to TrueCar estimates. But it may have had two good reasons for its relative stinginess.
Honda had two good reasons to be stingyThose two good reasons are the all-new-for-2016 Civic and the heavily revised-for-2016 Accord. Those are Honda's two mainstay sedans, two of its three biggest sellers. Both new models appear to be significant improvements over the outgoing 2015 model year cars.
Generally speaking, all-new models reflect an automaker's latest thinking and newest technologies. They are often in short supply when they first begin arriving at dealers, and demand is often extremely brisk. Add that all up, and you can see why an automaker would be reluctant to offer discounts on its latest new products.
Sales of the Accord rose 1.2% last month, while the Civic gained 8.6%. While Honda saw significant sales drops in other parts of its lineup, including a worrisome 20% decline for its CR-V crossover, the sales gains for its sedans must have been encouraging.
The upshot: No need to worry about Honda Honda may well post bigger sales gains as more of its new Accords and Civics arrive at dealers. It's unusual for an automaker to be replacing two of its top sellers at the same time, but it's the right move for Honda. Both of its sedans appear to have benefited from rethinks, and Honda's sales (of sedans, at least) should gain ground in the coming months.
The article Did a Lack of Discounts Hurt Honda's Sales? originally appeared on Fool.com.
John Rosevear has no position in any stocks mentioned. The Motley Fool recommends TrueCar. Try any of our Foolish newsletter services free for 30 days. We Fools may not all hold the same opinions, but we all believe that considering a diverse range of insights makes us better investors. The Motley Fool has a disclosure policy.
Copyright 1995 - 2015 The Motley Fool, LLC. All rights reserved. The Motley Fool has a disclosure policy.