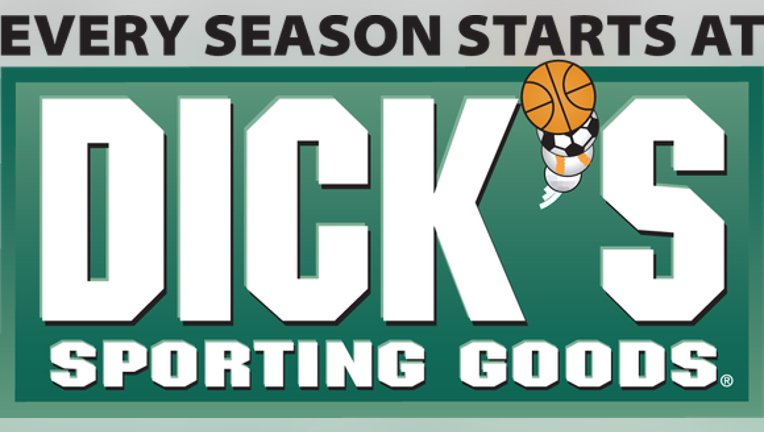 Image source: Dick's Sporting Goods
What happened
Shares of Dick's Sporting Goods Inc. (NYSE: DKS)dropped as much as 10% during the trading hours today before rebounding slightly for a 7% drop by the end of the day. Shares were falling because of the company's Q3 earnings, which beat previously raised guidance, but showed a potentially week holiday season ahead.
So what
During the first half of the year, Dick's Sporting Goods performed well. This is at a time when one of its main competitors, Sports Authority, unexpectedly declared bankruptcy. Dick's actually raised its guidance earlier in the year, which has helped its stock to gain over 70% year to date before today's drop.
For the third quarter ended Oct. 29, Dick's met that raised guidance, posting $1.81 billion in sales, up 10% year over year, and $48.9 millionnet income, or $0.44 per share, which was up 7.3% year over year. However, the company revised its Q4 and full year guidance to $2.91to $3.03per share (GAAP), which seems to be less than Wall Street was hoping for with an apparently weaker than expected holiday quarter ahead.
Now what
In a world of changing consumer preferences toward online shopping, and some of the biggest brands supporting Dick's Sporting Goods' sales, such as Under Armour (NYSE: UA)(NYSE: UA-C)and Nike (NYSE: NKE) doing everything they can to build out their own e-commerce and direct-to-consumer channels, that's a challenging space for sports retailers to be in. That has been the story with Sports Authority anyways after its bankruptcy sent shock waves through the industry.
Dick's Sporting Goods doesn't seem to be in that situation, or anywhere close. Consolidated same store sales rose 5% during the quarter, far ahead of the expected 2%-3%. Still, continue watching in the quarters ahead to see how Dick's is planning to differentiate itself enough to continue bucking the e-commerce trend, as online sales still make up only 9% of Dick's total revenue.
Forget the 2016 Election: 10 stocks we like better than Dick's Sporting Goods Donald Trump was just elected president, and volatility is up. But here's why you should ignore the election:
Investing geniuses Tom and David Gardner have spent a long time beating the market no matter who's in the White House. In fact, the newsletter they have run for over a decade, Motley Fool Stock Advisor, has tripled the market.*
David and Tom just revealed what they believe are the ten best stocks for investors to buy right now... and Dick's Sporting Goods wasn't one of them! That's right -- they think these 10 stocks are even better buys.
Click here to learn about these picks!
*Stock Advisor returns as of November 7, 2016
Seth McNew owns shares of Nike, Under Armour (A Shares), and Under Armour (C Shares). The Motley Fool owns shares of and recommends Nike, Under Armour (A Shares), and Under Armour (C Shares). Try any of our Foolish newsletter services free for 30 days. We Fools may not all hold the same opinions, but we all believe that considering a diverse range of insights makes us better investors. The Motley Fool has a disclosure policy.