Diabetes Drug Shakeup: What You Need to Know About New FDA Warnings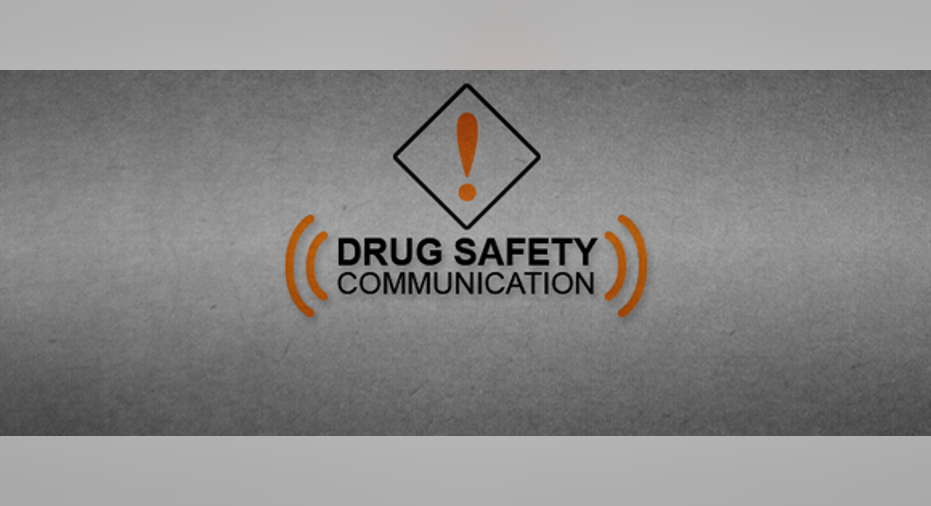 Image source: U.S. Food and Drug Administration.
When it comes to drugmakers, post-approval FDA announcements typically range from benign to awful. AstraZeneca and Takedarecently received an announcement in the fairly awful range. The FDA just slapped an "increased risk of heart failure" warning on their type-2 diabetes drugs, Onglyza and Nesina.
You may not realize it, but there's a battle under way to treat the massive population of diabetics. With an estimated 26 million type-2 diabetics in the U.S. alone, having the go-to drug is worth fighting for, from a commercial standpoint.
The field is crowded and complex, but in a roundabout way the latest FDA warnings could actually help AstraZeneca. There's also a chance they'll assistEli Lilly & Co. and will almost certainly turn out positive forJohnson & Johnson.
Accelerating theinevitableAstraZeneca's saxagliptin-containing treatments, which include Onglyza and Kombiglyze, now carry a warning of increased risk of heart failure on their labels.After following over 16,000 patients around for a couple years, 3.5% on Onglyza were hospitalized because of heart failure versus just 2.8% in the placebo group. That might not seem like a big difference, but it's more than enough to add a warning to the label of a drug that's already losing ground in the United States.
Onglyza belongs to a relatively recent class of type-2 diabetes drugs called DPP4-inhibitors that trick the pancreas into releasing more insulin following meals. With $786 million in sales last year, it's Astra's second-best selling diabetes treatmen -- but not for much longer.
Last year, U.S. sales of Onglyza fell 13% to $420 million, partly because of increased competition from one of its own next-generation drugs, Farxiga. This is one of the new SGLT2 drugs that lower blood sugar by inhibiting the kidney from reabsorbing it, thus allowing the extra glucose to exit the body in urine.
AstraZeneca has been promoting Farxiga heavily through direct-to-consumer advertising and other channels (to Onglyza's detriment) -- and it's working. Last year, U.S. Farxiga sales more than doubled to $261 million.Even though the new warning on Onglyza's U.S. label is a drag, Astra's Farxiga was already cannibalizing its sales.
Who else is competing in this space?Partners Eli Lilly and Boehringer Ingelheim sell type-2 diabetes drugs of both classes: a DPP4, Trajenta, and an SGLT2, Jardiance. The latter hit a home run in a type of post-marketing study that earned Onglyza its heart-failure warning: Instead of increasing risk, Jardiance reduced it. Last November, the partners announced that adding Jardiance to the standard of care in type-2 diabetics reduced their reduced hospitalizations for heart failure by 35%. More importantly, it lowered patients' risk of cardiovascular death by 38%.
Image source: Eli Lilly & Co.
No glucose-lowering therapy can boast such benefit, but for some reason Lilly and Boehringer Ingelheim can't get either of their type-2 diabetes medications off the ground.
Lilly's collaboration revenue of just $357 million associated with Trajenta isn't terribly exciting.If healthcare providers associate Onglyza's increased chance of heart failure with Trajenta because it's in the same class (DPP4), it will be even less so.
Far more depressing is lack of sales for Jardiance. This drug was the latest SGLT2 to win approval in the U.S., but that was still over a year and a half ago.
Granted, the amazing cardiovascular data wasn't announced until last November, but 2015 sales were so poor that revenue from Jardiance was "not significant" enough to report, although an analyst during the last earnings call rubbed salt in the wound by inquiring why fourth-quarter sales of about $15 million were a bit lower than in the third.
With about half of all diabetics dying of cardiovascular disease,you'd think a company that sold $2.8 billion of insulin analog Humalog to type-1 and type-2 diabetics last year would also be able to successfully market a DPP4 without its carrying a warning of risk of increased heart failure, or an SGLT2 witha cardiovascular benefit. Go figure.
Got 'em all beatFrom a pharmaceutical perspective, Johnson & Johnson is a relative newcomer to diabetes. It doesn't have a DPP4-inhibitor for anyone to associate with Onglyza's heart failure warning.
Image source: Johnson & Johnson.
What it does have is the best-selling SGLT2 inhibitor. Sales of J&J's Invokana more than doubled last year to $1.3 billion, with countries outside the U.S. contributing just $70 million.Maybe it's the diabetes care relationships built through its medical-device segment that helped it leave its competitors in the dust.
Fourth-quarter Invokana sales suggest an annualized run rate of $1.5 billion.Perhaps Lilly's Jardiance's cardiovascular benefit is considered SGLT2-classwide and helping the leader in the class accelerate.
If the latest FDA warning for Astra's Onglyza and Takeda's Narisa taints the entire DPP4-inhibitor class, Merck & Co.'s annual$6 billion in sales from its DPP4 Januvia franchise could be up for grabs.Based on its success so far, I'd sayJ&J is best positioned to take on patients ready to switch classes.
The article Diabetes Drug Shakeup: What You Need to Know About New FDA Warnings originally appeared on Fool.com.
Cory Renauer owns shares of Johnson & Johnson. The Motley Fool recommends Johnson & Johnson. Try any of our Foolish newsletter services free for 30 days. We Fools may not all hold the same opinions, but we all believe that considering a diverse range of insights makes us better investors. The Motley Fool has a disclosure policy.
Copyright 1995 - 2016 The Motley Fool, LLC. All rights reserved. The Motley Fool has a disclosure policy.