Deutsche among fallers as Trump win clouds legal, investment outlook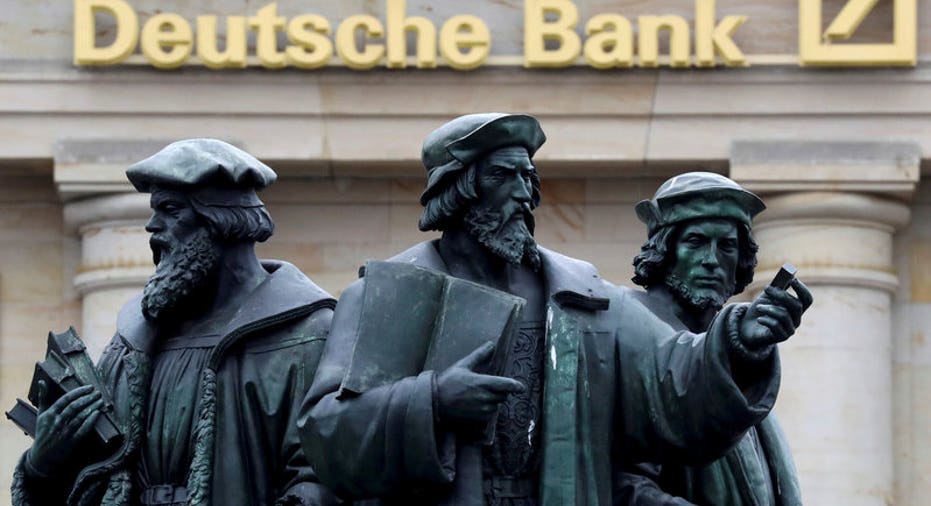 Shares in European banks fell on Wednesday after Donald Trump's election victory, reflecting fears of difficulties in raising capital and uncertainty over U.S. legal cases hanging over Deutsche Bank and other regional lenders.
Shares in Deutsche and Italy's UniCredit shed around 3 percent each on worries that the election result could smother investor appetite to support crucial fundraising plans at both banks in the coming months.
Deutsche is also in the midst of negotiations with the U.S. Department of Justice over a settlement for its alleged mis-selling of toxic mortgage securities in the run up to the financial crisis.
Trump's victory will cause more doubt over how long it will take to resolve those negotiations, which are being conducted as part of an initiative started by current President Barack Obama.
Spain's BBVA saw its stock slump by 6.4 percent in early trading, as shareholders fretted about its interests in Mexico and the potential economic damage caused by a record fall in the peso versus the U.S. dollar, as well as the border wall Trump has vowed to build.
Europe's largest lender HSBC fell 2.2 percent, as analysts raised questions about its ability to support its long-term dividend plans by redirecting billions of dollars from its U.S. unit to faster-growing businesses in Europe and Asia.
Shares in Asian-focused lender Standard Chartered fell 2.2 percent, while Barclays - which recently pledged to pursue a transatlantic strategy focused on the U.S. and Britain - dropped 1.7 percent.
Celebrity property magnate Trump paved his way to the White House with a series of surprise wins in key states like Florida and Ohio, rattling world markets that had expected Democrat Hillary Clinton to defeat the political outsider in Tuesday's U.S. election.
TURBULENT YEAR
The result caps a turbulent year for Europe's banking stocks, who have seen their earnings power crushed by record low interest rates and fickle demand for loans, mortgages and investment products among businesses and savers.
Any big shock to the U.S. economy could lead to a sharp decline in European bank earnings through higher risk.
Analysts at Bernstein said in a note on Wednesday that the election result would prevent a Federal Reserve rate rise "anytime soon", hurting HSBC and StanChart the most.
"It should also result in hits to investment banking earnings globally which are anyway going through rough times," the note continued, flagging particular pain for Barclays.
British state-backed banks Royal Bank of Scotland and Lloyds Banking Group suffered falls of 1.5 percent and 1.9 percent respectively.
Investment managers running hundreds of billions of pounds in institutional and private wealth fared little better in shellshocked markets reminiscent of the morning after Britain's vote to quit the European Union in June.
Money managers Schroders and Aberdeen Asset Management saw stock prices fall by 1 percent and 1.5 percent respectively, while shares in emerging markets specialist Ashmore slid 1.8 percent.
Europe's largest listed hedge fund firm Man Group was close to bucking the downward trend, with shares flat by 0405 ET.
"The extent of further fallout over the trading day today will depend to some degree on the rhetoric from Trump," Derek Halpenny, European Head of Global Markets Research at MUFG said.
(Additional reporting by Lawrence White, Simon Jessop and Ritvik Carvalho, editing by Rachel Armstrong and Giles Elgood)