Detroit Sales Wrap Up: 1 Automaker Races Ahead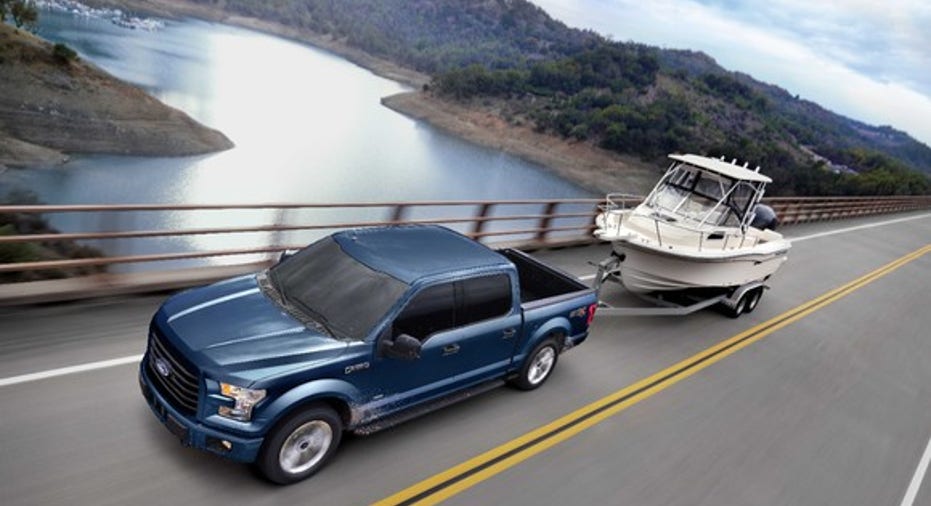 Well, the automotive industry managed to pull off another record year despite momentum plateauing. Total industry sales barely topped the 2015 record of 17.48 million units, to 17.54 million thanks to December's 18.38 million seasonally adjusted annual rate of sales, the highest pace of 2016. With December putting the ribbon on the seventh straight year of sales increases, let's check how the Detroit automakers performed last month, and one caveat investors will need to watch going forward.
Ford's 2017 F-150 XLT. Image source: Ford Motor Company.
Fiat Chrysler Automobiles (NYSE: FCAU)
Detroit's third-largest automaker didn't end 2016 on a strong note with sales declining 10% to 192,519 units last month, compared to the prior year. That result was the worst result of any major automaker last month. Due to its slower than expected fourth quarter sales figures the automaker's full-year results ended up flat last year, compared to 2015, at roughly 2.24 million vehicles.
Now, to be fair, part of the reason behind FCA's large overall decline in December was due to fewer fleet sales. During December FCA's fleet sales were down 34% compared to the prior year, and represented only 19% of its total sales last month. The automaker's retail sales, which are often considered more profitable sales, were down only 2%. That isn't a strong result, but it's not as bad as its overall decline would suggest.
Typically, FCA's Jeep and Ram Truck brand keep the company lights on, but Jeep faltered and Ram Truck was the automaker's only real bright spot last month. Ram Truck brand sales increased 10% in December with the Ram pickup doing most of the heavy lifting posting a 15% gain and booking a full-year increase of 9% to nearly 490,000 units.
Data source: Fiat Chrysler Automobiles sales releases. Chart by author.
Jeep's sales have slowed in year-over-year comparisons during the fourth-quarter posting rare declines lately. December continued that trend with a 6% decline to 83,159 units. Despite a slower fourth-quarter, the brand managed to post a 6% gain over the full-year compared to 2015 to more than 926,000 units.
Ford Motor Company (NYSE: F)
Ford's December results won't initially jump off the page with a gain of only 0.3% to 239,854 units compared to the prior December, but that slight gain was led by its 5% increase in retail sales which marks its best December retail sales since 2004. Ford's full-year sales totaled 2,614,697 which was an even smaller year-over-year gain of 0.1%, but still its best total in a decade.
If you're looking for a bright spot, look no further than the F-Series and SUV sales. In fact, Ford's F-Series posted its best overall month of sales in 11 years with more than 87,000 units sold last month. Ford's SUV sales increased 5% in December, the segment's best sales month since 2002, led by the Explorer, Edge, and Expedition which offset a 7.7% decline in Escape sales.
Another bright spot was Ford's Lincoln luxury lineup. Lincoln sales were up 18% in December, thanks to 1,845 incremental sales from its new Continental, which won't have sales booked into the prior year's comparison for much of 2017. For the full-year, Lincoln sales were up a healthy 10%, marking its fourth consecutive year of sales gains and its best annual sales total since 2007. The aforementioned sales of F-Series, SUVs, and luxury vehicles helped push Ford's average transaction prices $1,600 higher in December, $1,000 higher than industry average.
General Motors (NYSE: GM)
GM's total sales in the U.S. jumped 10% higher to 319,108 units in December, compared to the prior year. That helped push its total market share 150 basis points to 18.8%. GM's total sales in 2016 reached 3.04 million units, which was a 1.3% decline due to less reliance on fleet sales and a focus on healthier retail sales to individual consumers.
Despite its full year trend of declining fleet sales, last month GM's retail sales were only up 3% which suggests it relied more on year-end fleet sales to reach its total 10% gain. To emphasize this was more of an anomaly for GM this year, its fleet sales generated less than 20% of total 2016 sales. Further, the least desirable of fleet sales, daily rental, were down 74,000 units for the full-year, or 18% compared to 2015.
One big thing for investors to note was GM's inventory decline. Much had been made of GM's inflated inventory over the past couple of months, but the automaker made moves to adjust its production capacity and shut down a handful of plants for varying lengths. That, in addition to a strong holiday season, moved GM's days' supply from 87 at the end of November down to 71 days' supply at the end of 2016.
Another bright spot for GM, thanks to accelerated sales of SUVs and trucks, was its average transaction prices. The automaker's ATPs were $36,386 in December, more than $4,000 above industry average and $740 higher than the prior month. But, GM's incentive spending also moved higher last month and checked in at 13% of ATPs, higher than its full-year average of 11.9%.
As the industry continues to plateau at the top of this sales cycle, and competition for market share increases, it will be critical for automakers to balance supply and demand, as we've seen with recent plant shutdowns, and avoid raising profit-eroding incentives. Per Automotive News, citing ALG estimates, average incentives on new vehicles jumped 20% in December, compared to the prior year, which isn't something investors will want to keep a close eye on during 2017.
10 stocks we like better than General Motors When investing geniuses David and Tom Gardner have a stock tip, it can pay to listen. After all, the newsletter they have run for over a decade, Motley Fool Stock Advisor, has tripled the market.*
David and Tom just revealed what they believe are the 10 best stocks for investors to buy right now... and General Motors wasn't one of them! That's right -- they think these 10 stocks are even better buys.
Click here to learn about these picks!
*Stock Advisor returns as of January 4, 2017
Daniel Miller owns shares of Ford and General Motors. The Motley Fool owns shares of and recommends Ford. The Motley Fool recommends General Motors. The Motley Fool has a disclosure policy.