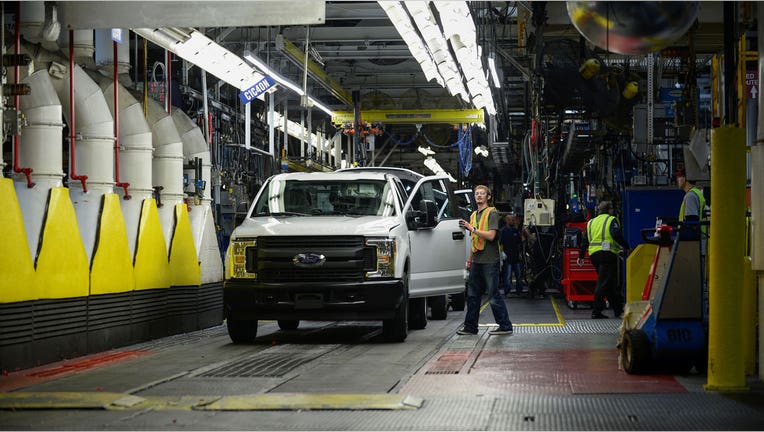 Detroit's Big Three automakers will build fewer vehicles in North America than their competitors for the first time this year, according to data from IHS Markit.
General Motors (NYSE:GM), Ford (NYSE:F) and Fiat Chrysler (NYSE:FCAU) are on pace to manufacture 8.6 million new vehicles in 2017, IHS Markit analyst Joe Langley said in a presentation. By comparison, Tesla (NASDAQ:TSLA) and foreign automakers such as BMW and Toyota (NYSE:TM) will make 8.7 million vehicles.
Potentially weighing on North American auto output this year is a strike at GM's plant in Ontario. The factory, which makes the Chevrolet Equinox, halted production after the union's labor contract expired Sept. 17. Talks between GM and the union are ongoing.
In the coming years, production will continue to grow for the Big Three's rivals, which are projected to boost their combined output to 9.8 million units by 2024. GM, Ford and Fiat Chrysler will see their production fall 6% to 8.1 million vehicles.
Tesla aims to quickly boost production to an annual rate of 500,000 vehicles by 2018. The electric carmaker's first mass-market vehicle, the Model 3, began rolling off assembly lines this summer.
Foreign automakers are ramping up production through investments in U.S. factories. BMW and Mercedes have revealed plans this year to expand existing plants, while Volvo recently confirmed that it will double its investment in a plant under construction in South Carolina. Toyota and Mazda are currently searching for the location of a new U.S. facility as part of a joint manufacturing effort.
Automakers have also turned to Mexico, which will be a main driver of production growth. IHS Markit estimates that Mexico will contribute 4.5 million vehicles by 2024, due in part to new BMW and Toyota plants scheduled to open in 2019.
Mexican auto production is seen as a central issue in the Trump administration's NAFTA negotiations. President Donald Trump has criticized Ford, GM and other automakers that build vehicles in Mexico and ship them into the U.S., threatening to pursue tax on those imports.