Detroit Automakers Slip Amid a Slight January Sales Slowdown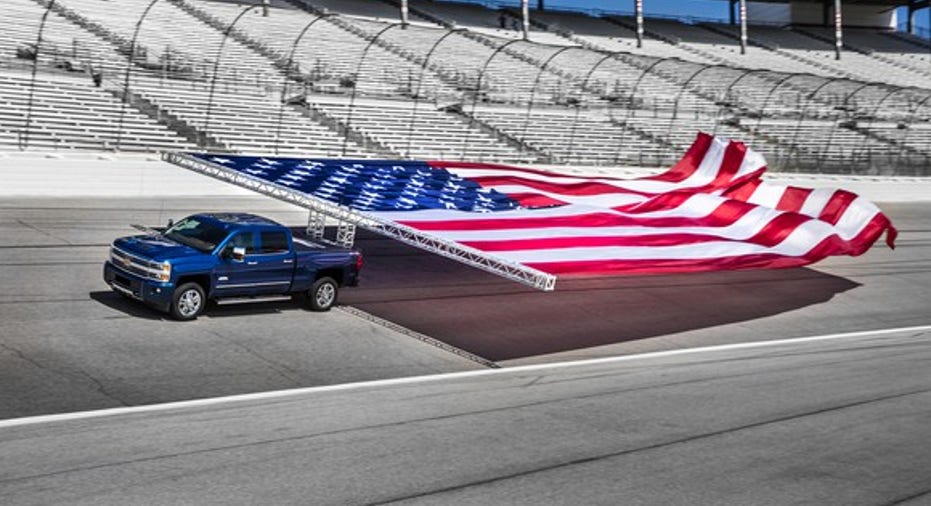 Auto industry sales volume slipped 1.9% year over year in January, from 1.16 million light vehicles sold during January 2016 to 1.14 million last month. On the bright side, January's seasonally adjusted annualized sales rate (SAAR) of 17.57 million outpaced Wall Street's consensus forecast of 17.3 million, even if it was slightly below last year's 17.62 million result.
"It's tricky to use January as a bellwether for how auto sales will trend for the year,"said Jessica Caldwell, Edmunds executive director of industry analysis, in an email. "It's the lowest volume month and only accounts for 6 percent of annual sales on average. But 2017 is already proving to be a year unlike any other -- expectations were that sales were going to level off or decline, but the president has proven a bit of an X-factor..."
Among full-line automakers, Nissan Motor Co. and Honda Motor Co. were the only ones to post year-over-year gains; Detroit automakers Ford Motor Co. (NYSE: F), General Motors (NYSE: GM), and Fiat Chrysler Automobiles (NYSE: FCAU), among others, were left behind. Let's take a look at the highlights and takeaways from each of Detroit's big three, in no particular order.
Ford: 172,612 units sold; 0.6% decline
Detroit's second-largest automaker's January results can be highlighted in two graphs: sales of the F-Series and of the Lincoln marque. We'll start with Ford's most profitable product and America's best-selling truck.
Data source: Ford Motor Company sales releases. Chart by author.
There are clearly some very wild month-to-month swings due to seasonality, inventory, and holiday deals, but a trend line shows nothing but consistent progress for its sales in recent years. Remember that any month when F-Series sales top 50,000 is considered a strong month. And despite January historically being the weakest-volume month of the year for major automakers, Ford still managed to sell nearly 58,000 F-Series trucks, almost a 13% increase compared to the prior year and an even higher 19% gain at retail.
Now, these figures are so impressive they might indicate that Ford ramped up its incentive spending to encourage more consumers to drive its trucks off dealership lots -- but we'll have to wait for more incentive information to determine that. Another bright spot for Ford was easily its long-struggling Lincoln brand.
Data source: Ford Motor Company sales releases. Image source: author.
While the rebound since Lincoln's sales hit bottom a few years back may not seem like much, this is the first time in at least two decades that its sales have increased for three consecutive years. January was Lincoln's best start to a new year in a decade, with sales increasing 22% to 8,784, thanks in large part to the all-new Lincoln Continental. Thanks to sales increases from SUVs, F-Series, and Lincoln, Ford's average transaction prices (ATPs) were up $2,500 compared to last year.
Fiat Chrysler: 152,218 units sold; 11% decline
FCA posted years of incredible growth in large measure due to its lauded Jeep portfolio, and that was the sole reason for optimism among many investors. We're finally seeing Jeep's year-over-year gains slow down; in fact, for the first time in years, sales are declining consistently.
Data source: Fiat Chrysler Automobiles sales releases. Chart by author.
The good news for investors is that FCA is obviously committed to restoring growth with its profit-hauling SUV brand. The automaker confirmed earlier this month that it would add to its lineup a Jeep Wagoneer, Grand Wagoneer, and even a Jeep pickup truck -- additions that culminated in a Donald Trump-pleasing pledge of $1 billion in new U.S. investment and the promise of 2,000 jobs, per Fiat Chrysler Automobiles. The bad news is that these projects might not start fueling growth until closer to 2020.
Another positive story -- though your view of it may depend on if you're a glass-half-full or -half-empty type of thinker -- is that FCA's fleet sales were down 31% year over year. While that sounds like a strong improvement, the truth is,fleet sales still generated around 28% of the company's total, which is about in line with crosstown rival Ford, but much higher than the roughly 20% General Motors' did during 2016.
General Motors: 195,909 units sold; 3.8% decline
Image source: General Motors.
Let's finish with Detroit's largest automaker, which posted a slight decline last month. In fact, January was the first time since January of 2014 that its monthly sales dipped below 200,000 units. And despite posting consistent retail sales gains throughout 2016, retail sales were down an even steeper 4.9% in January.
Looking at GM's suite of brands, GMC was the only one to post a year-over-year gain: Its sales were up 1.1% to 37,324 units. On the flip side, Buick posted a staggering 28.2% decline to 13,117 units while Chevrolet and Cadillac posted 1.9% and 4.1% declines to 135,170 units and 10,298 units, respectively.
The biggest issue for General Motors' investors was with its bread-and-butter full-size trucks. Sales of the Silverado were down 6.1% and the company's GMC Sierra posted a 9.3% decline. That's obviously unfavorable compared to its rivals, the F-Series and Ram Truck, which both posted gains.
On the bright side, ATPs for GM's full-size trucks jumped $1,750 year over year, to roughly $43,650, according to J.D. Power and Associates. That helped drive GM's overall ATPs $1,200 higher to $34,500, a new January record.
10 stocks we like better than Ford When investing geniuses David and Tom Gardner have a stock tip, it can pay to listen. After all, the newsletter they have run for over a decade, Motley Fool Stock Advisor, has tripled the market.*
David and Tom just revealed what they believe are the 10 best stocks for investors to buy right now... and Ford wasn't one of them! That's right -- they think these 10 stocks are even better buys.
Click here to learn about these picks!
*Stock Advisor returns as of January 4, 2017
Daniel Miller owns shares of Ford and General Motors. The Motley Fool owns shares of and recommends Ford. The Motley Fool recommends General Motors. The Motley Fool has a disclosure policy.