Detroit Auto Show: Why Toyota Took the All-New 2018 Camry in a New Direction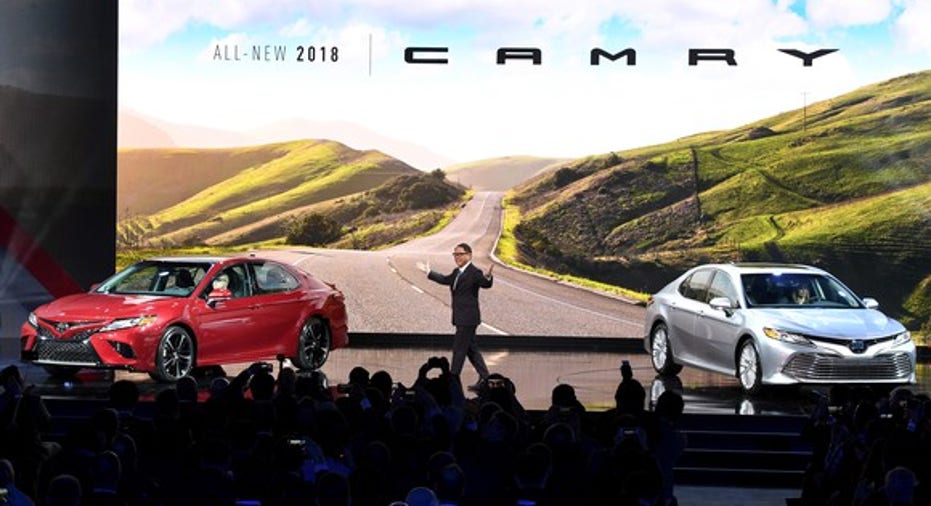 Toyota CEO Akio Toyoda showed off the all-new 2018 Camry (left) and 2018 Camry Hybrid (right) in Detroit on Monday. Image source: Toyota Motor Corporation.
It hasn't attracted a ton of media attention, but Toyota Motor Corporation (NYSE: TM) did something very big this past week: It unveiled an all-new and decidedly different version of America's best-selling car at theNorth American InternationalAutoShow in Detroit.
The all-new 2018 Toyota Camry features surprisingly (for a Camry, anyway) sporty styling inside and out. It's a bold and interesting attempt to boost Toyota's image in a segment that is losing ground to SUVs -- and it just might work.
What it is: a rethink of a huge-selling model
Toyota said that the all-new 2018 Camry, the eighth generation of the venerable nameplate, "has gone through a total evolution, from a proven, dependable, and safe car to one that also possesses a more exciting and emotional character, thanks to its newfound sporty performance and style."
That sums up Toyota's intent with the new Camry in a nutshell. It's still a roomy and practical five-passenger midsize sedan. And it's still a Toyota, meaning that it comes with a well-earned expectation that it will be safe, durable, and very reliable transportation.
The all-new 2018 Toyota Camry. Image source: Toyota Motor Corporation.
But Toyota isn't kidding about "sporty performance and style," concepts never before associated with the company's boring-but-safe midsize stalwart. It's a little hard to tell in the photos, but in person, the new Camry is surprisingly low-slung, with an exterior shape that's still Toyota-quirky but more purposeful than before. The 2018 Camry almost looks like it might be fun to drive -- and that's something new for a car wearing the Camry nameplate. (Alas, the all-new Camry Hybrid gets a different front-end treatment that looks like it might be a little less fun, to be honest.)
The new Camry's interior reinforces that impression, as I confirmed firsthand in Detroit this past week. Like the outgoing models, the 2018 Camry's interior is roomy and practical -- but again, there's a strong sport-sedan flavor. The driver's view is almost more Audi than Toyota, with big round analog speedometer and tachometer gauges behind a meaty steering wheel. And while the front seats aren't quite sports-car stiff, they're more supportive side-to-side than you'd expect in a family hauler.
The 2018 Camry's interior is still roomy and practical -- and more sports-sedan-like that you mightexpect. Image source: Toyota Motor Corporation.
We won't know if the new Camry delivers on its sporting looks until the road testers get their hands on it, but at least on paper it looks as if it might. Toyota promises "vastly superior driving dynamics" thanks to a stiffer structure and new rear-suspension design.
There are three powertrain options: An all-new 2.5 liter four-cylinder and a 3.5 liter V6, both with an eight-speed automatic transmission, and a new hybrid system. The hybrid pairs the 2.5 liter four-cylinder with an electric motor and a continuously variable transmission that features a new "Sport Mode" that simulates a sporty six-speed.
Another view of the all-new 2018 Camry. Image source: Toyota Motor Corporation.
Like the current model, most of the 2018 Camrys sold in the U.S. will be built at Toyota's factory in Georgetown, Ky. Toyota said the new models will begin arriving at U.S. dealers in "late summer."
What it means for investors: an intriguing new entry in a struggling segment
Toyota's Camry has been one of America's best-selling cars since the 1990s, and it has led all sedans in sales in the United States for 15 straight years. But that's worth a little less than it used to be, as sedans in general have been losing ground to car-based "crossover" SUVs in recent years, not just in the U.S. but also around the world.
Toyota still sold a hearty 388,618 Camrys in the U.S. in 2016. But that number was down 9.5% from the Camry's 2015 total, a drop that was more about macro industry trends than it was about the still-very-competitive 2016 Camry itself.
Mindful of those macro trends, some of Toyota's rivals are putting more effort into SUVs than sedans. That may make sense for them, but I sense that Toyota sees an opportunity to gain market share with its surprisingly charismatic all-new Camry.
Will devotees of Toyota's boring-but-reliable past models go for this decidedly non-beige new Camry? I bet they will, but we'll find out this fall.
10 stocks we like better than Toyota Motor When investing geniuses David and Tom Gardner have a stock tip, it can pay to listen. After all, the newsletter they have run for over a decade, Motley Fool Stock Advisor, has tripled the market.*
David and Tom just revealed what they believe are the 10 best stocks for investors to buy right now... and Toyota Motor wasn't one of them! That's right -- they think these 10 stocks are even better buys.
Click here to learn about these picks!
*Stock Advisor returns as of January 4, 2017
John Rosevear has no position in any stocks mentioned. The Motley Fool has no position in any of the stocks mentioned. The Motley Fool has a disclosure policy.