Detroit Auto Show: Why the Wild 2018 Kia Stinger Sports Sedan Matters to Investors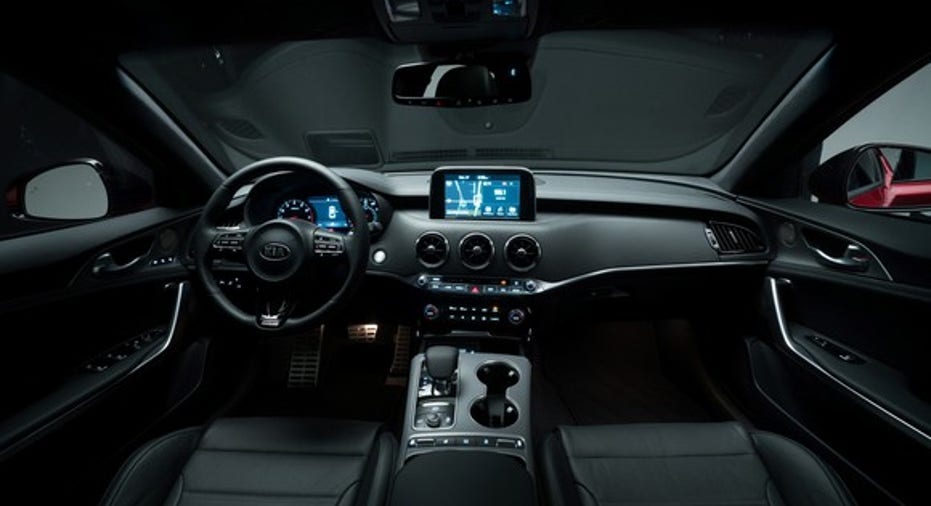 The annual North American International Auto Show in Detroit is usually an opportunity for the hometown automakers to shine. But plucky South Korean automaker Kia Motors Corporation (NASDAQOTH: KIMTF) might have stolen this year's Detroit show with the wild-looking high-performance sports sedan it unveiled last Sunday night.
Kia calls it the Stinger. It may look like a show car, but it's a real product: The 2018 Kia Stinger will arrive at U.S. dealers before the end of 2017. Here'swhat we know.
Kia stole the show in Detroit this past week with its 2018 Stinger sports sedan. Image source: Kia Motors Corporation.
What it is: A German-style sports sedan -- from South Korea
The Stinger is a five-passenger sports sedan with a distinctive "fastback" shape that was first hinted at with Kia's 2011 GT concept car. It'sbuilt on a brand new rear-wheel-drive architecture that will be shared with corporate cousin Hyundai's (NASDAQOTH: HYMTF) upcoming Genesis G70. That architecture gives the Stinger a low-slung long-wheelbase look that's quite dramatic in person -- and that reminded this Fool strongly of several Volkswagen Group(NASDAQOTH: VLKAY) models, including the Audi A5 and A7 and (especially) Porsche's Panamera sedan.
At least on paper, the Stinger is an exciting product under the skin, too. Rear-wheel-drive is standard, all-wheel-drive is optional, and there will be choice of two engines at launch: a 2.0-liter turbocharged four-cylinder making 255 horsepower (standard), and a hotter 3.3-liter turbo V6 making 365 horsepower. Both come with an eight-speed automatic transmission.
Kia's 3.3-liter turbo "Lambda" V6 is optional under the Stinger's long hood. Image source: Kia Motors Corporation.
Inside, there's a long list of driver-assist features typically associated with luxury models, including the latest version of Hyundai and Kia's adaptive cruise control system. There's also a heads-up display and a touchscreen "infotainment" system.
Kia promises that its handling will be worthy of its looks. The Stinger's chassis development was overseen by Albert Biermann, a former BMW (NASDAQOTH: BAMXF)executive hired in 2014 to spearhead development of a new series of high-performance vehicles for both of the South Korean brands. Biermann had worked on BMW's high-performance "M"models. The hint is that more than a little bit of M-style thinking has made its way into the Stinger.
The Stinger's interior design clearly says "high performance", with good-quality materials and a long list of premium features. Image source: Kia Motors Corporation.
"Unlike any Kia that has come before it, the Stinger really is a dream car for us, and here today in Detroit, that dream is now a reality after years of commitment and hard work from a passionate group of designers, engineers and executives around the world," said Orth Hedrick, Kia's product-planning chief for North America. "From its GT concept-car origins to the years of tuning and refining on the legendary Nurburgring circuit, no detail was too small to be obsessed over, and the result is simply stunning."
Kia said that pricing and fuel-economy numbers will be announced later this year.
Why it's important to Kia (and Hyundai) investors
"I think for the Kia brand, the Stinger is like a special event," Biermann said. "Because nobody expects such a car -- not just the way it looks, but also the way it drives. It's a whole different animal" compared to Kia's existing products, he added.
The Stinger's side profile hints at Porsche's Panamera, its rear styling shows some Audi influence, but the whole thing works as a Kia. Image source: Kia Motors Corporation.
That hints strongly at the Stinger's likely business case. If it really can stand close comparison with the expensive German-brand models that clearly inspired it, the Stinger will help move public perception of the Kia brand up a few notches. As the brand becomes more desirable and moves away from its cheap-car roots in the U.S. market, it will have more pricing power with its mainstream products. (And if it's good, its upcoming Genesis sibling from Hyundai will accomplish a similar mission for Kia's sibling brand.)
Or put another way, the Stinger is the kind of product that could boost Kia's overall profit margins over time. That's certainly Kia's hope. Whether it works will depend on just how good the production Stinger turns out to be -- but as far as we can tell now, it certainly looks the part.
10 stocks we like better than Kia Motors Corporation When investing geniuses David and Tom Gardner have a stock tip, it can pay to listen. After all, the newsletter they have run for over a decade, Motley Fool Stock Advisor, has tripled the market.*
David and Tom just revealed what they believe are the 10 best stocks for investors to buy right now... and KIA MOTORS CORP ORD wasn't one of them! That's right -- they think these 10 stocks are even better buys.
Click here to learn about these picks!
*Stock Advisor returns as of January 4, 2017
John Rosevear has no position in any stocks mentioned. The Motley Fool recommends BMW. The Motley Fool has a disclosure policy.