Detroit Auto Show: Honda Looks to Gain Ground with Its New High-Tech 2018 Odyssey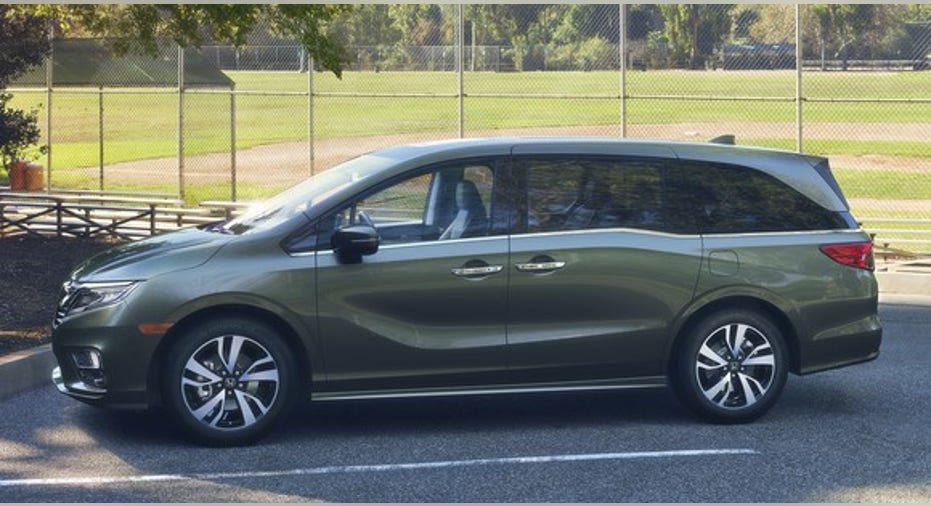 Honda's all-new 2018 Odyssey will bring new familiy-friendly high-tech features to market when it arrives this spring. Image source: Honda Motor Co., Ltd.
Honda (NYSE: HMC) executives took the wraps off of the company's all-new 2018 Odyssey minivan at the North American International Auto Show in Detroit on Monday.
The fifth-generation version of Honda's well-regarded kid-hauler doesn't look a whole lot different from the outgoing model, but it packs a slew of upgradesand some useful technology that Honda hopes will make it more competitive with fierce rivals from Toyota (NYSE: TM) and Fiat Chrysler Automobiles (NYSE: FCAU).
What's new about the 2018 Honda Odyssey
Although it looks like a subtle restyling of the current model, Honda said the 2018 Odyssey is in fact all new, completely redesigned inside and out. As with most minivans, "inside" got a lot of attention: The new Odyssey's interior incorporates a long list of entertainment and connectivity features that are clearly intended to keep kids well occupied on family road trips while allowing parents to monitor and communicate with them.
Those features (many of which are optional, to be clear) include a revamped in-dash touchscreen system, a connected audio-and-video entertainment system for passengers in the second and third rows, a "CabinWatch" system that allows the driver and front passenger to see passengers in the back seats via on-board cameras, and a "CabinTalk" system that allows the driver to talk to those second- and third-row passengers via the entertainment system's headphones.
Washable leather seats, 4G wifi, and second-row seats that can slide forward without removing child seats: The 2018 Odyssey knows its market. Image source: Honda Motor Co., Ltd.
Honda promises that access to the third row will be easier in the new vans, thanks to what it calls "Magic Slide" second-row seats that can be moved forward even if they have rear-facing child seats attached. The seats can be configured several different ways to optimize access or cargo capacity as desired.
In keeping with the high-tech family-friendly theme, higher trim levels of the 2018 Odyssey also incorporate Honda's full suite of driver-assist technologies as standard equipment. Honda said it expects the new Odyssey's revamped body structure to help earn it the highest available safety and crash-protection ratings.
There's just one engine available: Honda's 3.5 liter V6 making 280 horsepower. It's paired with a nine-speed automatic in base models, and an all-new 10-speed automatic in higher-level trims. Fuel-economy ratings haven't been set, but Honda said that it expects best-in-class fuel economy.
The 2018 Odyssey will be built at Honda's Lincoln, Ala., factory and will begin arriving in U.S. dealerships this spring. Pricing will be announced closer to the new minivan's launch, Honda said.
Why it's important: A fiercely contested segment
Lots of automakers have turned away from minivans, choosing to offer crossover SUVs as alternatives to families seeking big kid-haulers. But plenty of buyers still want a minivan -- enough that it's worth Honda's while to elevate its game against the market leaders.
Data sources: The automakers. Chart shows U.S. sales only.
Clearly, FCA and Toyota are Honda's biggest rivals in the still-significant minivan market. What's interesting is that the two biggest sellers, the Dodge Grand Caravan and Toyota Sienna, are dated models, both older than the outgoing Odyssey. (The Chrysler Pacifica was all new in 2016. It's expected to eventually replace the Grand Caravan, but for now the Dodge remains in production.)
The age of its two biggest-selling rivals might give Honda an opportunity to pick up some market share with its new high-tech Odyssey, particularly at the more-profitable upper end of the market. Higher-end models will have to contend with the stylish new Pacifica, but Honda has always been able to hold its own against flashier designs from Detroit, and the all-new Odyssey should be no exception.
10 stocks we like better than Honda When investing geniuses David and Tom Gardner have a stock tip, it can pay to listen. After all, the newsletter they have run for over a decade, Motley Fool Stock Advisor, has tripled the market.*
David and Tom just revealed what they believe are the 10 best stocks for investors to buy right now... and Honda Motor wasn't one of them! That's right -- they think these 10 stocks are even better buys.
Click here to learn about these picks!
*Stock Advisor returns as of January 4, 2017
John Rosevear has no position in any stocks mentioned. The Motley Fool has no position in any of the stocks mentioned. The Motley Fool has a disclosure policy.