Despite Gloomy May, Auto Sales Still on Track for Record Year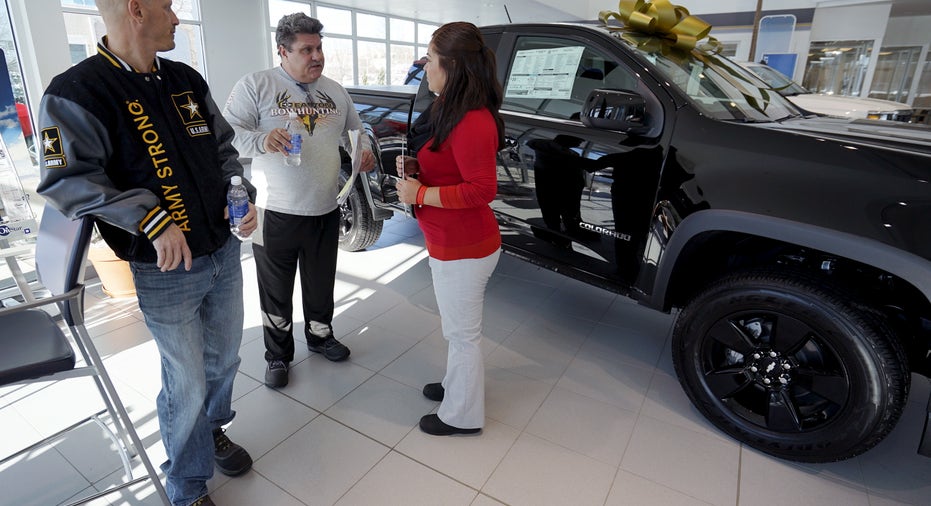 Demand for new cars, trucks and SUVs fizzled in May, but the month was likely just a speed bump. U.S. auto sales remain on track to challenge last year's all-time record, analysts say.
General Motors (NYSE:GM), Ford (NYSE:F) and Toyota (NYSE:TM) all posted weaker monthly sales, meeting expectations for a rough May for automakers. Even with Memorial Day promotions, sales couldn't overcome a difficult comparison to May 2015, which included five weekends versus this year's four. The calendar quirk led forecasters to warn of sales declines for most major automakers. Overall, Kelley Blue Book predicted a 6.2% decline in May sales volume.
Karl Brauer, a senior analyst at Kelley Blue Book, said blazing-hot consumer demand has allowed automakers to overcome tough months in recent years. Now, demand is cooling off.
"I think May was a tough month with the way the calendar fell. When you combine that with an undeniable flattening of demand for new cars, you get fewer cars sold on a year-over-year basis," he said.
Still, auto sales are "basically on track," Brauer added.
The industry sold an estimated 17.47 million new vehicles in 2015, the best sales year on record. Kelley Blue Book reiterated its projection for total U.S. sales of 17.5 to 17.8 million this year, which would set a new high mark. LMC Automotive, another industry researcher, dropped its forecast for the full year to 17.7 million vehicles from 17.8 million, also pointing to a record year in 2016.
Analysts note that consumers continue to flock toward larger, higher-margin vehicles, and cheaper gas prices across the country should help sustain that momentum. GasBuddy.com believes the national average for a gallon of gas will spend most of the summer in the low-$2 range. The current average of $2.32 a gallon is down 43 cents versus a year ago. In its monthly forecast, TrueCar (NASDAQ:TRUE) also suggested that low interest rates—the Federal Reserve may announce just its second rate hike this summer—and strong employment numbers should serve as additional catalysts for auto sales.
Although retail demand may be leveling off, new-car transaction prices rose 3.5% to an average of $33,845 last month, according to Kelley Blue Book. Also, automakers such as Ford and GM have booked their highest-ever profits in North America amid a consumer shift to highly profitable SUVs and trucks.
"We're not seeing any kind of huge shifts that would suggest a fall. Incentives have crept up, and there's a little bit more subprime activity. But none of these numbers have put us in any sort of precarious position that would set us up for a fall," Brauer said.
In May, Ford saw its sales drop 5.9%, driven by a 25% decline for passenger cars. Toyota said its monthly sales slipped 9.6%, despite heavy interest in SUVs. Honda (NYSE:HMC) sold 4.8% fewer vehicles amid a rough month for Acura, whose sales fell 20%.
Fiat Chrysler Automobiles (NYSE:FCAU) managed to buck expectations with a slight sales boost of about 1%, thanks to Jeep demand that continues to outshine the company's namesake brands. Jeep surged 14%, while Chrysler sales were down 19%.
GM reported an 18% decrease in sales, although executives have warned that plans to cut back on sales to rental companies would weigh on monthly deliveries. The strategy is intended to strengthen residual values, and rental fleet sales are less profitable than other areas.
GM also indicated that demand for new models, including the Chevrolet Malibu and Cruze, has exceeded supply. Kurt McNeil, GM's vice president of sales operations, said "there's no question we could've sold more." Production at three GM plants was hampered by supply disruptions following earthquakes in Japan.
According to Brauer, GM will benefit by committing to a long-term focus on higher profit margins, rather than leaning on incentives to boost sales.
"They are showing incredible willpower in that they are watching their volume and market share drop, and they are not letting that pull them off their goal," Brauer said. "I think they are still introducing great products with more in the pipeline."