Dems: Did EPA security staffer steer contract to associate?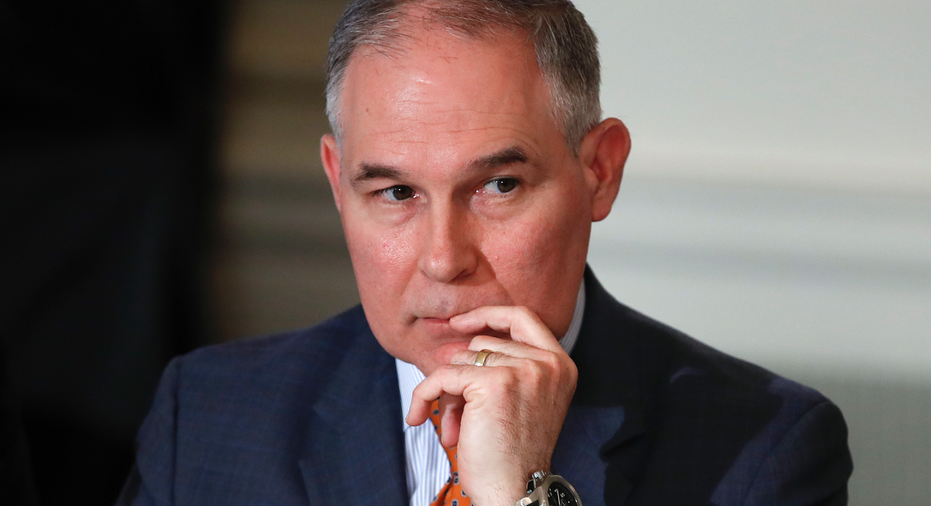 Senate Democrats are pressing Environmental Protection Agency chief Scott Pruitt on whether a key member of his taxpayer-funded security team improperly steered a government contract to a personal business associate.
The Associated Press reported in December that EPA paid $3,000 to Edwin Steinmetz Associates to have Pruitt's office swept for hidden listening devices. In addition to operating his own consulting business, Edwin Steinmetz also works for a larger company called Sequoia Security Group.
Sequoia's CEO and founder is Pasquale "Nino" Perrotta, a former Secret Service agent who is listed in EPA travel records as a member of the EPA administrator's around-the-clock security detail.
According to Perrotta's online resume, he describes himself as the "Acting Special Agent in Charge" working with a protective security detail with an unnamed U.S. government agency. On Sequoia's webpage, Perrotta is described as being "charged with a dual mission, protecting a member of the U.S. presidential cabinet and coordinating protective intelligence information."
Steinmetz, a former police officer and longtime government security contractor, is described as Sequoia's vice president of technical surveillance countermeasures.
Two members of the Senate Environment and Public Works Committee sent a letter to Pruitt on Tuesday citing AP's report and asking whether Perrotta used his position at EPA to give Steinmetz the bug-sweeping contract.
"These facts raise questions about Mr. Perrotta's compliance with EPA regulations and concerns that he may have used his position at the agency to influence the award of EPA contracts to a person or company in which he has a financial interest," wrote Sen. Tom Carper of Delaware and Sheldon Whitehouse of Rhode Island.
EPA spokesman Jahan Wilcox said security sweeps are "common practice in government" and former EPA Administrator Lisa Jackson also had her office swept. "We looked at a couple of different vendors and career administrative officials approved the same vendor that the Office of the Inspector General used and other offices within EPA," he said.
A phone message for Perrotta left at Sequoia's office in North Bethesda, Maryland, did not receive a response.
Steinmetz said Monday he could not discuss whether he had a contract with EPA. In a previous interview, he confirmed that $3,000 is the typical rate he charges for one day, but that he often signs legal agreements with his clients that would preclude him from discussing the work.
The contract amount fell below the $3,500 threshold to be listed on a federal contracting website that provides public disclosure of government spending. AP obtained confirmation of the agency's April 2017 payment to Steinmetz's company from an EPA employee who spoke on condition of anonymity, citing concerns of retaliation.
The senators cited conflict-of-interest regulations that bar federal employees from participating in government decisions involving a personal business or where they have a financial interest at stake. EPA regulations also require any outside employment by agency employees to be reviewed and approved in writing by an ethics lawyer.
The senators ask Pruitt to provide them with Perrotta's current job title and responsibilities at EPA, as well as any documents related to his work for Sequoia. They also asked Pruitt to provide any security assessments written or reviewed by Perrotta related to the need for Pruitt to fly first class on commercial flights, have his office swept for listening devices, the installation of a $25,000 sound-proof booth installed in Pruitt's office for making secure phone calls, and "any other non-disclosed security measure or project you have decided to undertake."
Pruitt's spending on air premium-class travel and security has been under increasing scrutiny in recent months follow media reports by AP and others. He is the first EPA administrator to receive full-time protection by armed officers who accompany him both inside the agency's headquarters and during his frequent cross-country and international trips.
Last month, Pruitt said in media interviews there were unpleasant incidents involving other passengers on commercial flights that prompted his security staff to require him to fly in first-class seats. EPA has refused requests from AP to provide any details about those incidents, as well as copies of any waivers allowing Pruitt to use premium class airfare. Federal employees are typically required to fly in economy class seats.
Following widespread criticism of his pricey airfare, Pruitt said last week he had instructed his staff to make changes that could include flying coach.
___
Follow AP environmental writer Michael Biesecker at http://Twitter.com/mbieseck