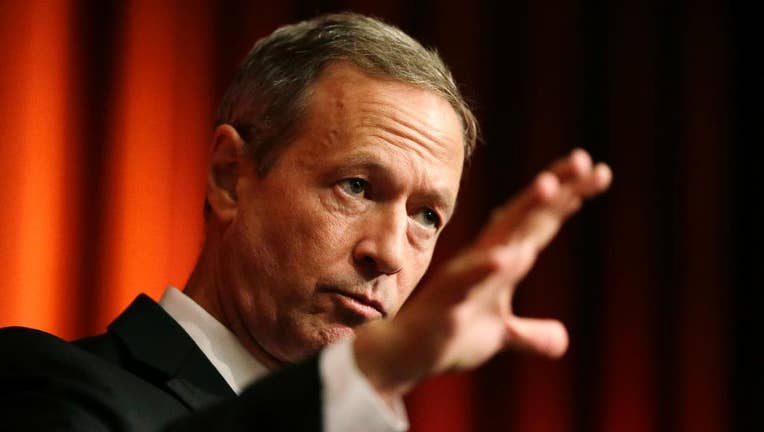 Democratic presidential contenders wooed Iowa union members Thursday with talk of raising wages and protecting jobs. But front-runner Hillary Rodham Clinton, who has drawn scrutiny over her positions on trade, skipped the event because of a scheduling conflict.
Former Maryland Gov. Martin O'Malley, former Virginia Sen. Jim Webb and former Rhode Island Gov. Lincoln Chafee appeared at the event hosted by the Iowa Federation of Labor, AFL-CIO. Vermont Sen. Bernie Sanders spoke via video conference.
Sanders, who has emerged as Clinton's chief opponent in the primary, drew warm response from the roughly 200 union members in attendance.
"For me, workers' rights and fighting to protect the middle class and supporting trade unionism is not just another issue," he said. "It is what my life is about."
All the contenders pledged to support unions, though their specific answers varied. O'Malley and Sanders both backed a $15 federal minimum wage, while Webb and Chafee said they supported increasing the wage but did not offer an amount.
"We need to get wages moving up again," said O'Malley.
On the Trans-Pacific Partnership, a trade deal opposed by unions and liberals, Sanders and O'Malley said they oppose the deal while Chafee said he supports it. Webb said there had not been sufficient transparency and that any decision should be postponed while the deal is debated.
Clinton has declined to take a firm position on the Trans-Pacific Partnership, citing her early work to lay the groundwork for the deal. She also has said she favors an increase to the federal minimum wage, but she has not specified by how much.
"I sure wish she was here. She could have made a presentation and let everyone know where she stands on issues," said Richard Trumka, president of the AFL-CIO, which has not yet backed a candidate.
Clinton and her Democratic rivals have been courting labor support. Several met recently with the AFL-CIO executive council, seeking their backing. Clinton has won the endorsement of the American Federation of Teachers.
Clinton, who recently met with two unions in Iowa, was in California on Thursday for a meeting with members of the Service Employees International Union.
Those attending the Iowa event said they had mixed feelings on which candidate to support.
"Bernie Sanders I like the most," said Don Clark, 54, a factory worker from Cedar Rapids. But he also noted that he would like to hear from Clinton and said that if Vice President Joe Biden were to run, "I'd have to put him at the top."