Deluxe Strengthens on Small-Business Strength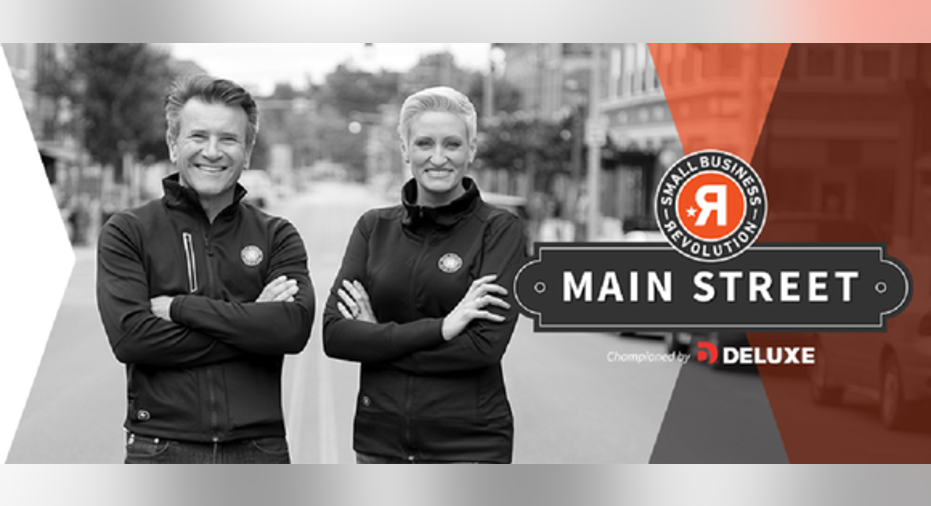 It takes a lot for a business to reinvent itself, but that's exactly what Deluxe Corp. (NYSE: DLX) has been doing. For years, Deluxe was the go-to provider of paper checks, but as payment systems have evolved, the growth prospects for that business have dwindled. In response, Deluxe has moved aggressively into a wider range of business services, and that has provided a better opportunity to capture long-term growth.
Coming into Thursday's first-quarter financial report, Deluxe shareholders were prepared to accept modest sales gains and a slight retrenchment on the company's bottom line. Instead, Deluxe gave shareholders better results than they were expecting, and strength in the company's business customer base appears to be driving the company forward more quickly than expected. Let's take a closer look at Deluxe to see how it did and what's ahead.
Image source: Deluxe.
Deluxe keeps moving faster
Deluxe's first-quarter results were extremely encouraging. Revenue climbed more than 6% to $487.8 million, which was more than double the growth rate that most investors were expecting to see. GAAP net income was down 2% to $57.1 million, but after accounting for an impairment charge, adjusted earnings of $1.25 per share were up 5% from year-ago levels and were well above the consensus forecast for $1.15 per share on the bottom line.
Looking more closely at the results, Deluxe credited its small-business services segment for much of the outperformance during the quarter, as well as a strong set of results from the financial services segment. In financial services, the acquisition of FMCG Direct helped push performance higher, while smaller acquisitions were instrumental in driving small business growth. In particular, revenue from marketing services offerings climbed by nearly a fifth from the year-ago period, and it now makes up more than a third of Deluxe's total sales.
From a bottom-line perspective, Deluxe faced more challenges. Operating income in the small-business segment was up roughly 3% due to price increases and cost reductions, but financial services operating income was down by roughly a quarter following adverse legal settlements and the decline in check usage.
As we've seen for a while, the traditional check business continued to slump. Segment revenue fell 7%, which was actually better than Deluxe had anticipated, and operating income was down roughly 15% from year-ago levels.
Deluxe CEO Lee Schram was still happy with the overall performance of his company. "We delivered very strong first quarter results to start the year," Schram said, and "both revenue and adjusted diluted [earnings per share] exceeded our expectations." He noted how important marketing solutions have become to Deluxe's overall business.
Can Deluxe continue to climb?
Moreover, Deluxe sees plenty of growth ahead. As Schram said it, "We are pleased with early results from recent acquisitions, and based on our strong overall performance in the quarter, we are slightly tightening our full year adjusted diluted earnings per share outlook." Deluxe is optimistic that 2017 will be another strong year of rising revenue and earnings.
In response, Deluxe made some upward movements in its guidance. For the full 2017 year, Deluxe now expects revenue of $1.945 billion to $1.975 billion, which moves the lower end of the range up $10 million from three months ago. Similarly, adjusted earnings of $5.15 to $5.30 pushed the lower end up $0.05 from previous levels. Meanwhile, Deluxe sees second-quarter revenue of $476 million to $484 million and third-quarter sales of $483 million to $492 million, producing adjusted earnings ranges of $1.23 to $1.28 per share and $1.20 to $1.25 per share, respectively.
Deluxe stock has reacted well to the company's restructuring, and longtime investors have to be happy with the momentum that Deluxe has built. Although it still has a long way to go, today's results represent another milestone in the reinvention of the paper-check pioneer that will have dramatic implications for shareholders well into the future.
10 stocks we like better than DeluxeWhen investing geniuses David and Tom Gardner have a stock tip, it can pay to listen. After all, the newsletter they have run for over a decade, Motley Fool Stock Advisor, has tripled the market.*
David and Tom just revealed what they believe are the 10 best stocks for investors to buy right now... and Deluxe wasn't one of them! That's right -- they think these 10 stocks are even better buys.
Click here to learn about these picks!
*Stock Advisor returns as of April 3, 2017
Dan Caplinger has no position in any stocks mentioned. The Motley Fool recommends Deluxe. The Motley Fool has a disclosure policy.