Deluxe Checks In With Solid Growth, Higher 2016 Guidance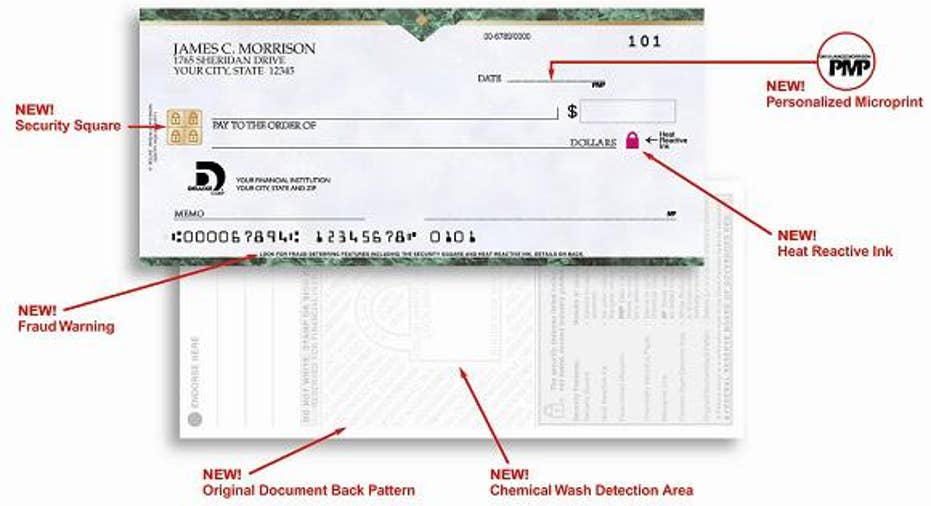 Image: Deluxe.
Paying by check has plunged in popularity in recent years, and that has put Deluxe Corp. in a challenging situation. The company best known for providing paper-check printing services has worked hard to broaden its business in order to survive the move toward electronic payment methods. Coming into Thursday's first-quarter financial report, Deluxe shareholders were quite optimistic about the progress that the company has made in reinventing itself and finding new avenues for growth. For the most part, Deluxe made good on investors' expectations, producing gains in earnings and revenue and ramping up its guidance for the full year. Let's look more closely at how Deluxe did and what's ahead for the company going forward.
Building a Deluxe strategy for growth Deluxe's first-quarter results kept showing the company's potential. Revenue was up almost 6% to $459.3 million, which was far better than the 4% growth rate that most investors had expected for Deluxe. On the bottom line, net income jumped an impressive 27% to $58.1 million, and even after adjusting for certain extraordinary items, adjusted earnings of $1.19 per share were up 14% from year-ago levels and topped the consensus forecast by $0.04 per share.
Taking a closer look at how Deluxe did, the company's success centered largely on the Financial Services segment. A 14% rise in segment sales came largely from the acquisitions of Datamyx and FISC Solutions, and that showed up in greater revenue in providing marketing solutions and other services. Operating income jumped 30%, with Deluxe implementing price increases at the same time as it successfully managed to cut costs, overcoming the secular decline in check-writing.
Other Deluxe segments posted mixed performance. The key Small Business Services division saw revenue grow 4.8%, with particularly strong growth in the online, distributor, and dealer channels. Here too, growth in marketing solutions was essential, and higher pricing helped offset foreign-exchange headwinds. Operating income from Small Business Services picked up just 4.4%, as a change in product mix and investments in strategic initiatives weighed on profitability. The Direct Check segment performed the worst, with sales falling 7% and a 4% drop in operating income.
Deluxe CEO Lee Schram seemed pleased with the company's performance. "We delivered very strong first quarter results in spite of what appears to be an overall continued sluggish economy," Schram said, and he noted that growth in marketing solutions services has made that a key line of business for Deluxe, making up almost a third of total company revenue during the quarter.
What's ahead for Deluxe?Deluxe is optimistic about its future prospects. In its CEO's words, "Our transformation to a marketing and financial technology services provider continues to make tremendous progress, and we believe we are well positioned to deliver another year of strong revenue, earnings, and cash-flow growth."
Moreover, Deluxe boosted its guidance for the full 2016 year in a number of key areas. The company raised the lower end of its previous revenue range by $10 million, now expecting sales of $1.845 billion to $1.875 billion. Deluxe raised its earnings range by between a nickel and a dime per share, with the new range coming in between $4.85 and $5 per share. Slight improvements to operating cash flow guidance also gave a positive impression for investors.
For the current quarter, however, Deluxe's guidance might not make shareholders entirely happy. The company is calling for revenue to come in between $445 million and $453 million, and it believes it will earn between $1.15 and $1.20 per share. Both figures are below the consensus forecasts among investors going into Thursday's report.
Nevertheless, Deluxe shareholders seemed generally satisfied with the overall report, sending the stock up about 1% in the opening minutes of the trading session following the announcement. As long as the company can manage to continue its transition toward marketing services and other financial services beyond the check-writing arena, Deluxe is poised to become a success story among companies looking to transform themselves in search of better business opportunities.
The article Deluxe Checks In With Solid Growth, Higher 2016 Guidance originally appeared on Fool.com.
Dan Caplinger has no position in any stocks mentioned. The Motley Fool recommends Deluxe. Try any of our Foolish newsletter services free for 30 days. We Fools may not all hold the same opinions, but we all believe that considering a diverse range of insights makes us better investors. The Motley Fool has a disclosure policy.
Copyright 1995 - 2016 The Motley Fool, LLC. All rights reserved. The Motley Fool has a disclosure policy.