Delta's profit dips 8 percent but tops Street's expectations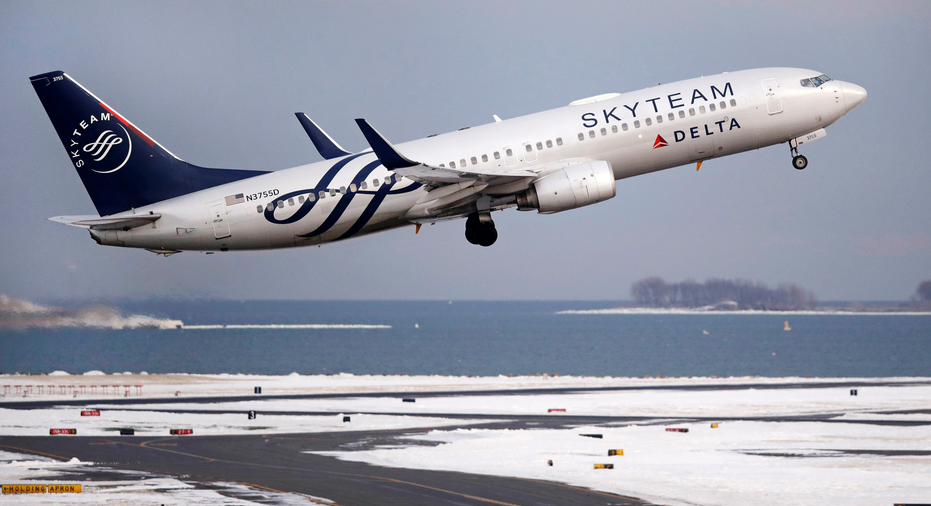 Delta Air Lines reported Thursday that fourth-quarter profit slipped 8 percent, but the results still beat expectations as average prices for passengers continued to creep higher.
The airline also raised its forecast of 2018 earnings, partly because it expects that a new, lower tax rate on businesses will help spur corporate travel.
Delta, which earned nearly $3.6 billion in 2017, doesn't pay income taxes because it is able to offset income with billions of dollars in losses from previous years. But the company expects to start paying taxes in 2019 or 2020 and believes that the new law will eventually cut its tax bill by $800 million a year or more.
Airlines are benefiting from strong travel demand that is resulting in many full flights and higher prices. At Delta, average fares and fees rose for the third straight quarter, reversing a two-year slide caused by fare wars and a glut of seats.
Delta's president, Glen Hauenstein, said the airline goes into 2018 with momentum from higher revenue because of strong demand and rising business fares.
"We are very excited about the potential for increased business demand with the tax cuts," Hauenstein said. "We expect that to materialize in the first quarter."
Hauenstein was referring to the tax measure that President Donald Trump signed, parts of which took effect Jan. 1. The law, which slashes the tax rate on corporate income from 35 percent to 21 percent, is also expected to help airlines by letting them deduct spending on new planes immediately instead of over several years.
Delta expects strong travel demand to continue. It predicted that revenue for each seat flown one mile, a figure that investors watch closely, will rise by between 2.5 percent and 4.5 percent in the first quarter — positive, but slightly slower growth than in the fourth quarter.
The Atlanta-based airline said it expects 2018 earnings of between $6.35 and $6.70 per share, citing benefits from the tax law. Analysts surveyed by FactSet were expecting $5.92 per share. Delta said rising revenue and the new tax law will partly offset higher jet fuel prices.
Delta, the second-largest U.S. airline behind American, plans to boost passenger-carrying capacity by 3 percent in the first quarter compared with the same period in 2017. That kind of growth is likely to be modest enough to avoid spooking investors, who worry that airlines are dumping too many seats on the market.
The airline expects to get 60 new planes this year, and it just ordered 100 more new Airbus jets for its 999-plane fleet, but those don't start arriving until 2020.
Delta earned $572 million in the fourth quarter, down 8 percent from $622 million a year earlier. The airline took a $60 million hit in income from a power outage that shut down the Atlanta airport, its biggest hub, on Dec. 17, and a winter storm in early December.
Excluding what the airline considers one-time gains and expenses, the profit was 96 cents per share. That topped the forecast of 88 cents per share that analysts expected, according to a survey by Zacks Investment Research.
Revenue rose 8 percent to $10.25 billion, also topping forecasts.
Costlier jet fuel could yet pose a problem for airlines. Delta's fuel spending rose 21 percent in the fourth quarter, and it predicted even higher prices in early 2018. The airlines will try to raise fares to cover that cost, but CEO Ed Bastian indicated that Delta isn't yet ready to take a more drastic step — cutting flights.
CFRA Research analyst Jim Corridore said Delta was able to boost revenue more than expected, and strong demand should help offset higher oil prices.
In midday trading Thursday, shares of Delta Air Lines Inc. rose 86 cents to $56.72.
Airline stocks had staged a broad rally on Wednesday after American and United both hinted that revenue for the fourth quarter would be stronger than had been expected.
___
David Koenig can be reached at http://twitter.com/airlinewriter