Delta Finally Orders Bombardier's Game-Changing CSeries Jet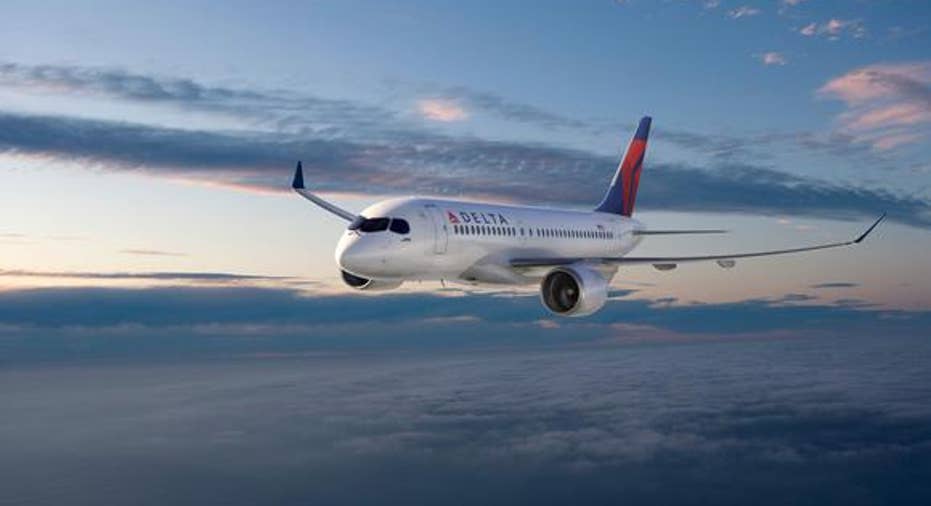 Delta Air Lines has been interested in Bombardier's revolutionary CSeries jet for at least six years. But the airline giant never pulled the trigger, due in large part to Bombardier's high asking price.
However, after several years filled with development delays, cost overruns, and not many orders, Bombardier has become a lot more aggressive on pricing. That allowed it to finally reel in a big order from Delta last week.
A great airplane with an uncertain marketIn a two-class configuration, Bombardier's CSeries models -- the CS100 and CS300 -- hold 108 and 130 seats, respectively. This puts the CSeries at the low end of the mainline market.
The CSeries jets compete at the lower end of the market for mainline planes. Image source: Bombardier.
The CSeries thus competes with the smallest jets made by aerospace giants Boeing and Airbus (the 737-700 and A319) as well as their upcoming replacements (the 737 MAX 7 and A319neo). It also goes head to head with Embraer's largest models (the E190 and E195), and their upcoming replacements (the E190-E2 and E195-E2).
However, only the CSeries is a brand-new plane designed from the ground up in the past decade. It also benefits from being optimized for the 110- to 130-seat market, unlike the competing Boeing and Airbus models. Bombardier claims that this will give the CSeries jets huge operating cost advantages over their rivals.
Unfortunately, the market has moved away from Bombardier since it began designing the CSeries. Airlines are opting for larger planes to reduce unit costs. Boeing and Airbus both have thousands of single-aisle jet orders in their firm backlogs, but the 737 MAX 7 and A319neo have just a few dozen orders each.
This sales weakness has extended to the CSeries. At the end of March, Bombardier had just 243 firm orders on the books: 53 for the smaller CS100 and 190 for the larger CS300. That includes 40 orders from bankrupt regional airline Republic Airways that will be canceled, as well as a number of other shaky orders.
Delta to the rescue -- sort ofEarlier this year, Air Canada committed to buy 45 CS300 jets, which will offset the lost Republic Airways orders. However, this still left Bombardier in a precarious position. With a small backlog, there was a risk that it would run out of orders just as production was starting to turn profitable. Furthermore, the lack of a marquee order made some potential customers nervous about buying CSeries jets.
That's why landing a big order from Delta was such a priority for Bombardier. Delta has placed a firm order for 75 CS100 jets, with another 50 options. It also has conversion rights to upgrade to the CS300.
Delta will receive its first CS100 jets in 2018. Image source: Delta Air Lines.
Bombardier now has its flagship order. However, Delta drove a hard bargain. It appears to be getting a 65%-70% discount off the list price, whereas 50% discounts are more typical.
As a result, Bombardier will book a $500 million "onerous contract" charge next quarter. (The charge also covers the Air Canada order and a smaller order from Air Baltic.) This indicates that it sold these jets below cost.
Can Bombardier succeed?Selling the CSeries at a loss to early customers was a necessary risk for Bombardier. Part of the reason why the CSeries doesn't have many orders is that the previous management team was averse to giving big discounts. Airbus and Boeing were more than happy to cut their prices to offset the CSeries' performance advantages in order to retain their customers.
The idea of offering big discounts to customers like Delta is that production costs decline over time. If Delta's commitment helps get other airlines off the fence, it will allow Bombardier to extend the CSeries production run with higher-margin sales.
However, Boeing and Airbus are eager to keep Bombardier out of their market. They remain willing to offer huge discounts when necessary to keep customers from buying the CSeries. This means that margins may be lower across the board than what Bombardier was hoping for.
Boeing and Airbus have offered big discounts to steal sales from Bombardier. Image source: Boeing.
This makes it especially critical for Bombardier to meet its cost reduction goals. Boeing has been able to withstand huge production cost overruns on the Dreamliner program due to its other highly profitable aircraft programs. By contrast, Bombardier needs the CSeries to stand on its own two feet by 2020, even in the current competitive pricing environment.
What it means for DeltaFor Delta, the CS100 will fulfill two missions. First, it will allow Delta to retire more of the cramped, fuel-guzzling 50-seat jets in its regional fleet. The CS100 will be much cheaper to operate on a per-seat basis and much more pleasant for customers.
Second, it will help Delta replace its fleet of aging MD-88s. While the CS100 is much smaller than the 149-seat MD-88, Delta has also ordered a lot of Boeing 737-900ERs and Airbus A321s -- which have 180 and 192 seats, respectively -- in the past few years. The idea seems to be to replace the MD-88s with a combination of larger and smaller aircraft.
The CS100's unbeatable cost performance will enable Delta to better match supply to demand on domestic routes without driving up unit costs. In the long run, that should lead to higher profit margins.
The article Delta Finally Orders Bombardier's Game-Changing CSeries Jet originally appeared on Fool.com.
Adam Levine-Weinberg owns shares of Embraer-Empresa Brasileira and The Boeing Company and is long July 2016 $25 calls on Embraer-Empresa Brasileira and long Jan. 2017 $40 calls on Delta Air Lines. The Motley Fool recommends Embraer-Empresa Brasileira. Try any of our Foolish newsletter services free for 30 days. We Fools may not all hold the same opinions, but we all believe that considering a diverse range of insights makes us better investors. The Motley Fool has a disclosure policy.
Copyright 1995 - 2016 The Motley Fool, LLC. All rights reserved. The Motley Fool has a disclosure policy.