Delta Air Lines, Inc. Is On Track for Huge Q1 Fuel Cost Savings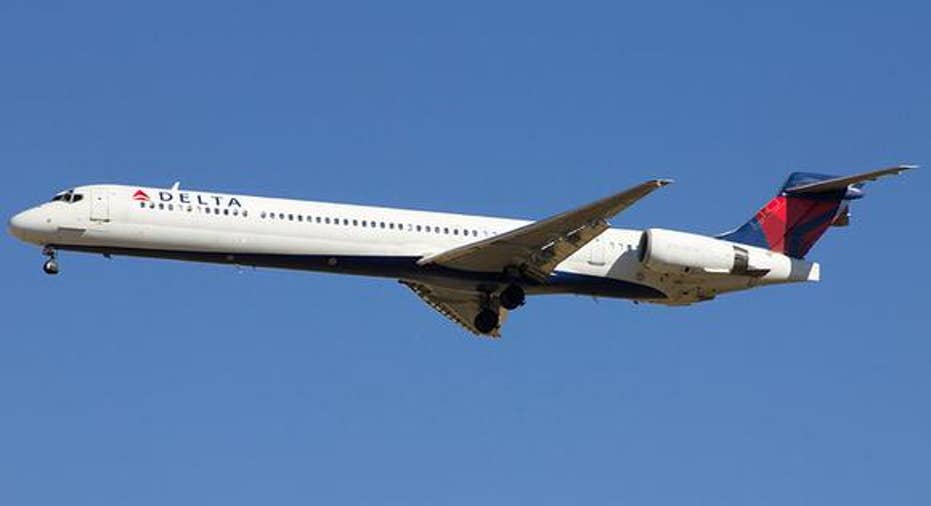 A year ago, Delta Air Lines was caught flat-footed by the collapse of the oil market. The company had aggressively hedged its fuel costs for 2015. As a result, it incurred billions of dollars in hedging losses last year.
Meanwhile, Delta's rival American Airlines (NASDAQ: AAL) had avoided buying any hedges. As a result, American Airlines saved more than $5 billion on fuel in 2015, relative to the prior year.
American Airlines profited in 2015 from its no-hedging policy. Photo: American Airlines
Delta has been careful to avoid making the same mistake twice. It is only 5% hedged for 2016. With oil prices continuing to slide, Delta is on pace to deliver huge fuel cost savings this year -- with the biggest benefit (by far) coming in the first quarter.
Delta unwound hedges in Q1 2015Delta entered 2015 having locked in fuel prices well above market levels, particularly for the first half of the year. During the first quarter, Delta decided to "take its medicine" and close out some of its hedges for the second half of 2015 to guard against further oil price declines.
In retrospect, this was a good decision, as Brent crude prices -- which averaged $58 last February -- fell to less than $40 by year-end. However, it led to Delta recording more than $1 billion in hedging losses in Q1 2015. As a result, it paid an average of $2.93/gallon for fuel that quarter: down just 3% year over year, even though oil prices were about 50% lower than in Q1 2014.
Two big sources of fuel cost savingsThis quarter, Delta should face only minimal hedging losses, as it unwound all of its Q1 hedging exposure during the last few months of 2015. That will represent roughly $1 billion in year-over-year savings.
Furthermore, market prices for jet fuel are down significantly (again) from where they were a year ago. During the first quarter of 2015, the average price of Gulf Coast jet fuel was $1.63/gallon. Recently, jet fuel prices have averaged about $1.00/gallon.
Based on Delta's Q1 2015 jet fuel consumption of 918 million gallons, the likely savings at market prices would be $550 million-$600 million. Combining the impact of lower market prices and the lack of hedging losses, Delta's Q1 fuel bill could be down by a staggering $1.5 billion-$1.6 billion year over year.
Savings will flow to the bottom lineMost of Delta's fuel cost savings this quarter will flow to the bottom line. Non-fuel cost growth should remain relatively modest, as wage increases and higher profit sharing (due to Delta's rising earnings) will be offset to some extent by Delta's ongoing shift toward larger, more cost-efficient airplanes.
Most importantly, Delta's unit revenue trajectory is improving dramatically, helped by targeted capacity cuts in weaker international markets. Delta recently estimated that passenger unit revenue (PRASM) declined just 1.5% in Q4.
Delta's unit revenue trajectory improved dramatically in Q4. Photo: The Motley Fool
That's a lot better than its initial projection that PRASM would decline 2.5%-4.5% in the fourth quarter. It's also a big improvement from the 4.6% and 4.9% PRASM declines Delta recorded in Q2 2015 and Q3 2015, respectively.
If Delta can limit its unit revenue decline to 1%-2% this quarter, it should be able to add more than $1 billion in pre-tax profit for Q1. As a result, its adjusted EPS could roughly triple from the $0.45 it reported in Q1 2015.
Delta will outperform in 2016Delta is virtually assured of outperforming American Airlines by a wide margin in terms of profit growth this year. Delta will get a more than $2 billion year-over-year benefit from lower hedging losses in 2016, whereas American Airlines doesn't hedge its fuel costs at all.
Additionally, American Airlines is seeing a slower revenue recovery thus far. As of a month ago, American was still estimating that PRASM would decline 5%-7% in the fourth quarter.
Lower year-over-year fuel cost savings and steeper revenue declines mean that American Airlines could be hard-pressed to grow its pre-tax income in 2016. Meanwhile, Delta could easily post 30% or 40% earnings growth for the full year. As Delta pulls away from the pack in terms of profitability, its industry-leading valuation could rise even further.
The article Delta Air Lines, Inc. Is On Track for Huge Q1 Fuel Cost Savings originally appeared on Fool.com.
Adam Levine-Weinberg is long January 2017 $40 calls on Delta Air Lines, and long January 2017 $30 calls on American Airlines Group. The Motley Fool is long January 2017 $35 calls on American Airlines Group. Try any of our Foolish newsletter services free for 30 days. We Fools may not all hold the same opinions, but we all believe that considering a diverse range of insights makes us better investors. The Motley Fool has a disclosure policy.
Copyright 1995 - 2016 The Motley Fool, LLC. All rights reserved. The Motley Fool has a disclosure policy.