Dearth of jobs sets stage for New Mexico governor race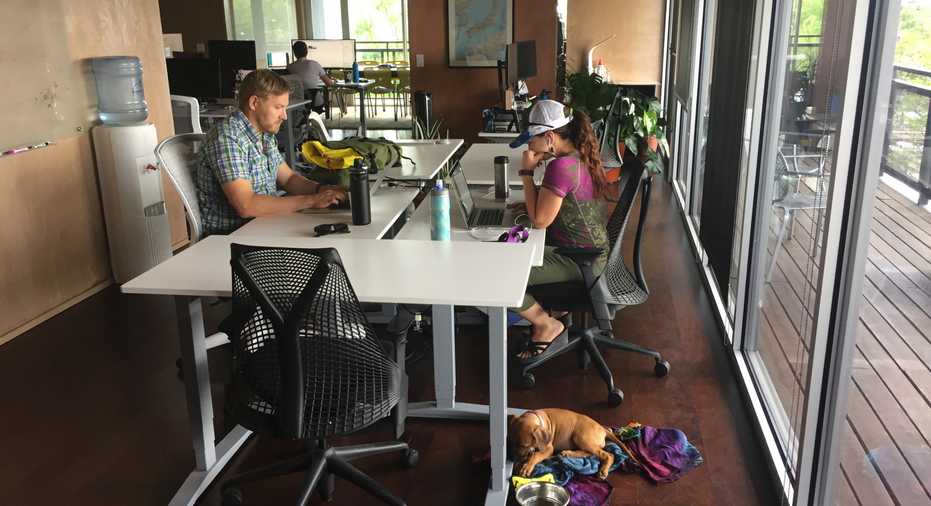 The business combines satellite readings of the Earth's surface with advanced computing to take clients on deep visual dives into crop yields, deforestation, drought and natural disasters such as wildfires.
It's a textbook Silicon Valley venture — except Descartes Labs grew out of a partnership with national laboratory scientists in northern New Mexico and recently established its headquarters in Santa Fe.
In an election year with an open seat for governor, Descartes has become a reference point in efforts to diversify a rollercoaster economy tethered closely to oil production.
The three Democratic candidates for governor are offering economic solutions that include broadly legalizing marijuana, increasing the minimum wage and making greater commitments to renewable energy and its tradesmen as the state looks to shake one of the nation's highest unemployment rates.
The contenders are Congresswoman Michelle Lujan Grisham, a former state health official; attorney and state Sen. Joseph Cervantes, whose family has farming interests in southern New Mexico; and former media executive Jeff Apodaca, the son of 1970s-era Gov. Jerry Apodaca.
The primary winner will take on Congressman Steve Pearce, the sole Republican candidate, who previously ran an oilfield services company.
The state has about 56,000 people who are seeking and can't find work and would have to add 16,000 new jobs to bring its jobless rate in line with the national average.
Unemployment rates in New Mexico are particularly high for young adults, aggravating concerns that young professionals — including the state's best and brightest — are flocking to opportunities in the roaring economies of neighboring Colorado, Texas and Arizona.
Lujan Grisham's focus includes higher quotas for electricity generated from solar and wind, along with increased investment in energy efficiency — including energy-saving upgrades to government buildings. She also wants to lift a cap on film incentive payouts — a proposal that spurred an early endorsement from Santa Fe-based author and "Game of Thrones" TV producer George R.R. Martin.
Joseph Cervantes has plans to streamline the state's process for spending on drinking water systems and roads, while holding out his Senate district as a model of economic vibrancy — a partial consequence of commerce with Mexico.
Apodaca wants to tap more of New Mexico's multibillion-dollar state trust funds for in-state investments.
He, above others, has enthusiastically embraced the broad legalization of marijuana and hemp production as an employment opportunity. Lujan Grisham and Cervantes say legalization should go hand-in-hand with ensuring safety on roads and in the workplace isn't compromised by indiscriminate marijuana use.
Apodaca estimates his employment plan would create 225,000 new jobs — including 32,000 in cannabis and hemp businesses. His competitors say those numbers are unrealistic.
Republican Gov. Susana Martinez, who cannot run for a third consecutive term, has been a tireless promoter of tax incentives that offset job training and infrastructure costs for businesses.
Terri Cole, president of the Greater Albuquerque Chamber of Commerce, says the state's competitive disadvantages run too deep for tax breaks to resolve.
"When you look at the bigger picture of diversifying our economy as a state, we have to look at public education reforms and the public safety dilemma," she said.
Companies making incursions into New Mexico include Facebook, with a major data center under construction in the town of Los Lunas.
Russell Wyrick, state director of the New Mexico Small Business Development Center at Santa Fe, says it's unrealistic for most rural communities to expect corporate giants to bring them industrial-scale facilities or office headquarters.
Encouraged by state lawmakers, he's using federal funding to developing a curriculum to help "solo-preneurs" in rural areas secure good-paying jobs that can be fulfilled with phone and high-speed internet connections.
Descartes Labs Inc. CEO and co-founder Mark Johnson, a serial creator of high-tech startup companies, says state and city tax incentives helped his expansion plans and provided an extra dose of investor confidence as the company closed last year on a $30 million round of financing.
He describes the visceral allure of an unspoiled place — traffic-free commutes, rent at a fraction of coastal prices, mountain vistas, dogs in the office and bicycles chained outside. That has helped him attract talent from San Francisco and bring back "boomerang" New Mexico natives who left in search of a career boost.
"Not everybody wants to live in a big city," Johnson said.