Dear Pfizer, Stop Overpaying for Acquisitions!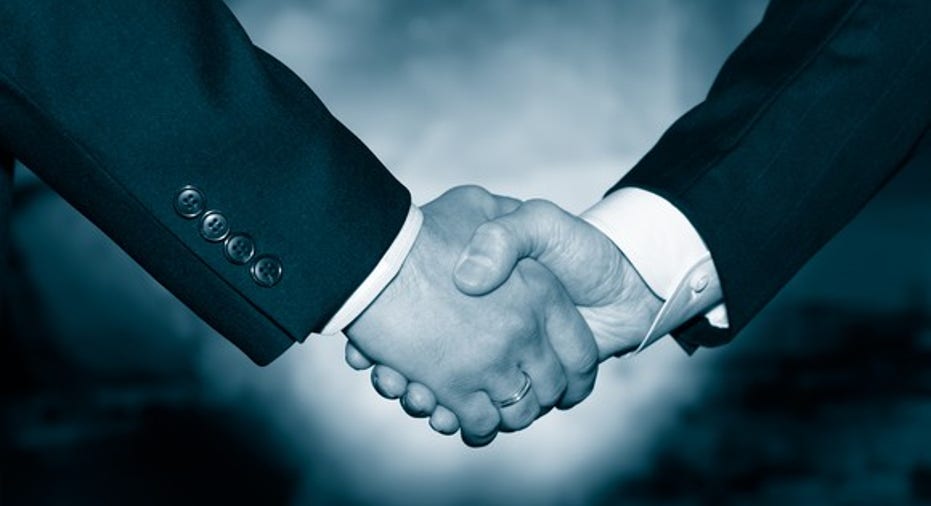 Image source: Getty Images.
If you've ever taken the time to sit down and listen to one of Pfizer's (NYSE: PFE) quarterly conference calls or investor day updates, you'll catch many of the same themes throughout. One of those being that Pfizer and its CEO, Ian Read, very much believe in growth by acquisition.
Pfizer goes all in on M&A
Earlier this decade when Pfizer lost patent exclusivity on the best-selling drug of all-time, cholesterol-fighting drug Lipitor, as well as other blockbusters more recently such as Celebrex and Zyvox, it forced management to take a good look at itself and figure out where new growth catalysts would come from. Despite having a deep pipeline complete with 86 clinical stage or registration-stage products as of May 3, 2016, Pfizer's answer has been to supplement its pipeline and product portfolio with inorganic growth via M&A.
It's hard to blame Pfizer for going this route with the current lending environment as attractive as it is. Near-record-low interest rates have made borrowing pretty inexpensive for M&A activity, which in turn fueled biotech to a record value of deals in 2015. Pfizer is one of those drugmakers that's been quite active on the M&A front.
Image source: Astellas Pharma.
Why bring this up? On Monday, Pfizer announced that it was going to be purchasing cancer drug developer Medivation (NASDAQ: MDVN) for $14 billion, or $81.50 per share in cash. Medivation has been on the auction block for months, with Sanofi (NYSE: SNY) seeming as if it'd be the most likely suitor. Sanofi had made multiple offers for Medivation that Medivation's board had rejected as too low, and even had a plan in place to replace Medivation's board and take its offer to shareholders. In the end, only Pfizer was willing to pay up.
The reason behind Pfizer's willingness to pony up $14 billion for Medivation rests with Xtandi, a Food and Drug Administration-approved oral drug designed to treat metastatic castration-resistant prostate cancer (mCRPC). Xtandi sales over the trailing 12 months have totaled $2.2 billion, which is split between Medivation and its collaborative partner Astellas Pharma (NASDAQOTH: ALPMY). In theory, though, Xtandi is still early in its growth cycle, with a push into earlier stages of mCRPC treatment seeming likely. This push could help Xtandi's sales improve to between $4 billion and $5 billion at their annual peak.
Best of all, Pfizer's shareholders were likely thrilled to see that the acquisition would be immediately accretive to earnings to the tune of $0.05 per share over the first full year.
Pfizer has a habit of overpaying for acquisitions
But is Pfizer's deal to scoop up Medivation at $81.50 in cash really worth it?
The company does get a fast-growing cancer drug that has what looks to be a good shot of continued label expansion, but it'll be forced to split its bounty with Astellas Pharma. Even if Xtandi reaches the upper echelon of its peak sales estimates, Pfizer paid very close to six times peak annual sales for the drug. This puts a lot of pressure on Pfizer to ensure that other late-stage drugs being developed by Medivation, including talazoparib for BRCA-mutated breast cancer, and pidilizumab for blood cancer, succeed in clinical trials. BMO Capital analyst Do Kim recently suggested talazoparib could generate up to $850 million in peak annual sales if approved, but we likely won't see that clinical data for a few more quarters. These are utopian scenarios, and they rarely play out in the biotech and pharmaceutical industries.
Image source: Getty Images.
Of course, this is far from Pfizer's only instance of seemingly overpaying for an acquisition. Just three months ago, Pfizer announced the purchase of Anacor Pharmaceuticals for $5.2 billion, or $99.25 in cash per share. That was a 55% premium to Anacor's closing price on the previous trading day. The purpose of the Anacor acquisition was to get its hands on crisaborole, a promising non-steroidal topical anti-inflammatory PDE-4 inhibitor that's been submitted for regulatory review as a treatment for mild-to-moderate atopic dermatitis. If approved, some analysts have suggested crisaborole could generate $1 billion-plus in peak annual sales.
But here's the issue: there's tons of competition surrounding atopic dermatitis. Celgene's (NASDAQ: CELG) oral PDE-4 inhibitor Otezla has already racked up two label indications and has around a half-dozen more on the docket, including atopic dermatitis. In a relative small study conducted with Otezla, the drug generated a 62% success rate of reducing the Eczema Area and Severity Index (EASI) in patients by 50% or more. While EASI isn't comparable to the measurement used to determine the success of crisaborole, it does imply that Celgene's Otezla could be stiff competition nonetheless. A bevy of other atopic dermatitis drugs are also in development from competitors. Based on my own analysis, I don't foresee Pfizer coming out ahead following its Anacor deal until perhaps 2024 or 2025.
There was also Pfizer's attempted acquisition of Allergan (NYSE: AGN), which eventually turned out to be nothing more than a disguised tax inversion deal. The deal would have created the largest pharmaceutical company in the world, with Pfizer touting up the diversity of the pipelines and product portfolios of the two companies. Yet, the crown jewel of the deal was the purported ability of Pfizer to relocate its headquarters to Allergan's home country of Ireland in order to save money on its corporate income taxes. In total, Pfizer was willing to work out a slightly more than 20% premium for Allergan at the time the deal was announced ($160 billion) to save $2 billion annually in cost synergies.
When it comes to M&A, you could rightly say that Pfizer and its management team have a history of overpaying, or attempting to overpay.
Image source: Getty Images.
Pfizer really needs to focus on its strengths
Instead of attempting to acquire everything within sight, I'd suggest Pfizer's management team take a step back and reevaluate its strategy. It has a number of strong growth assets with which to rely on at the moment that could really ignore organic growth.
One of these assets is breast cancer drug Ibrance, which was first approved to treat ER+/HER2- metastatic breast cancer in Feb. 2015. After Ibrance essentially doubled progression-free survival in late-stage trials, its fate as a blockbuster drug appeared to be sealed. In the second quarter, Ibrance sales hit $514 million, up more than 200% from the $140 million generated during its first full quarter on pharmacy shelves last year. This puts Ibrance on pace for $2 billion-plus in annual sales already. Ibrance's growth and label expansion opportunities are where Pfizer's focus should be.
Additionally, Pfizer should be placing its marketing efforts into reaching more consumers for its top-selling pneumococcal vaccine Prevnar 13. In Sept. 2014, the Centers for Disease Control and Prevention made Prevnar 13 the recommended pneumococcal vaccine for persons aged 65 and up, which allowed Pfizer to quickly gobble up around 30% of its potential patient pool. This pushed sales of Prevnar 13 above $6 billion worldwide in 2015. Pfizer should be looking for ways to market beyond the low-hanging fruit customers for this blockbuster vaccine.
Pfizer also has a growing number of biosimilar products that could begin siphoning sales from branded therapies in the coming years. These biosimilars are part of the aforementioned 86-drug pipeline.
Pfizer has organic options to consider investing time and money in, but for now it seems content in overpaying for assets and taking a long time to recoup its initial investments. I happen to believe that's a recipe which rarely works in shareholders' favor.
A secret billion-dollar stock opportunity The world's biggest tech company forgot to show you something, but a few Wall Street analysts and the Fool didn't miss a beat: There's a small company that's powering their brand-new gadgets and the coming revolution in technology. And we think its stock price has nearly unlimited room to run for early in-the-know investors! To be one of them, just click here.
Sean Williamshas no material interest in any companies mentioned in this article. You can follow him on CAPS under the screen nameTMFUltraLong, and check him out on Twitter, where he goes by the handle@TMFUltraLong.
The Motley Fool owns shares of and recommends Celgene. It also has the following options: short October 2016 $95 puts on Celgene. Try any of our Foolish newsletter services free for 30 days. We Fools may not all hold the same opinions, but we all believe that considering a diverse range of insights makes us better investors. The Motley Fool has a disclosure policy.