DCP Midstream LP Continues to Feel the Burn From Lower Commodity Prices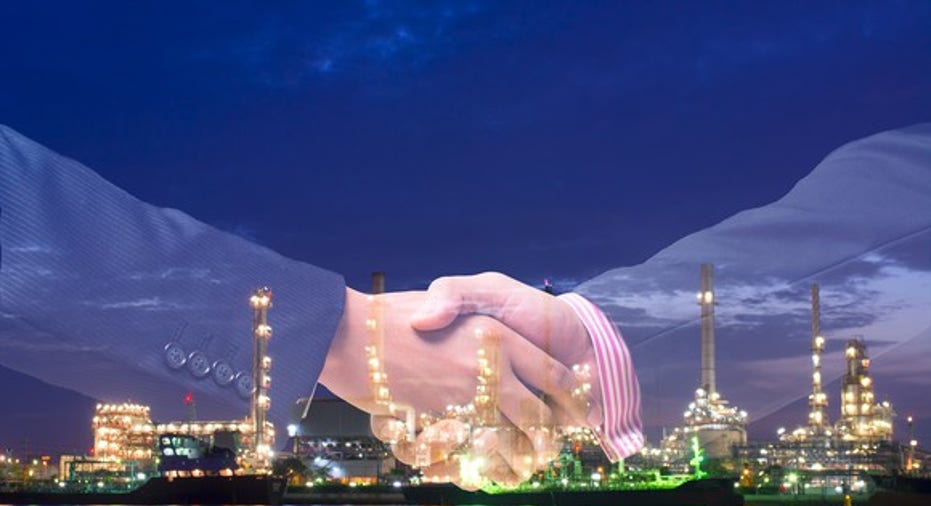 A lot has happened to DCP Midstream (NYSE: DCP) since it last reported results. Topping the list is the company's recent consolidation transaction with its parent company, resulting in it assuming its parent's shorter name and announcing a new slate of growth projects. The driving force of that deal is that it will reduce complexity, save money, and enable the combined entity to create a platform to drive future growth and turn around its recent slump.
DCP Midstream results: The raw numbers
| Metric | Q4 2016 | Q4 2015 | Year-Over-Year Change |
| --- | --- | --- | --- |
| Adjusted EBITDA | $151 million | $176 million | -14.2% |
| Distributable cash flow | $120 million | $145 million | -17.2% |
| Distribution coverage ratio | 1.0 times | 1.21 times | N/A |
Data source: DCP Midstream, LP.
What happened with DCP Midstream this quarter?
DCP Midstream's earningscontinue to decline as its hedges roll off:
Adjusted EBITDA in the natural gas services segment slipped 11.1% year over year to $120 million thanks to the expiration of commodity hedges, lower volumes on two of its systems, and the sale of an asset. The company partially offset these issues with growth on its DJ Basin system and the ramp-up of its Lucerne 2 plant and Grand Parkway, as well as lower operating costs as a result of its cost-savings initiative.
NGL logistics segment adjusted EBITDA slid 3.8% to $50 million because of higher maintenance spending on Southern Hills and Sand Hills. It offset part of that spending with higher throughput volumes on those systems as well as NGL production growth from new plants placed into service.
Wholesale propane logistics segment adjusted EBITDA slumped 36.4% to $7 million thanks to lower margins as a result of warmer weather and commodity hedging activity.
Shortly after the quarter ended, DCP Midstream Partners combined with parent company DCP Midstream in an $11 billion deal to create the largest NGL producer and gas processor in the country. The transaction closed in late January, resulting in the combined company keeping the DCP Midstream name.
Image source: Getty Images.
What management had to say
CEO Wouter van Kempen commented on the quarter and the company's future by saying:
DCP Midstream became the latest MLP to complete a consolidation transaction with an affiliated company to reduce complexity and costs while providing a clear path for future growth. One of the drivers of these deals is that they should lower the cost of capital for the combined entity. That's what just happened at Targa Resources (NYSE: TRGP), which consolidated with its MLP last year. A few months after closing the deal, Targa Resources was able to raise $1 billion in debt at 5.375% for the most expensive traunch. Targa Resources used that cash to refinance near-term debt that had interest rates as high at 6.875%. The hope is that DCP Midstream willlikewise have greater access to cheaper capital as a result of its transaction.
The other direct result of the deal is that DCP announced three new growth projects. The company will construct the Mewbourn 3 processing plant in the DJ Basin, add additional compression and plant bypass infrastructure in that basin, and expand the capacity of the Sand Hills pipeline. These projects should enter service over the next two years.
Looking forward
As a result of its consolidation transaction, DCP Midstream expects that adjusted EBITDA will be in a range of $940 million to $1.11 billion in 2017. That compares to $594 million in adjusted EBITDA last year for DCP Midstream Partners as a stand-alone entity. Looking further ahead, DCP Midstream anticipates that the transaction, when combined with its new slate of growth projects and improving margins, will enable it to restart distribution growth in the future.
10 stocks we like better than DCP MidstreamWhen investing geniuses David and Tom Gardner have a stock tip, it can pay to listen. After all, the newsletter they have run for over a decade, Motley Fool Stock Advisor, has tripled the market.*
David and Tom just revealed what they believe are the 10 best stocks for investors to buy right now...and DCP Midstream wasn't one of them! That's right -- they think these 10 stocks are even better buys.
Click here to learn about these picks!
*Stock Advisor returns as of February 6, 2017.
Matt DiLallo has no position in any stocks mentioned. The Motley Fool recommends DCP Midstream. The Motley Fool has a disclosure policy.