Dave & Buster's Wants to Be the New Disney World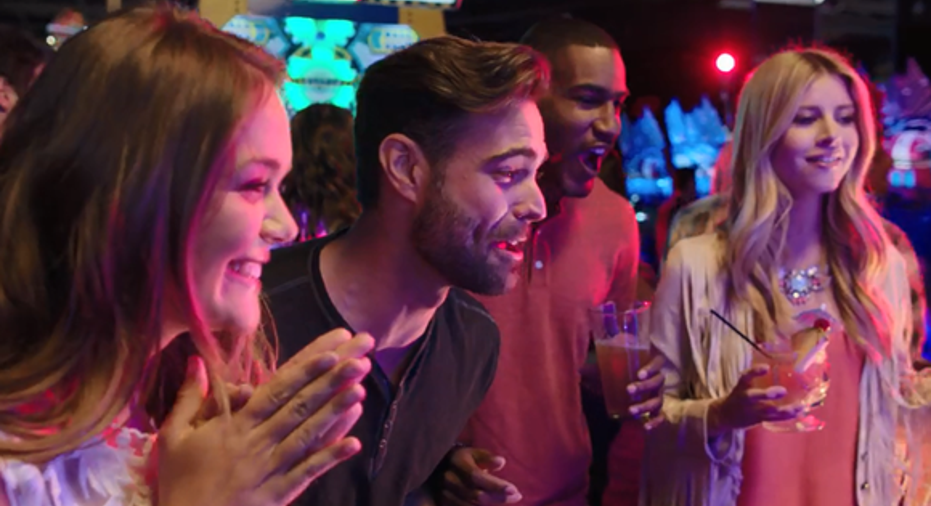 Image source: Dave & Buster's.
The virtual prize tickets were flowing atDave & Buster's last week. The chain of restaurants with gargantuan video game arcades saw its stock soar 15% after posting another blowout quarter. The party has continued with the stock hitting yet another all-time high yesterday,
The 84-unit chain is on a roll, but it's not resting on its laurels. During last week's earnings call it announced new technology that it will be incorporating -- and it's something that may seem pretty familiar to anyone that has been to one of Disney's theme parks in Florida.
Later this month it will be rolling out wearable RFID-enabled merchandise -- suggesting that it will be similar to Disney World's bar-raising MagicBand platform. Dave & Buster's regulars will be able to buy the wristbands to replace their power cards, just as MagicBands at Disney World allow guests to enter the theme parks, check in through expedited attraction queues, and in some cases pay for merchandise sales. For now Dave & Buster's will be using the wearable bracelets with RFID chips to activate games, but clearly a lot more will be possible down the line.
This is all possible because Dave & Buster's completed its largest infrastructure project last summer, replacing the card-swiping machines at every arcade game with Linux-based touch screen systems. The new terminals activate games and tally tickets used for redemption prizes, but that's also just the first step to cashing in on this investment.
Winning the game
Dave & Buster's is on a roll. Revenue climbed 17.7% to hit $262 million in its latest quarter. The chain grew its top line mostly on the back of heady expansion, but comps also rose at a healthy 3.6% clip. Bears that have tried to write the superstore eatery concept as a novelty continue to get burned. We're now at 16 quarters in a row of Dave & Buster's exceeding industry comparable-restaurant sales, according to Knapp-Track estimates.
It hasn't been afraid to teach old arcade games new tricks. Last year it turned heads when Dave & Buster's rolled out free mobile games that reward players with digital tickets that could be redeemed for physical in-store prizes. It was a clever way to get folks to visit more, and the new wearable gear that it will introduce this month should have the same effect.
If you invest in wearable tech -- even if it's just a few bucks -- it's more than just a fashion statement. This is a commitment to future use, and the ability for these wearable bands to store unused tickets will keep folks coming back to build up their balances to nab better prizes. The same thing can be said about its current Power Cards, but you're less likely to toss out a purchased wristband.
Dave & Buster's issues more than 10 million Power Cards, and it's a safe bet that many get discarded or lost in the back of a kitchen drawer. That's not going to happen with an investment in wearable tech.
Disney reportedly made a $1 billion investment in MyMagic+ and MagicBand technology, and it's still around a couple of years later so it must be working. Dave & Buster's won't have to spend that much, but it can benefit from watching the platform evolve at Disney World where rides and queues now interact with guests.
Disney rides know when guests pass through queue entrances, allowing the theme park to either offer up personalized in-ride acknowledgments or save on-board photos for future purchase. These neat tricks may not apply to Dave & Buster's, but if the RFID band is discovered within the establishment or within certain parts of the location it can push out texts for relevant promotions. You can't do that with a lowly Power Card until it's scanned, and even then you lose track of a patron until the card is scanned at another diversion. Getting folks to pay for the wearable tech will be the trick. After that it will all be interactive gravy.
The article Dave & Buster's Wants to Be the New Disney World originally appeared on Fool.com.
Rick Munarriz owns shares of Walt Disney. The Motley Fool owns shares of and recommends Walt Disney. The Motley Fool recommends Dave & Buster's Entertainment. Try any of our Foolish newsletter services free for 30 days. We Fools may not all hold the same opinions, but we all believe that considering a diverse range of insights makes us better investors. The Motley Fool has a disclosure policy.
Copyright 1995 - 2016 The Motley Fool, LLC. All rights reserved. The Motley Fool has a disclosure policy.