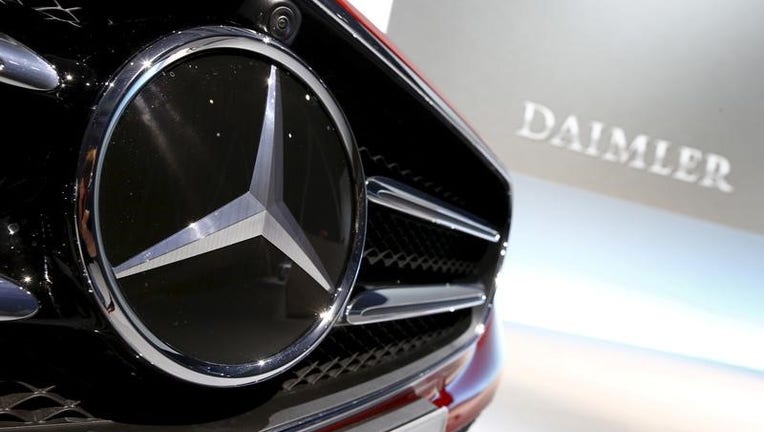 Daimler AG, the maker of Mercedes-Benz cars, responded to continued pressure from the Trump administration on auto makers, saying Tuesday it is increasing the amount of parts it uses from American-based supplier factories.
The announcement comes shortly after reports emerged of President Donald Trump highlighting the German car maker's role in a $15.4 billion automotive trade deficit with Germany. Daimler, BMW AG and Volkswagen AG import cars to the U.S. from several markets, including Germany and Mexico, but also build models in several southern states.
Mercedes makes certain models in Alabama and told its parts makers in a recent meeting that it "sees value" in using more suppliers with locations in the state as it continues to invest in its Tuscaloosa factory. That plant produces the GLE and GLS SUVs, along with the C-Class sedan, for the North American market.
Mr. Trump has highlighted the auto industry in his broader "America First" push during the 2016 presidential campaign and since taking office, criticizing both domestic and foreign car companies for building vehicles in Mexico and other markets and then selling them in the U.S. He has on several occasions proposed a border tax, prompting many auto makers to ramp up commitments to U.S. jobs and investment, and even change course on Mexican production. Ford Motor Co. shelved plans for a new factory south of the U.S. border.
Mr. Trump called out Toyota Motor Corp. twice earlier this year for plans to build a $1 billion plant in Guanajuato, Mexico. Soon after, the Japanese auto maker announced it would invest $1.3 billion in its Camry sedan plant in Kentucky and consider adding more U.S. capacity.
More from FOXBusiness.com...
The Trump administration earlier in May also sent a notification to Congress saying it plans to begin negotiations as soon as August on the North American Free Trade Agreement, a 23-year-old pact that is important to the auto industry.
Mercedes uses a relatively high percentage of suppliers with U.S. locations among the foreign auto makers operating in the country. For example, the 2017 GLS-Class sport-utility vehicle built in Alabama consists of 60% parts made in the U.S. or Canada, according to the National Highway Traffic Safety Administration. The 2017 Ford Focus, by comparison, is made up of 40% U.S. or Canadian parts and General Motors Co.'s Chevrolet Silverado contains 38% U.S. or Canadian parts.
Mercedes C-Class sedan, also built in Alabama, uses among the highest concentration of parts supplied by U.S. or Canadian components makers at 80%, according to NHTSA. Daimler said it uses nearly 200 U.S.-based suppliers at its Tuscaloosa facility.
Mercedes is in the midst of a $1.3 billion expansion at the plant, which includes a new body shop and modifications to its SUV assembly shop. The auto maker has invested $4.5 billion in the plant since it opened in 1995. Last year, the plant produced more than 300,000 vehicles.
Mercedes sold its most vehicles ever in the U.S. last year -- 380,752 vehicles -- making it the best-selling luxury brand in the U.S.
Write to Adrienne Roberts at Adrienne.Roberts@wsj.com
(END) Dow Jones Newswires
May 30, 2017 12:41 ET (16:41 GMT)