Daimler Takes Aim at Tesla Motors With $11 Billion for Mercedes-Benz Electrics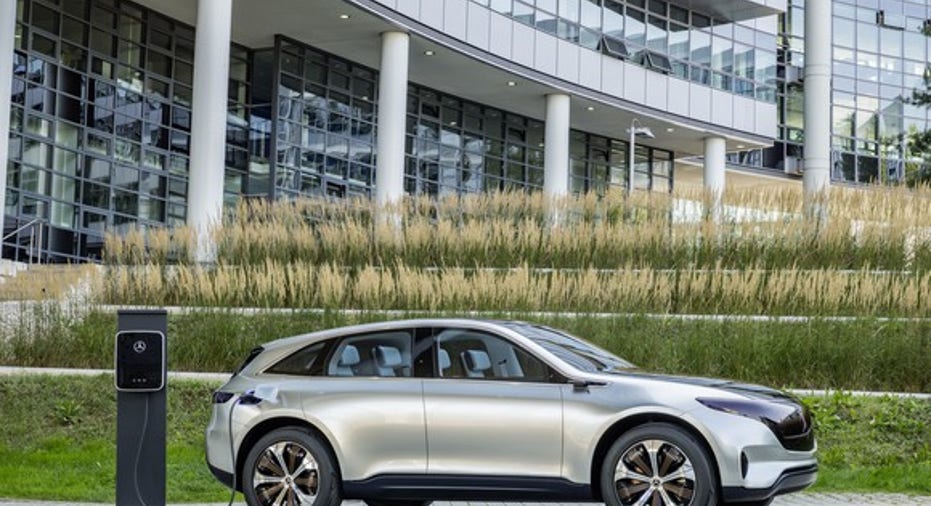 How serious is Mercedes-Benz's corporate parent Daimler AG (NASDAQOTH: DDAIF) about electric vehicles?
Let's put it this way: Its research and development chief said it's gearing up to spend about 10 billion euros ($11 billion) on a new range of electric models, including seven new Mercedes that will take direct aim at Tesla Motors (NASDAQ: TSLA).
Ten new electric vehicles for Mercedes-Benz and Smart
Thomas Weber runs Daimler's research team as well as development for Daimler's Mercedes-Benz cars unit. In an interview with German newspaper Stuttgarter Zeitung, he dropped some hints (here, translated from the original German) as to what Daimler has in mind for its upcoming battery-electric vehicles:
What we know about the upcoming electric Mercedes models
Weber said that three of the planned ten vehicles will be created for Daimler's Smart brand, and will have about 150 kilometers of range. The remainder will be Mercedes-Benz models sold under the "EQ brand," a new sub-brand intended to set the electric Mercedes models apart from the regular product line.
The Mercedes-Benz Generation EQ concept previewed the new EQ sub-brand's styling. Image source: Daimler AG.
Mercedes previewed the sub-brand's direction with the Generation EQ concept vehicle, unveiled in Paris last month. Although the Generation EQ concept's styling was more evolutionary than revolutionary, Weber said that the production models will be "as differentiated as possible" from their internal-combustion counterparts.
"Everything the customer experiences and perceives should be different, such as the outer skin and the interior," he said. But, Weber said, the new electric Mercedes models will share as many parts as possible under the skin with their internal-combustion siblings, in order to reduce costs and ensure high quality.
Long range and fast-charging capabilities will be standard
As Weber said, the EQ models will have range of at least 500 kilometers, or about 311 miles, under the New European Driving Cycle (NEDC) standard. That's more generous than the U.S. Environmental Protection Agency's standard: Expect an EPA-rated range of around 250 miles for these models.
It's a safe bet that all of the new electric Mercedes-Benz models will have fast-charging capabilities: Daimler is part of a joint venture announced on Tuesday that plans to install a network of ultra-fast 350-kilowatt chargers along major travel routes in Europe. At full power, those chargers could add 100 kilometers of range in less than five minutes.
Weber said that Mercedes may offer larger battery packs (with more range) as optional upgrades on some models.
It adds up to a serious challenge to Tesla Motors
Tesla has had the market for "premium electric vehicles" more or less to itself since its Model S debuted in 2012. While Tesla hasn't exactly disrupted the auto industry, it has taken a bite out of some market segments long dominated by Mercedes-Benz and its two German rivals, BMW and Audi.
Most automakers now see a gradual transition to electrified vehicles as inevitable, as global air-quality regulations continue to tighten. But because of Tesla, the situation for the German luxury brands is more acute: Not only is Tesla stealing sales, it has also stolen the Germans' luster of technological leadership. Suddenly, they're behind. That won't do.
What we're seeing from Daimler now is a serious, well-funded effort to catch up. The new EQ models will have ranges in the ballpark of current Teslas, with the capability to recharge faster than Tesla's current Superchargers will allow.
Whether they'll have the level of high-tech integration that has made Teslas so intriguing remains to be seen. But given Tesla's recent quality woes, for many buyers, Mercedes-Benz's reputation for solid, long-lived vehicles may be enough to offset any unfavorable high-tech comparisons.
10 stocks we like better than Daimler AG When investing geniuses David and Tom Gardner have a stock tip, it can pay to listen. After all, the newsletter they have run for over a decade, Motley Fool Stock Advisor, has tripled the market.*
David and Tom just revealed what they believe are the 10 best stocks for investors to buy right now... and DAIMLER AG ORD wasn't one of them! That's right -- they think these 10 stocks are even better buys.
Click here to learn about these picks!
*Stock Advisor returns as of November 7, 2016
John Rosevear has no position in any stocks mentioned. The Motley Fool owns shares of and recommends Tesla Motors. The Motley Fool recommends BMW.
Try any of our Foolish newsletter services free for 30 days. We Fools may not all hold the same opinions, but we all believe that considering a diverse range of insights makes us better investors. The Motley Fool has a disclosure policy.