Daimler Readies a New Electric Mercedes-Benz: What We Know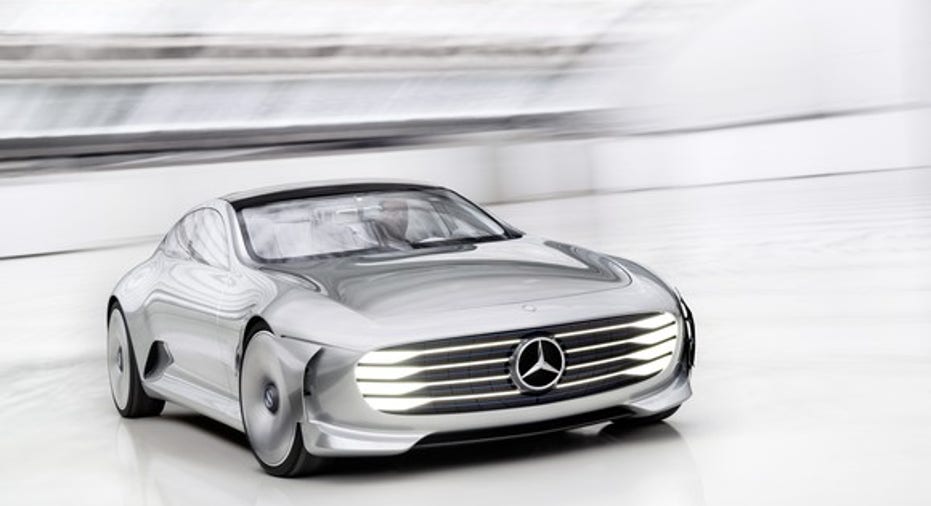 The Mercedes-Benz Concept IAA show car, unveiled last year, is thought to be a preview of the styling of Mercedes' upcoming electric luxury vehicles. Image source: Daimler.
Daimler will unveil a prototype of the first long-range Mercedes-Benz electric car at the Paris Motor Show in October, company officials said on Monday.
What we know about the new electric Mercedes
It's designed specifically for battery-electric propulsion: Officially, the car that will be shown in Paris will be a concept -- meaning that there may be features or aspects of its styling that won't make it to production. But the architecture of the show car won't be fanciful; it will be a genuine prototype. Like Tesla Motors' vehicles, it will be designed from the start for battery-electric propulsion, not modified from a gasoline-powered model.
Its range will be competitive withTesla's Model S and Model X:Daimler promises that the new Mercedes electrics will have ranges of "at least" 500 kilometers (311 miles) as tested by the European Union. As U.S. tests are somewhat stricter, that probably translates into an EPA-rated range of 260 to 270 miles or thereabouts -- right in line with Teslas equipped with the 90 kilowatt-hour battery.
There are (at least) four all-electric Mercedes planned: The new architecture is expected to form the basis of four new Mercedes models: Two sedans (midsize and large), and two SUVs (also midsize and large). The large SUV is said to be larger than any SUV in Mercedes' current lineup.
The show car will probably be a sedan: The midsize sedan is expected to be the first of the four Mercedes-Benz electrics to come to market (possibly in 2018). The show car will probably be a close-to-final version of that sedan. There have been hints that its styling will follow that of the concept car pictured above: Distinctive and different from the company's gas- and diesel-powered models, but still immediately identifiable as a Mercedes-Benz.
It will use battery packs from a Daimler subsidiary: Daimler set up its own battery company, called Deutsche Accumotive, in 2009. Deutsche Accumotive already has one battery-pack factory up and running in the German city of Kamenz, with another set to begin construction this fall. Like Tesla's Gigafactory, the Deutsche Accumotive facility also makes batteries for stationary storage units for residential and industrial use.
But: Deutsche Accumotive builds battery packs and related control systems. It doesn't make the individual lithium-ion battery cells that go into them. Where will Daimler get its battery cells, and how many will it be able to get? That's not currently clear.
It won't use proprietary fast-charging technology: Daimler said that all Mercedes-Benz electric vehicles from 2018 on will use direct current (DC) charging based on the existing Combined Charging System (CCS) standard, common in Europe. "Depending on the vehicle and battery system, this enables a charging capacity of up to 150 kW at fast charging stations," Daimler said in a statement.
For comparison, Tesla's Superchargers currently deliver "up to 120 kW," according to the company's website, though it's expected that Tesla will push that number higher over time.
What we don't know yet about Mercedes-Benz's electric-car plans
How many battery-electric vehicles will Mercedes build? Daimler said that its production of electric vehicles will be "in the six figures by 2020" -- but that figure appears to include plug-in hybrids, as well as shorter-range electrics sold under Daimler's Smart brand. With respect to the Mercedes-Benz battery-electric vehicles, we don't yet know the capacity of the production line(s) that will build them. Will they be serious volume competition to Tesla's Model S and Model X, or expensive limited-production models intended to help the company meet ever-tightening emissions rules? That's unclear right now.
Another view of the Mercedes-Benz Concept IAA electric car. Image source: Daimler.
When will the new electric Mercedes go on sale? Officially, Mercedes is only promising that the cars will hit the market by the end of the decade. It's believed that the plan is to begin producing the first of the series sometime in 2018, but Mercedes hasn't yet committed to that date.
What it means for Daimler, Tesla, and their luxury-car rivals
Tesla's success hasn't had much impact on the mass-market automakers -- at least, not yet. But it has probably taken a noticeable bite out of the sales of Mercedes-Benz and its German luxury rivals BMW and Audi. It's thus not a surprise that Mercedes is gearing up to defend its turf -- or at least to offer high-quality electric cars to its customers who might otherwise be tempted by a Tesla.
Beyond that, it's hard to say "what it means" until we know a lot more about these upcoming Mercedes-Benz electrics. Specifically, how will they compare with Tesla's offerings on price, features, and quality? But given that this is Mercedes-Benz, it's likely that the cars will be quite competitive -- enough to give Tesla something to think about.
The article Daimler Readies a New Electric Mercedes-Benz: What We Know originally appeared on Fool.com.
John Rosevear has no position in any stocks mentioned. The Motley Fool owns shares of and recommends Tesla Motors. The Motley Fool recommends BMW. Try any of our Foolish newsletter services free for 30 days. We Fools may not all hold the same opinions, but we all believe that considering a diverse range of insights makes us better investors. The Motley Fool has a disclosure policy.
Copyright 1995 - 2016 The Motley Fool, LLC. All rights reserved. The Motley Fool has a disclosure policy.