Ctrip.com International, Ltd. (ADR) Grows Revenue, but Investors Are Worried About a Slowdown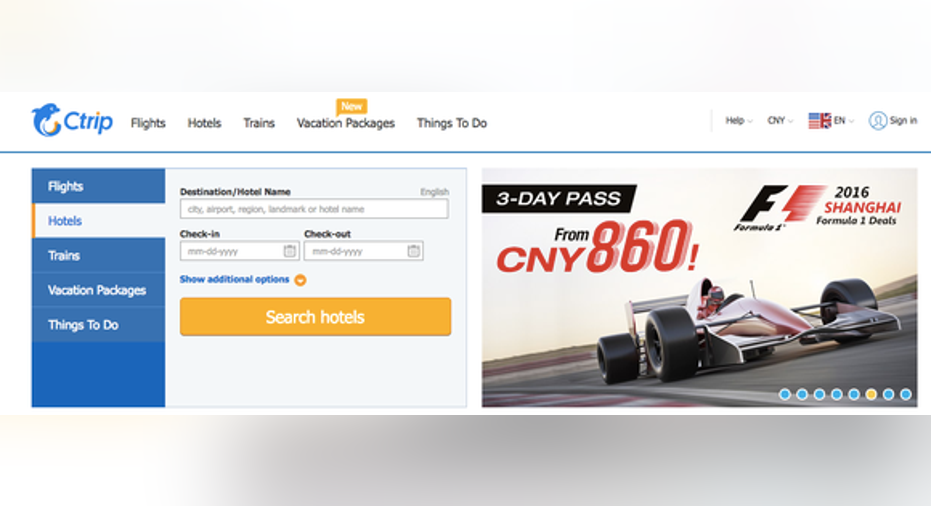 Ctrip is now much more than just Ctrip.com. Image source: Ctrip.com.
It was a historic year for Chinese online travel agency (OTA) Ctrip.com . Beyond showing impressive growth numbers from its core lines of business, Ctrip also began to consolidate the OTA market in the world's most populous nation.
The company made a strategic investment in rival eLongearly in the year. Later, thanks to a share swap with Chinese search giant Baiduand a follow-on investment, Ctrip also became the primary owner of rival Qunar .
When Ctrip reported Q4 and full-year 2015 earnings this week, its core business continued to show the type of strength that helped shares more than double during 2015. But confusing financials related to all the deals, combined with an implied slowing of the Chinese OTA market, spooked investors.
First, the good newsOn almost all fronts, Ctrip showed that the fourth quarter of 2015 was a strong one. Take a look at trends in both volume and revenue growth for the company's two largest segments: accommodations and transportation.
| | Accommodations | Transportation |
| --- | --- | --- |
| Volume Growth | 41%* | 143% |
| Revenue Growth | 41% | 61% |
*estimate
Although the company didn't specify actual volume growth in Accommodations, it has closely mirrored revenue growth, so the 41% figure I included came from this assumption.
On the transportation front, results bested even the company's high expectation. Management noted particular strength from train tickets -- where volume grew by over 250%.
But that wasn't the end of the good news: The company was also able to expand its margins nicely. While revenue grew by 50% during the quarter, product development spending increased just 9%, while SG&A increased just 23%.
Management said this was mainly due to disciplined cost controls -- and beneficial effects from prior investments.
And now, the not-so-good newsWhen Ctrip provided guidance for the first quarter of 2016, it said that revenue was expected to grow between 75% and 80%. Normally, for a company that's growing revenue by 50%, such a bump would be cause for celebration.
But that's not what happened. Management said that the guidance included results from Qunar in its equation, for the very first time. Several analysts asked CFO Cindy Wang if she could break the number down and provide color on how the core Ctrip will perform, and her response was the same every time:
Investors didn't like that. A number of analysts, both on the call and separately in their own online postings, attempted to do some back-of-the-envelope math to figure out the implied growth of the core. The consensus was that it is expected to show 30% to 35% growth -- healthy, no doubt, but a somewhat surprising deceleration from what investors have gotten used to.
Several factors could account for this, including a Chinese economy that's been showing some weakness lately, as well as disputes between Chinese airlines and OTAs, particularly with Qunar.
On that front, management consistently said that, over the long run, it is in the best financial interests of both the OTAs and the airlines to work together -- and that any conflicts are short term in nature.
What we're left withFor long-term investors, this slowdown in revenue growth is worth noting, but it's probably not cause for panic. There are several strong tailwinds that could provide a boost to the company and its stock.
Perhaps most importantly, CEO James Liang referred a number of times to price "rationality" once again gaining a foothold, meaning that a pricing race to the bottom was effectively over: "We have become a strategic investor of some travel-related companies. These investments enable us to reduce irrational pricing competition and should, over time, put the industry back on a healthy and sustainable growth trajectory."
That's big news for investors, as it means that the scale and dominant market position of Ctrip should allow it to reap the rewards of a growing Chinese OTA market for years to come.
The article Ctrip.com International, Ltd. (ADR) Grows Revenue, but Investors Are Worried About a Slowdown originally appeared on Fool.com.
Brian Stoffel owns shares of Baidu and Ctrip.com International. The Motley Fool owns shares of and recommends Baidu. The Motley Fool recommends Ctrip.com International. Try any of our Foolish newsletter services free for 30 days. We Fools may not all hold the same opinions, but we all believe that considering a diverse range of insights makes us better investors. The Motley Fool has a disclosure policy.
Copyright 1995 - 2016 The Motley Fool, LLC. All rights reserved. The Motley Fool has a disclosure policy.