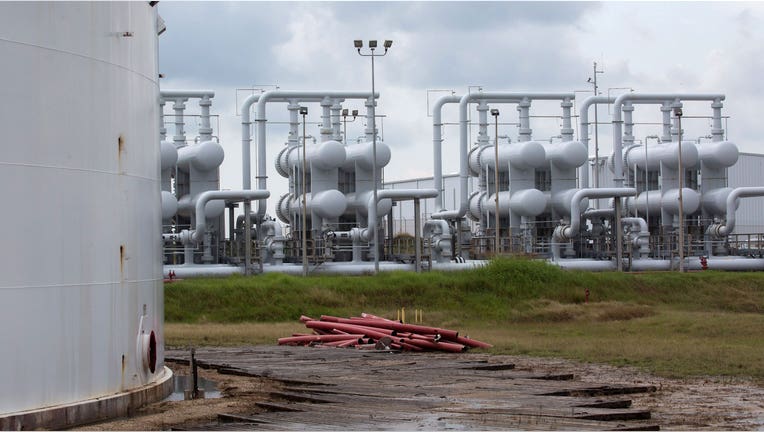 Oil prices slipped after gains made earlier on Thursday and the previous day as overproduction and large volumes of unsold crude and ample refined products around the world weighed on markets.
Brent crude futures were trading at $42.72 a barrel at 1203 GMT, down 38 cents from their last close and down from an intra-day high of $43.65 a barrel.
U.S. West Texas Intermediate (WTI) crude futures were trading at $40.62 per barrel, down 21 cents, and after hitting an intra-day high of $41.41 per barrel and rising 3.3 percent in the previous session.
"Prices began to recover following the publication of the U.S. inventory data [on Wednesday], and continued to do so into the morning," Commerzbank said in a note.
U.S. gasoline stocks dropped 3.26 million barrels to 238.2 million barrels last week, according to the U.S. Energy Information Administration (EIA), against expectations for a draw of around 200,000 barrels.
But crude inventories rose by 1.4 million barrels, compared with analysts' expectations for a decrease by as many barrels.
"Maybe the surprise drawdown in gasoline inventories helped future prices remain stable but that does not change the fact: the U.S. is flooded with oil," said Tamas Varga, lead oil analyst at London brokerage PVM Oil Associates.
Elsewhere, Iraq's crude oil production in July rose to the highest level since January, to 4.632 million barrels-per-day compared with 4.559 million bpd in June, state-run oil marketer SOMO said on Thursday.
U.S.-based Schork Report said that the earlier price gains were a result of profit-taking from previous short positions that benefited from falling prices along with a fall in the U.S.-dollar since July.
The dollar has lost 2 percent since late July against a basket of other leading currencies as expectations of a rate increase faded.
As oil is traded in dollars, a weaker U.S. currency makes fuel purchases for countries with other currencies cheaper, potentially spurring demand.
With overall oil market conditions still weak, and production overhangs in both crude and refined products continuing to weigh, traders said Wednesday's and Thursday's price rises would likely be reined in.
"The market priced in a full rebalancing too quickly and discounted the scale of the inventory overhang, which has left many disappointed about visible stockdraws," consultancy Energy Aspects said in a note on Thursday.
(Additional reporting by Henning Gloystein in Singapore; Editing by Christian Schmollinger and David Evans)