Crocs Focuses on the Bottom Line as Sales Slump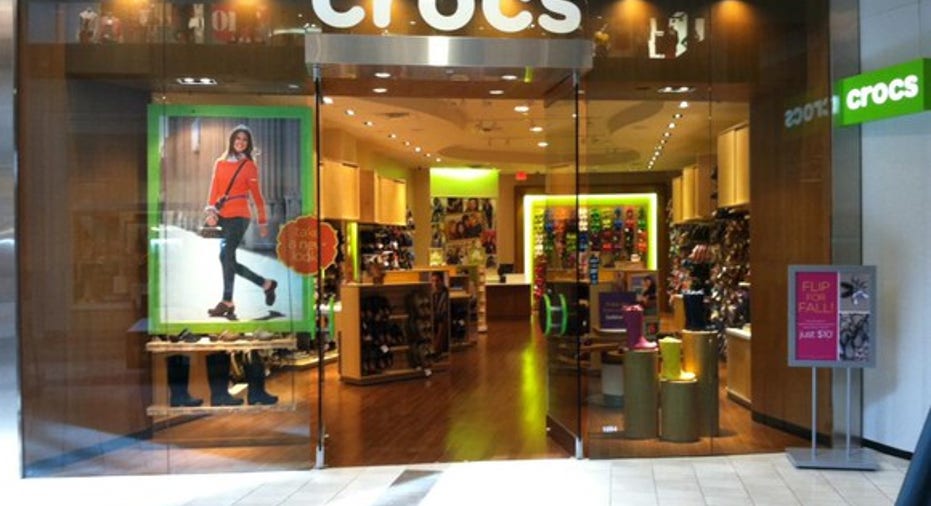 Footwear company Crocs (NASDAQ: CROX) reported its first-quarter results before the market opened on May 10. Revenue declined a bit less than expected, and a rising gross margin led to an increase in earnings. But the company lowered its guidance for the full year, with Crocs now expecting a revenue slump. A new CEO will take the reins in June, tasked with halting a prolonged sales decline. Here's what investors need to know about Crocs' first-quarter results.
Crocs results: The raw numbers
| Metric | Q1 2017 | Q1 2016 | Year-Over-Year Change |
| --- | --- | --- | --- |
| Revenue | $267.9 million | $279.1 million | (4%) |
| GAAP EPS | $0.08 | $0.07 | 14.3% |
| Non-GAAP net income | $9.3 million | $6.4 million | 45.3% |
Data source: Crocs.
Image source: Crocs.
What happened with Crocs this quarter?
While sales slumped during the quarter, gross margin improved, boosting the bottom line.
Revenue was above the high end of Crocs guidance range of $255 million to $265 million. On a constant-currency basis, sales declined 4.4%.
Gross margin was 49.9%, up from 46.3% during the prior-year period. Crocs pointed to higher-quality sales, a mix shift toward molded products, and lower input costs as the drivers behind the improvement.
Wholesale revenue declined 4.1% year over year, with a 4.2% decline in the Americas, an 8.1% decline in the Asia-Pacific region, and a 3.9% increase in Europe.
Retail revenue slumped 6.1% year over year, with an 8.2% decline in the Americas, a 4.4% decline in the Asia-Pacific region, and a 1.8% decline in Europe.
E-commerce sales rose 2.7% year over year, with a 2.5% decline in the Americas, a 21.7% increase in the Asia-Pacific region, and a 1.9% decline in Europe.
The company ended the quarter with 542 stores, down from 558 at the end of 2016.
Crocs provided the following guidance for the second quarter and the full year:
Second-quarter revenue is expected between $305 million and $315 million, down from $324 million during the second quarter of 2016.
Second-quarter gross margin is expected to expand by 150 basis points year over year.
Full-year revenue is expected to decline by a low single-digit percentage. Previous guidance called for flat revenue.
Full-year gross margin is expected to be around 50%.
What management had to say
Crocs CEO Gregg Ribatt discussed the progress made during the quarter:
Looking forward
Revenue declines across nearly every segment and geographic region continued to haunt Crocs during the first quarter, but efforts to boost the gross margin and keep costs in check provided a lift to the bottom line. Another revenue decline is expected during the second quarter, and full-year revenue is now expected to decline as well after the company slashed its guidance.
Crocs President Andrew Reese will be promoted to president and CEO effective June 1. Reese will have the difficult task of turning the company around amid a difficult retail environment, something his predecessor has struggled to do.
10 stocks we like better than CrocsWhen investing geniuses David and Tom Gardner have a stock tip, it can pay to listen. After all, the newsletter they have run for over a decade, Motley Fool Stock Advisor, has tripled the market.*
David and Tom just revealed what they believe are the 10 best stocks for investors to buy right now...and Crocs wasn't one of them! That's right -- they think these 10 stocks are even better buys.
Click here to learn about these picks!
*Stock Advisor returns as of May 1, 2017.
Timothy Green has no position in any stocks mentioned. The Motley Fool recommends Crocs. The Motley Fool has a disclosure policy.