Cracker Barrel Stock Upgraded: What You Need to Know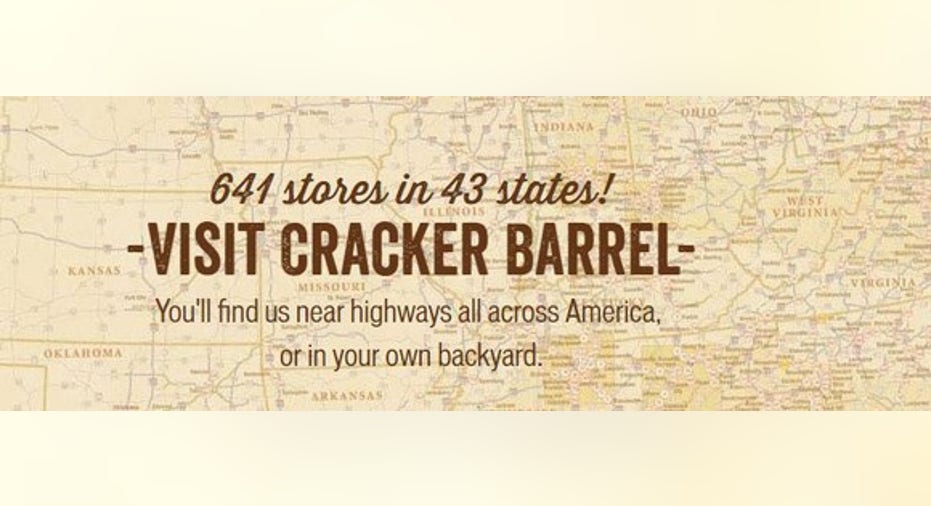 Cracker Barrel Old Country Store (NASDAQ: CBRL) stock is off to a cracklin' start Thursday morning, with the shares up nearly 2% in response to a big upgrade from New York-based stock researcher Argus.
This morning, StreetInsider.com reports that Argus has upped its opinion of Cracker Barrel from hold to buy, and lifted its price target to $190 per share as well. If Argus is right about that, then Cracker Barrel stock should produce nearly 15% profits over the next year for new investors. Throw in a 2.8% dividend yield, and the total profit on such an investment could approach 18%.
But is Argus Research right about Cracker Barrel? Here are three things you need to know.
Cracker Barrel just might be the ultimate family road trip pit-stop. Image source: Cracker Barrel.
1. Sales are booming
Cracker Barrel shares have come under pressure this year. Partly this has been a consequence of investors cashing out after a big special dividend payment in July, partly because sales growth hasn't been so hot.
Last quarter, Cracker Barrel reported only a 1% gain in overall sales. And yet, as Argus points out, same-store sales at the restaurant chain have held up remarkably well, with Cracker Barrel reporting improved same-store sales "for ten consecutive quarters."
2. Profits are booming even better
Importantly, while last quarter's sales number may have underwhelmed some investors, Cracker Barrel reported an 18% jump in per-share profits for the period. Argus credits this to the company's "barbell strategy" of first bringing diners through the doors by offering lots of value-priced meals, while also offering more expensive meals on the same menu.
This strategy, says Argus, is likely to result in continued same-store sales growth in the "low single-digit" range through at least 2017. According to the analyst, profits will exceed expectations as well.
3. Exceed by how much?
After crunching its numbers, Argus predicts Cracker Barrel will now earn $8.30 in fiscal 2017 (up from a previous estimate of $8.12 per share), and follow that up with earnings of $8.88 per share in 2018 (its previous guess: $8.70). And longer-term, Argus believes Cracker Barrel will continue to grow its profits at about 11% annually over the next five years.
Eleven percent, by the way, is about 2 percentage points faster growth than Wall Street consensus estimates, according to data from S&P Global Market Intelligence.
The most important thing: Finding a bargain
Of course, with Cracker Barrel valued at nearly 20 times earnings today, and 21 times free cash flow, even an 11% growth rate may not meet some investors' definition of "cheap." Even if you buy Argus's argument, therefore, you may not want to buy Cracker Barrel stock. But what if there were a way to pick up some Cracker Barrel shares for an even cheaper price?
Turns out, there may be such a way.
Over at Biglari Holdings (NYSE: BH), investment guru Sardar Biglari has managed to accumulate nearly 20% of Cracker Barrel stock on the cheap over the years. At last report, Biglari noted that "through The Lion Fund, our largest common stock holding is the ownership of 4,737,794 shares in Cracker Barrel Old Country Store, Inc., or a 19.8% equity interest," a stake he valued at "about $600 million" at the end of last year. (Worth noting, too, that Cracker Barrel shares are up 30% since the end of 2015.) Meanwhile, Biglari Holdings itself is valued at less than $1 billion by the market -- and just 15 times free cash flow.
This opens the intriguing possibility of buying Biglari Holdings stock -- which derives roughly 60% of its value from Cracker Barrel stock -- and paying about a 25% discount to the cost of buying Cracker Barrel shares directly. If you assume that Biglari will grow at least as fast as Cracker Barrel itself (and assume, too, that Argus is right about the growth rate), then paying 15 times free cash flow for that growth could be a much more attractive option than paying 21 times for Cracker Barrel proper.
10 stocks we like better than Cracker Barrel Old Country Store When investing geniuses David and Tom Gardner have a stock tip, it can pay to listen. After all, the newsletter they have run for over a decade, Motley Fool Stock Advisor, has tripled the market.*
David and Tom just revealed what they believe are the 10 best stocks for investors to buy right now... and Cracker Barrel Old Country Store wasn't one of them! That's right -- they think these 10 stocks are even better buys.
Click here to learn about these picks!
*Stock Advisor returns as of November 7, 2016
Fool contributorRich Smithdoes not own shares of, nor is he short, any company named above. You can find him onMotley Fool CAPS, publicly pontificating under the handleTMFDitty, where he currently ranks No. 336 out of more than 75,000 rated members.
The Motley Fool has no position in any of the stocks mentioned. Try any of our Foolish newsletter services free for 30 days. We Fools may not all hold the same opinions, but we all believe that considering a diverse range of insights makes us better investors. The Motley Fool has a disclosure policy.