Could You Pay Off Your Mortgage With Airbnb?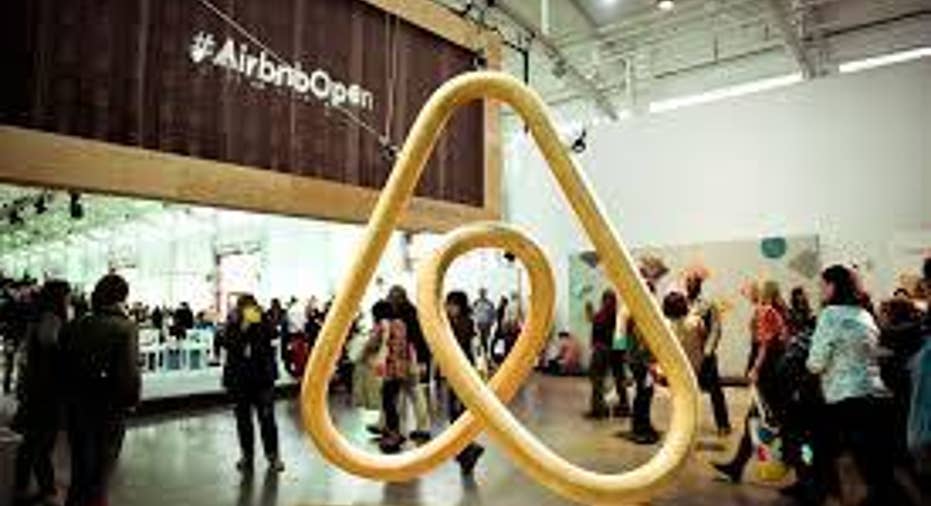 Source: Airbnb.
The idea of renting your home out to strangers through an online platform might seem a bit unnerving. But it may be the answer to paying off your home mortgage -- or any of your mounting bills, for that matter.
That's how Airbnb could help you. It allows you to review and screen guests, and you can tailor your listing to your individual preferences. For many of us with high bills and hopes for a happy retirement, Airbnb may be the golden ticket. In some cases, this second source of income becomes a fun hobby that can almost feel like free money.
Here's what you need to know about Airbnb before you put up the online "for rent" sign.
Airbnb as part of the new sharing economyAirbnb falls into the group of tech "unicorns," or start-ups valued at over $1 billion. Airbnb's $25 billion valuation demonstrates just how disruptive investors perceive the company will be to the hotel industry.
To understand the power of Airbnb, we need to look at the new "sharing economy" as a whole. This new wave of start-ups capitalizes on latent resources -- e.g., your basement that never gets used -- into real earnings by giving you the tools to become a micro-entrepreneur. Just as Uber allows (almost) anyone with a car to become a personal driver, Airbnb gives us the opportunity to become managers in the hospitality industry.
How much can you make?The price of your listing is entirely up to you, though Airbnb will recommend a price based on properties in your area. A simple search on the site shows that an average night of Airbnb listings in the United States cost $154. Results include shared rooms, private rooms, apartments, and entire homes.
How much you make also depends on how many nights you'll be renting out. If you're a "live-in host," you may choose to rent a room out of the house you live in. There's also the option to rent your space only while you're on vacation.
Some hosts on Airbnb use the service not only as a way to help pay the bills, but also as a primary source of income. Airbnb income can safeguard you against the possibility of unemployment. It may also be a smart way to ensure that your retirement savings last long enough.
Your home, your rulesFirst off, you decide who can stay in your property. You can take as many or as few reservation requests as you like, using whatever criteria you see fit, and Airbnb respects your choice as a provider of your services. Furthermore, you can verify a prospective guest's identity through a driver's license, passport, social profile, and user reviews to help you decide whether you feel comfortable accepting their request.
This flexibility in when, how, and to whom you offer services with Airbnb also makes it a great tool for those of us who don't have clear plans for the future. If you own a traditional bed and breakfast, then it's unfeasible to close up shop for two weeks in the summer for vacation. But with Airbnb, you can simply put your listing on hold until a later date when you feel ready to put it back on the platform.
How Airbnb pays for my parents' property taxesLet's look at a successful example. My parents live an hour away from New York City in Connecticut, in a suburb with astronomically high property taxes. They're paying upwards of $1,400 a month to live in a house that has outgrown them and their needs. But they aren't ready to move just yet. Since the kids moved out, they've been paying relatively the same bills (but with less than half the number of people) and therefore saving less for retirement. On top of that, they had decided they wanted to retire earlier.
I urged them to consider listing their furnished basement on Airbnb. I set them up with accounts and listed the basement, which took 10 minutes at most. If you already have an Airbnb account as a guest, then you'll find it's easy to switch to hosting when logged on to the site.
Within two days, in the off-season in a relatively quiet beach town, they received numerous requests. They listed the place at $68 a night before racking up a few reviews and then listing in the $80s. By renting their basement an average of four nights a week, they earned enough to completely offset their $1,400-plus monthly property taxes. They've also met interesting people from around the world, some whom they will stay in touch with.
Make sure Airbnb is right for youYou should consider a number of factors that can make hosting on Airbnb difficult for you.
First, the demand for accommodation in your area may be lacking, which means requests may be rare, and you won't command high rates. However, there's no harm in listing the space and then syncing the account to your cellular device so you don't have to constantly check in on the site.
And if you're a renter yourself, be sure to check with your landlord, as your lease may prohibit renting through Airbnb. Some states also have specific laws regarding short-term rentals, so you should get to know them.
In the end, if it looks feasible, why not put in a little effort and list your space? Airbnb is a creative way to pay off your home mortgage, cover your bills, earn a second income, save for retirement, or use in whatever way you wish.
The article Could You Pay Off Your Mortgage With Airbnb? originally appeared on Fool.com.
Try any of our Foolish newsletter services free for 30 days. We Fools may not all hold the same opinions, but we all believe that considering a diverse range of insights makes us better investors. The Motley Fool has a disclosure policy.
Copyright 1995 - 2016 The Motley Fool, LLC. All rights reserved. The Motley Fool has a disclosure policy.