Could Under Armour Inc. Lose a Step in Q1? 3 Things to Watch Closely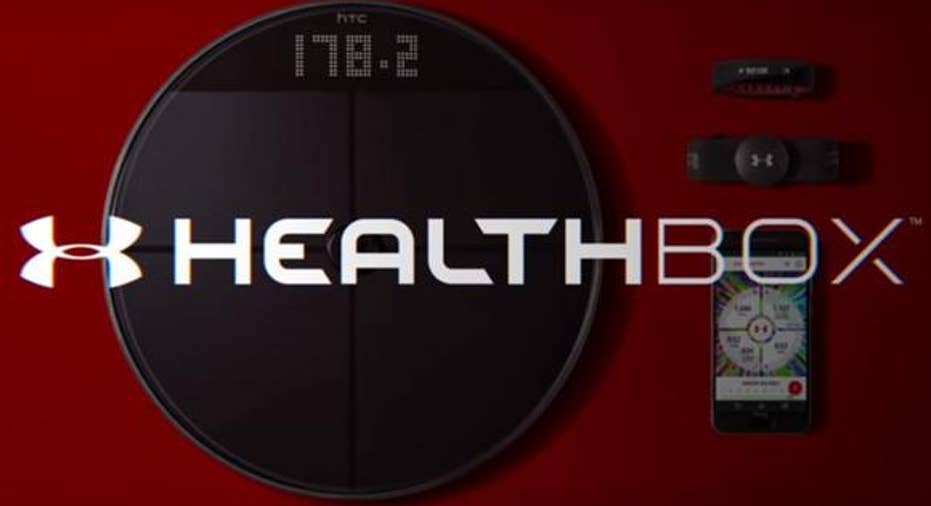 3D-printed shoes are but one recent Under Armour innovation. Image source: Under Armour.
Performance apparel, footwear, and accessories maker and retailerUnder Armour Inc. is set to report first-quarter financial results on April 21, and many Wall Street analysts are expecting it to announce a decline in profits, and it's not outlandish that it happens.
But before you race to click the "sell" button, look back one year ago, to when Under Armour reported first-quarter 2015 earnings and a 17% decline in quarterly earnings per share, only to finish 2015 with 31% sales growth, 21% operating income growth, and -- you guessed it -- a 20% increase in earnings per share.
In other words, one quarter, particularly the first one, which for Under Armour can be heavily front-loaded with certain expenses that moderate over the year, doesn't a success or failure make. Let's take a closer look at three things investors should pay close attention in Under Armour's earnings.
Investments in international growthUnder Armour is still largely a North American business, but management has made international growth a major priority. It has dedicated considerable resources to expanding bothdistribution channels and company-owned retail outlets overseas, as well as spending a higher percentage of revenue on marketing in new international markets than in its more established markets.
So far, this strategy is working, with international revenue climbing 69% last year. But at the same time, it's still a small part of total sales, and the room for continued growth is massive. For context, one only has to look at athletic apparel and footwear behemoth and major Under Armour competitor Nike Inc. to get an idea of the potential.
Nike reported its third-quarter results in late March, with total sales of $8 billion, up 8%. Of that total, only $3.7 billion, or about 49% of Nike brand sales, were in North America, meaning more than half of Nike's sales are overseas. Under Armour -- even after doubling international revenue in 2015, only derived11% of revenuefrom outside North America last quarter.
And a big part of the reason why it could report a drop in quarterly earnings per share is because of the investments in growing its overseas presence.
Footwear is priority 1AInternational growth is a priority for Under Armour, but footwear is no less important to the company's long-term growth and success. Last year, footwear sales increased 59%, yet still only accounted for about 18% of its total sales, as compared to more than 60% of Nike's sales.
Yes, Under Armour and Nike are two different companies, and Under Armour's roots are in apparel while Nike started out as a running shoe company, but footwear is a massive global market, one in which Under Armour will continue to develop and expand its presence.
And while the company's endorsed athletes are a big part of the brand's growth in popularity, it starts with Under Armour's development of innovative and high-performance footwear that the world's best athletes can perform their best in. And while Under Armour may not be able to take credit for the elite performances of top athletes such as Stephen Curry or Jordan Spieth, rest assured those athletes wouldn't lace up Under Armour shoes if they hindered their performance.
Under Armour may never see footwear make up more than half of sales, but considering that footwear sales are growing nearly three times faster than apparel, pay close attention to its efforts to keep expanding this segment.
A tech leader in athleticsUnder Armour has invested significant dollars in recent years to acquire and further develop connected fitness apps that help athletes better track their performance, improve that performance, and to connect with fellow athletes. But the company's innovative approach goes far beyond the code its software developers write for its connected fitness apps.
Under Armour is taking connected fitness to a higher level. Image source: Under Armour.
Simply going back to the company's founding is evidence of this, when founder and CEO Kevin Plank developed the "charged cotton" T-shirt that wicked away moisture that traditional T-shirts retained, which made athletes both less comfortable and reducing their ability to perform.
Under Armour is leveraging its connected fitness investments today with more wearable technology, such as "Connected-Equipped" shoes with built-in sensors that track key metrics such as running speed, time, distance, and cadence, to name a few. Athletes can either connect the sensors to a mobile device in real time or download it after a workout or session. The company also recently introduced a limited edition 3D-printed shoe, demonstrating how this technology could further advance custom footwear based on the individual athlete's own foot.
Under Armour also recently introduced HealthBox, a suite of products including wearable fitness bands that track movement and resting heart rate, a chest strap to accurately record heart rate that interacts via Bluetooth with the fitness bands, and even a WiFi-enabled scale that tracks and reports multiple metrics. All of these products are designed to work together or separately, with the company's connected fitness apps serving as a dashboard to view and use all of the information the devices collect.
The bottom line is, Under Armour is likely to continue investing in developing products that will blur the line between athletic product and tech gizmo, giving athletes better, simpler access to information about their performance. And that's likely to continue to drive growth, as more casual and elite athletes alike want to gain access to this information.
Looking aheadProfitability matters, but Plank has made it clear that for the foreseeable future, he will lead the company to aggressively invest in growth. That means it's possible that earnings may decline this quarter, and that revenue is likely to climb faster than earnings for some time to come, as those aggressive investments in growth take root.
For investors in the company since IPO, this has paid off hugely. Chances are, this same formula will keep paying off for many years to come. In other words, don't get too caught up in the bottom-line result on April 21.
The article Could Under Armour Inc. Lose a Step in Q1? 3 Things to Watch Closely originally appeared on Fool.com.
Jason Hall owns shares of Under Armour. The Motley Fool owns shares of and recommends Nike and Under Armour. Try any of our Foolish newsletter services free for 30 days. We Fools may not all hold the same opinions, but we all believe that considering a diverse range of insights makes us better investors. The Motley Fool has a disclosure policy.
Copyright 1995 - 2016 The Motley Fool, LLC. All rights reserved. The Motley Fool has a disclosure policy.