Could This Breakthrough Change Everything We Know About Treating Cancer?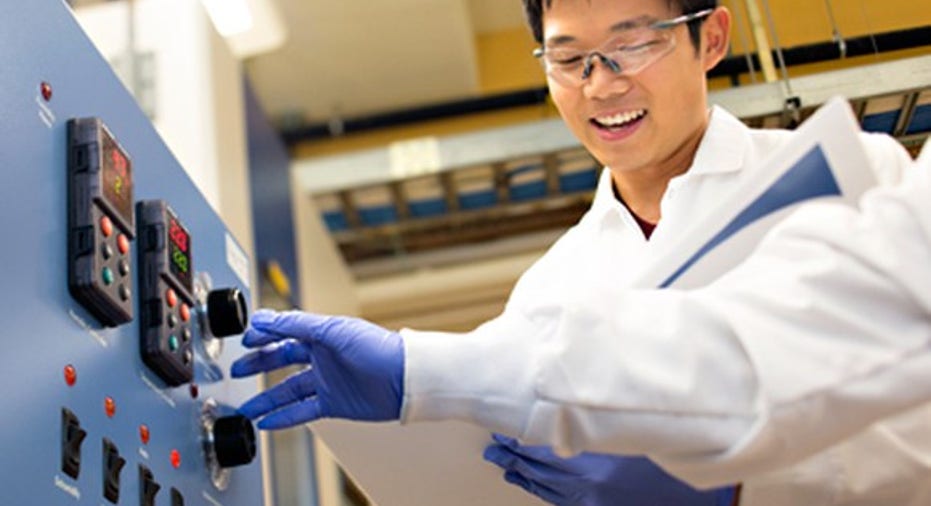 Image source: Juno Therapeutics
Researchers at Juno Therapeutics and Kite Pharma have released findings showing that they've discovered a way to re-engineer a patient's immune system to better find and destroy cancer cells. If results expected later this year in life-threatening forms of blood cancer are positive, then these new drugs could replace chemotherapy as a way for doctors treat some cancer patients.
Fiddling with the controls
Cancer cells can contain defensive systems that allow them to escape detection by the immune system and when that happens, cancer can progress to a point where current standard treatments, like chemotherapy, can no longer keep cancer in check.
To keep cancer cells from evading detection by the immune system, Juno Therapeutics and Kite Pharma are working on an entirely new approach to cancer treatment called chimeric antigen receptor T-cell therapy, or CAR-T.
CAR-T therapy involves removing a patient's T-cells and re-engineering them so that they can spot specific proteins that are only expressed by cancerous cells. These re-engineered cells are then put back into the patient where they can replicate, seek out, attach to, and destroy the cancer cells expressing that specific protein.
The most advanced CAR-T research being conducted byJuno Therapeutics and Kite Pharma targets CD-19, a protein that's commonly found on the surface of B-cell cancer cells. Both companies have trials under way for CD-19 targeting drugs that could lead to FDA approvals in 2017.
Juno Therapeutics most advanced program is JCAR015, a CD-19 targeting therapy that's being studied for use in acute lymphoblastic leukemia (ALL) patients who have seen their disease progress to a point where their are limited treatment options remaining. So far, the response rate to JCAR015 has been around 70%.
Juno Therapeutics is also working on a second-generation CD-19 targeting therapy, JCAR014, that's also being evaluated in ALL patients. Earlierthis month, Juno Therapeutics reported that 100% of ALL patients treated with JCAR014 achieved complete remission. While this study only included 34 people, that response rate remains impressive given that all patients in the trial were relapsing from or resistant to previous treatments.
Kite Pharma'sKTE-C19 is delivering high response rates in patients with cancer cells expressing CD-19 on their surface too. In a trial of patients diagnosed with aggressive non-Hodgkin lymphoma (NHL), 22of 41 people achieved a complete response. One of seven patients with chemorefractory NHL remained a complete responder at the nine month mark and two patients with chemorefractory NHL were complete responders at the six month mark. Since the median overall survival in advanced NHL patients only about 3.6 months on average, KTE-C19's results are very good.
Image source: Kite Pharma.
Data on tap
CAR-T therapy is complex and the forms of cancer targeted by them are notoriously tough-to-treat, so industry watchers are eagerly awaiting more comprehensive study results that are expected within the coming months.
Kite Pharma's management hopes to release its findings in time to file for FDA approval of KTE-C19 before the end of 2016. Meanwhile, Juno Therapeutics data shouldn't come too long after Kite Pharma's, clearing the way for it to land on regulators desks for approval in 2017.
If all goes to plan, success in blood cancer indications will be followed up by success in treating other types of cancer by targeting different proteins expressed by them. For example, Juno Therapeutics is already conducting some early stage studies to determine if targeting proteins common in non-small cell lung cancer and ovarian cancer make for good targets. Although it's too early to know it these other approaches will be as successful as targeting CD-19, the potential is big enough that industry watchers will want to stay tuned.
The article Could This Breakthrough Change Everything We Know About Treating Cancer? originally appeared on Fool.com.
Todd Campbell has no position in any stocks mentioned.Todd owns E.B. Capital Markets, LLC. E.B. Capital's clients may have positions in the companies mentioned. Like this article? Follow him onTwitter where he goes by the handle@ebcapital to see more articles like this.The Motley Fool recommends Juno Therapeutics. Try any of our Foolish newsletter services free for 30 days. We Fools may not all hold the same opinions, but we all believe that considering a diverse range of insights makes us better investors. The Motley Fool has a disclosure policy.
Copyright 1995 - 2016 The Motley Fool, LLC. All rights reserved. The Motley Fool has a disclosure policy.