Could This Biotech Company Be About to Soar Higher?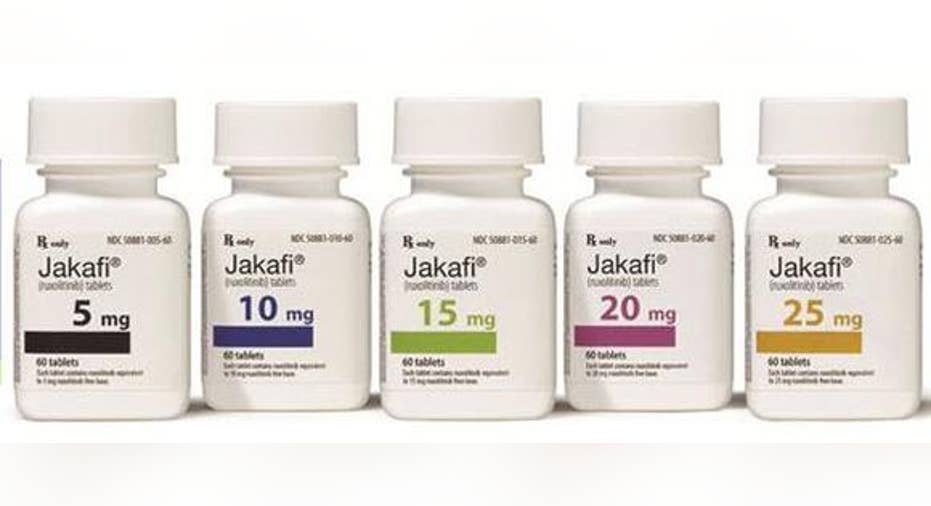 SOURCE: INCYTE CORPORATION.
Growing use of Jakafi and a potential approval of a new drug for the treatment of rheumatoid arthritis could send sales and profit at Incyte Corporation soaring next year. If so, adding shares in Incyte to portfolios could be profit-friendly. Let's take a closer look at Incyte's products and what their potential impact on the company might be over the coming year.
Expanding useJakafi got the FDA's nod for use in patients with myelofibrosis, a rare bone marrow disease, in 2011, and because the roughly 18,000 myelofibrosis patients in the U.S. had few treatment options prior to Jakafi, sales of the drug have been climbing steadily ever since.
The FDA approval of Jakafi was based on phase 3 study results showing that use of Jakafi reduced spleen volume by 35%. Patients in the placebo arm of that study saw a reduction in spleen volume of just 0.7%.
SOURCE: INCYTE CORPORATION
Jakafi's efficacy is due to its ability to inhibit activity of the JAK family of kinases. Those kinases are involved in the signaling of cytokines and growth factors associated with the formation of blood cells and the regulation of immune functions.
Because the JAK family is tied to multiple disease indications, Incyte and co-developerNovartis also studied its use in polycythemia vera, another bone marrow disease. After demonstrating efficacy in trials, the FDA approved Jakafi in 2014 for use in polycythemia patients who don't respond to hydroxyurea, a treatment that is typically used in these patients.
Following that label expansion and approvals overseas, Jakafi's net product sales surged 68% to $601 million, and that momentum is expected to carry over into 2016. In its fourth-quarter earnings review, management said it expects Jakafi net product sales to reach at least $800 million this year.
Jakafi's peak sales potential, however, could be even higher. Incyte is also researching Jakafi's use in alopecia areata, a rare autoimmune disease that causes hair loss in 6.6 million Americans, and it plans to study Jakafi in graft versus host disease, too.
Entering a new marketJakafi accounts for all of Incyte's revenue now, but revenue from a second drug, baricitinib, could start rolling in within a year.
Baricitinib is another JAK inhibitor that Incyte developed. However, Incyte is partnered with Eli Lilly & Co. on this one.
After succeeding in phase 3 trials for its use in rheumatoid arthritis, an autoimmune disease affecting 23 million people globally, Eli Lilly filed for baricitinib's U.S. approval in January.
If approved, baricitinib could become a go-to drug for rheumatoid arthritis patients who fail, or are intolerant to, DMARD therapy. DMARDs are a class of drugs that are typically used in the first-line treatment of this disease, and in late-stage clinical studies, baricitinib showed superiority to the DMARD methotrexate in early RA patients, and it demonstrated positive efficacy in patients failing to respond to anti-TNF biologics, such as the $14 billion-per-year Humira. Baricitinib also outperformed Humira in patients who fail to improve on DMARDs.
Baricitinib's clinical results could mean that it has billion-dollar blockbuster potential, and although Eli Lilly has global rights to commercialize it, Eli Lilly will still pay Incyte a handsome high 20% royalty rate on sales.
Another potential winnerBeyond Jakafi and baricitinib, Incyte is also working on epacadostat, a therapy that's being studied for use alongside Merck & Co'sKeytruda in the first-line treatment of advanced melanoma. Incyte plans to initiate phase 3 studies of this two drug combination in the first half of 2016.
Incyte is also evaluating epacadostat in other mid-stage studies, including trials alongside Bristol-Myers Squibb's Opdivo in multiple cancer tumor types. If all of these trials pan out, then epacadostat could become a top-selling adjunct therapy, because both Keytruda and Opdivo are already on their way to multibillion-dollar blockbuster peak sales levels.
Looking aheadAlthough Incyte already generates solid revenue from Jakafi, the company spent $479 million on R&D and another $197 million on selling, general, and administrative costs last year. When all was said and done, the company's various expenses ate away the majority of its revenue, leaving it with a meager $6.5 million in net income, or $0.04 per share in profit.
In the coming year or two, however, Jakafi's revenue could reach levels that finally allow Incyte to leverage its sales against fixed costs to deliver shareholders more meaningful profitability. Industry watchers expect EPS to clock in at $0.28 in 2016 before jumping to $1.36 in 2017.
Overall, a forward price-to-earnings ratio of 60 means that Incyte's shares aren't cheap, but Jakafi's steady growth, the potential for significant sales from baricitinib, and an opportunity for upside from epacadostat suggest investors might want to keep this stock on their radar.
The article Could This Biotech Company Be About to Soar Higher? originally appeared on Fool.com.
Todd Campbell has no position in any stocks mentioned. Todd owns E.B. Capital Markets, LLC. E.B. Capital's clients may have positions in the companies mentioned. The Motley Fool has no position in any of the stocks mentioned. Try any of our Foolish newsletter services free for 30 days. We Fools may not all hold the same opinions, but we all believe that considering a diverse range of insights makes us better investors. The Motley Fool has a disclosure policy.
Copyright 1995 - 2016 The Motley Fool, LLC. All rights reserved. The Motley Fool has a disclosure policy.