Could General Motors End Up Leading the Self-Driving Revolution?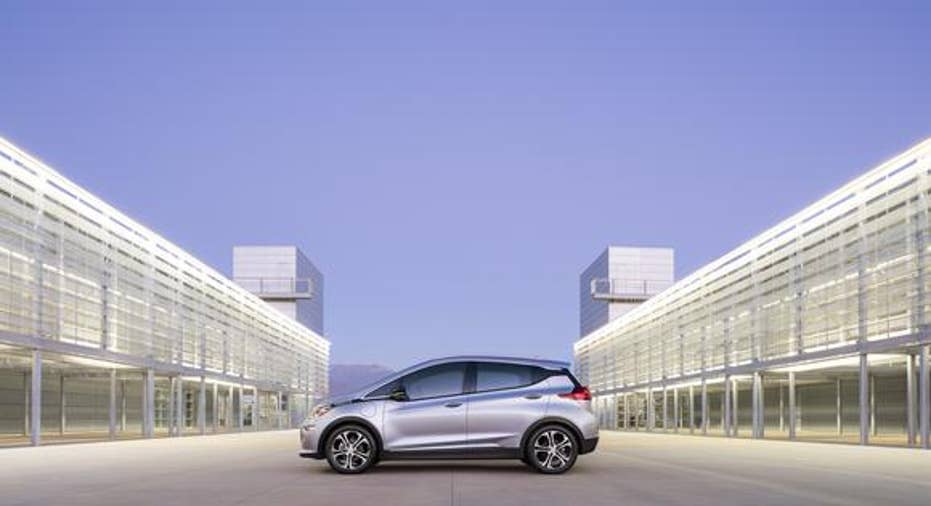 Are you ready for a driverless Lyft? GM and Lyft are gearing up to test a fleet of self-driving Chevrolet Bolts in a U.S. city within a year, according to a new report. Image source: General Motors.
Curious as to what it would be like to ride in a self-driving car? You may have a chance to find out soon: The Wall Street Journal is reporting that General Motors and ride-hailing service Lyft will team up to test a fleet of self-driving taxis on public roads within a year.
If the report is accurate, it means both Lyft and GM will have jumped ahead of rivals seen as better-positioned.
The latest move in GM's aggressive, high-tech push2016 has already been a busy year for GM on the bleeding-edge-technology front. It announced a $500 million investment in Lyft back in January, and then in March, it said it would buy San Francisco self-driving start-up Cruise Automation for a yet-to-be-disclosed sum. It also revealed the production version of its new electric car, the Chevrolet Bolt, which will go into production later this year.
All of those things are relevant to today's news. Apparently, the technology GM is acquiring in the Cruise Automation deal has sped up its efforts to build self-driving technology into the Bolt, which GM engineers have said will be a "platform" for advanced capabilities.
According to the Journal's report, which it attributed to Lyft executives, GM and Lyft will put a fleet of self-driving Bolts into service as taxis in an unnamed U.S. city sometime in the next year. A Lyft executive characterized the project as a way for GM, Lyft, and Cruise to test and refine the autonomous technology ahead of a broader rollout.
GM and Lyft are leapfrogging key competitors For Lyft, this is a way to challenge its much bigger rival, the extremely well-funded Uber. Uber is believed to be working on a self-driving system of its own, and it may have attempted to order a fleet of self-driving cars (for delivery in 2020 or thereabouts) from Mercedes-Benz earlier this year.
For GM, it's a way to show that its self-driving technology is nearly ready for market -- and perhaps to steal some limelight from Alphabet's Google self-driving cars project. The Google team announced a deal with Fiat Chrysler earlier this week in which FCA and Google engineers would work together to build a fleet of self-driving test cars based on FCA's new Chrysler Pacifica minivan.
It's also a way for GM to steal back some electric-car thunder from Tesla Motors ahead of Tesla's planned launch of its "mass-market" Model 3 sedan. The sleek Model 3 has been characterized by some observers as a rival that outclasses the more homely Bolt, and GM may be eager to prove that its electric car is more advanced than those observers presently realize.
It's also a way for GM to put its new Bolt to work. Teslas aside, low gas prices have kept demand for electric cars modest. GM and Lyft have already announced a program under which Lyft drivers will be able to lease Bolts at an affordable rate, and GM may see Lyft as a way to demonstrate its technology (and keep the Bolt's assembly line busy) even if retail demand for the new electric Chevy turns out to be modest.
Long story short: This could be a coup for all concernedLyft, of course, will be delighted to steal the technical lead from its much larger rival. As for GM, after all of the hype about Google and Tesla, it would be deliciously ironic if Americans' first taste of a self-driving taxi came courtesy of a Chevrolet. GM is determined to show that its technology is as good as anyone's -- and if this program pans out, it will have a very strong case. Stay tuned.
The article Could General Motors End Up Leading the Self-Driving Revolution? originally appeared on Fool.com.
Suzanne Frey, an executive at Alphabet, is a member of The Motley Fool's board of directors. John Rosevear owns shares of General Motors. The Motley Fool owns shares of and recommends Alphabet (A and C shares). The Motley Fool recommends General Motors. Try any of our Foolish newsletter services free for 30 days. We Fools may not all hold the same opinions, but we all believe that considering a diverse range of insights makes us better investors. The Motley Fool has a disclosure policy.
Copyright 1995 - 2016 The Motley Fool, LLC. All rights reserved. The Motley Fool has a disclosure policy.