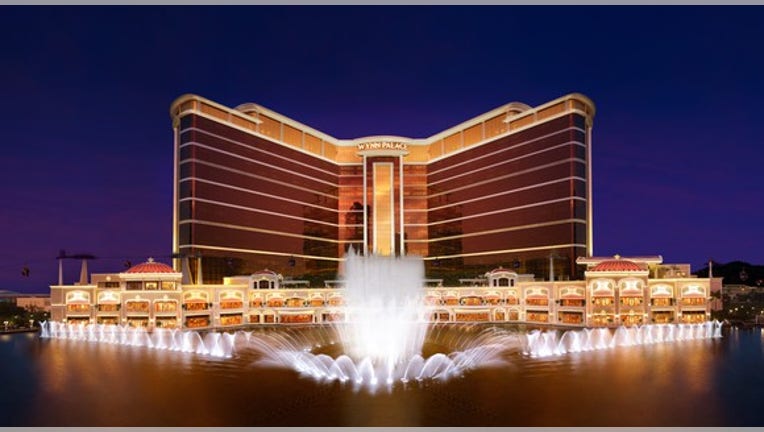 The buildout of new resorts in the Cotai region of Macau has been a big benefit to the entire region, and is one of the reasons gaming revenue is up over the past year. Wynn Resorts (NASDAQ: WYNN), Las Vegas Sands (NYSE: LVS), and Melco Resorts (NASDAQ: MLCO) have all opened new properties there, and MGM Resorts (NYSE: MGM) will be coming in late 2017.
This is kind of like building out a critical mass of massive resorts on the Las Vegas Strip. If there's just one property the draw is limited, but when you can go to a couple dozen major resorts in a short amount of time the draw is much bigger. More resorts are better for everyone.
Except when they're not.
Wynn Palace on Cotai. Image source: Wynn Resorts.
Where the money is going in Macau
The interesting trend to watch right now is where money is flowing in the Cotai region of Macau. Overall, Macau's gaming revenue was up 13% in the first quarter, so we would expect gaming to be up at most resorts, even if it's diluted by some of the new openings.
What we're seeing instead is that existing resorts are actually losing a lot of business. Below is a table showing the VIP gaming volume (rolling chips) and mass market volume at three of Cotai's older properties. You can see that overall results are down.
Source: Company earnings releases.
The shocking numbers are the decline in VIP play at Las Vegas Sands' casinos. This can be attributed partially to the opening of The Parisian and Studio City by Las Vegas Sands and Melco respectively. But there's a big player we shouldn't overlook.
The elephant in the room
Wynn Palace is the property to watch on Cotai because Wynn Resorts properties typically take a disproportionate amount of revenue wherever they are. Two years ago, I showed how Wynn made much more than neighbors on the Las Vegas Strip, and the same can be said for the Macau Peninsula.
In the first quarter, which was only Wynn Palace's second full quarter of operations, the resort had $11.04 billion in VIP gaming volume and $770.0 million from the mass market. In other words, it had nearly double the VIP play as the Venetian Macau.
Long-term, Wynn Palace will probably siphon off even more customers as construction around the property is completed and the light rail on Cotai begins operation.
Growth is good, but perspective is needed
There's no question that Macau's growth is good for gaming companies. But new competition is important to understand as well. And existing resorts like City of Dreams, Venetian Macau, and Sands Cotai Central may actually shrink despite Macau's growth overall. They'll have to fight for customers harder than before, something to keep in mind when looking at Macau's gaming stocks in the future.
10 stocks we like better than Las Vegas SandsWhen investing geniuses David and Tom Gardner have a stock tip, it can pay to listen. After all, the newsletter they have run for over a decade, Motley Fool Stock Advisor, has tripled the market.*
David and Tom just revealed what they believe are the 10 best stocks for investors to buy right now... and Las Vegas Sands wasn't one of them! That's right -- they think these 10 stocks are even better buys.
Click here to learn about these picks!
*Stock Advisor returns as of May 1, 2017
Travis Hoium owns shares of Wynn Resorts. The Motley Fool has no position in any of the stocks mentioned. The Motley Fool has a disclosure policy.