Costco Wholesale Corporation Earnings: A Rare Miss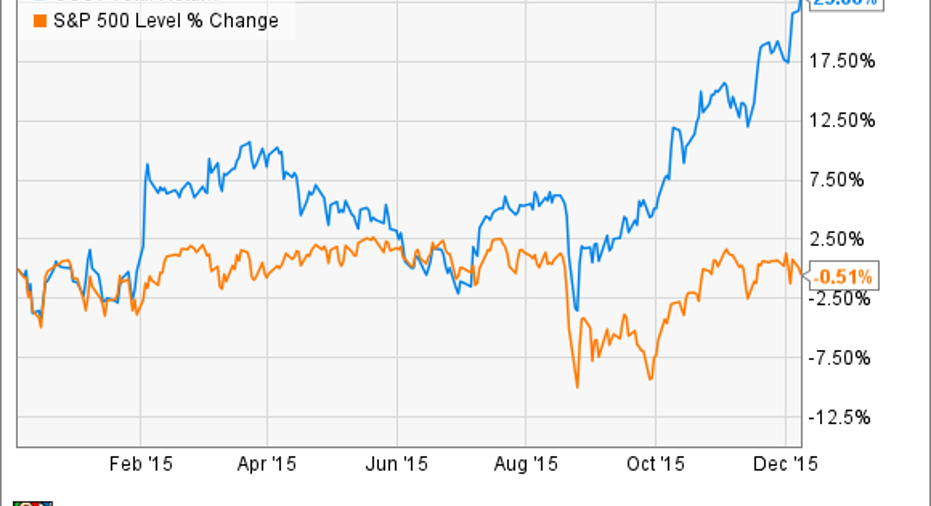 Last week, discount warehouse giant Costco Wholesale reported solid sales results for Q1 of its 2016 fiscal year. Revenue rose 1.3% year over year to $26.63 billion on a 1% decline in comparable sales. Excluding the negative impacts of gasoline price deflation and the strong dollar, comp sales were up 6% for the quarter.
Solid sales trends couldn't lift Costco's earnings last quarter. Photo: The Motley Fool.
The strong adjusted comp sales performance didn't translate to higher earnings, though. After beating analysts' earnings expectations in every quarter of the 2015 fiscal year, Costco started the 2016 fiscal year on the wrong foot with an earnings miss.
Costco takes a step backwardLast quarter, Costco posted net income of $480 million, down from $496 million a year earlier. Earnings per share came in at $1.09, compared with $1.12 in Q1 of fiscal 2015. Analysts had been expecting EPS to rise modestly to $1.17.
Costco didn't provide an in-depth explanation of its Q1 earnings performance. (More details will come on the company's upcoming earnings call.) However, it's possible to glean some tidbits of information.
Membership income rose 1.9% year over year -- slightly faster than revenue -- providing a modest margin tailwind. The strong dollar has been weighing on Costco's membership revenue lately, just as it has been cutting into overall revenue growth.
Gross margin rose to 11.29% last quarter from 11.03% a year earlier. However, this gain was offset by an increase in selling, general, and administrative costs from 10.26% of revenue in Q1 last year to 10.54% last quarter. These increases were probably both caused by falling gas prices, as has been the case in other recent quarters.
A bigger impact on Costco's profit margin was a jump in pre-opening expenses from $15 million in Q1 2015 to $26 million in Q1 2016. Pre-opening expenses were unusually high last quarter because Costco added 11 new warehouses (net of relocations) during the period.
Interest expense also increased by $7 million year over year, after Costco issued $1 billion in debt this past February to help fund a $2.2 billion special dividend. Finally, Costco's effective tax rate rose to 36.1% last quarter from 35.2% a year earlier.
The high pre-opening expenses, increase in interest expense, and higher tax rate are all factors that have nothing to do with Costco's underlying earnings power. Without these headwinds, the company would have kept its profit margin roughly flat year over year and posted modest earnings growth.
No real cause for worryBefore the earnings release, Costco shares ended Tuesday at a record high closing price of $168.87. Costco has posted a total return of 23% over the past year, whereas the S&P 500 has been roughly flat. As a result, it wouldn't be surprising if Costco stock pulls back in the next few weeks.
COST Total Return Price, data by YCharts
Long-term investors shouldn't be worried, though. Costco is a low-margin business, so relatively small changes in the timing of expenses can have a big impact on its reported earnings. These fluctuations typically don't have any impact on its long-term growth trajectory, though.
For example, Costco's adjusted EPS growth slowed to just 3.6% in fiscal 2014. However, adjusted EPS growth returned to double-digit territory in fiscal 2015.
Costco has plenty of earnings growth catalysts ahead. These include a new credit card deal that will reduce its swipe fees, a potential membership fee increase next year, and its ongoing global expansion and market share growth. Costco investors can afford to be patient.
The article Costco Wholesale Corporation Earnings: A Rare Miss originally appeared on Fool.com.
Adam Levine-Weinberg has no position in any stocks mentioned. The Motley Fool owns shares of and recommends Costco Wholesale. Try any of our Foolish newsletter services free for 30 days. We Fools may not all hold the same opinions, but we all believe that considering a diverse range of insights makes us better investors. The Motley Fool has a disclosure policy.
Copyright 1995 - 2015 The Motley Fool, LLC. All rights reserved. The Motley Fool has a disclosure policy.