Correction: EPA-Pruitt-Clean Air Act story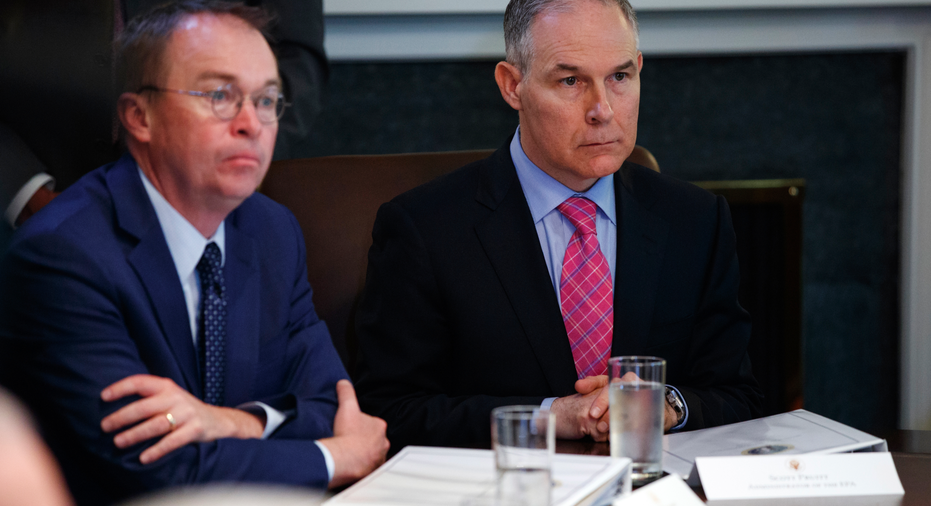 In a story May 10 about Environmental Protect Agency Administrator Scott Pruitt's proposals for enforcing the Clean Air Act, The Associated Press reported erroneously that Rep. Pete Olson was a Democrat. He is a Republican.
A corrected version of the story is below:
Pruitt to hear economic arguments in enforcing Clean Air Act
Environmental Protection Agency chief Scott Pruitt says he will take advice on economic impacts in future enforcement of the landmark Clean Air Act
By ELLEN KNICKMEYER
Associated Press
WASHINGTON (AP) — Environmental Protection Agency chief Scott Pruitt on Thursday announced a major shift in enforcement of the landmark Clean Air Act to include feedback from state and local governments and others on the economic impact of federal pollution limits.
The initiative sets the stage for potential legal battles over how the United States enforces the 48-year-old law combating air pollution. Federal law and U.S. Supreme Court decisions require the EPA to focus on public health — not costs — in setting limits for smog, soot and other pollutants under the Clean Air Act.
Pruitt said the overhaul was part of his drive to give states and local governments more say in environmental decisions.
But a former chairman of EPA science advisory committees called it worrisome. "The Clean Air Act does not call for a balancing of benefits and costs" in setting federal limits for pollutants, said M. Granger Morgan, who led EPA advisory panels under Republican and Democratic administrations. "It calls for protecting the health of Americans."
Under the Clean Air Act, the EPA and its administrators are charged with regularly reviewing the allowable limits for certain pollutants. The maximum levels for smog would be the first to come up for review, by October 2020, under the new procedure, the EPA said.
Under the changes announced by Pruitt, EPA will ask its advisory committees to consider and advise Pruitt on how enforcement affects the economy, health and welfare, energy and society, and will seek input from state and local government, Indian tribes and others on the pollution limits.
"The principles laid out in this memorandum will reform the process for setting national air quality standards in a manner consistent with cooperative federalism and the rule of law," Pruitt said in a statement.
Thursday's announcement underscores the beleaguered EPA chief's role in fulfilling President Donald Trump's directives to roll back regulations.
The changes, which the agency called a "back-to-basics" approach to regulating pollution from vehicles, businesses, agriculture and other sources, comes as the EPA chief weathers a series of federal investigations into his spending and travel and on other ethical matters.
Rep. Pete Olson, a Texas Republican, said "having all the facts" would be helpful for regulators as they set anti-pollution standards that affect wide areas of the country.
Morgan, now a professor at Carnegie Mellon University, said another rule that Pruitt adopted at EPA last fall would be key in determining how the changes laid out Thursday play out.
That 2017 rule bars scientists from serving on EPA advisory boards if they receive agency grants. Pruitt said at the time the move was meant to prevent conflicts of interest.
Critics have said the ban gives business-friendly interests more sway, and scientists less, in advising the EPA.
"It's stacking the deck on behalf of industry," said Joel Schwartz, professor of environmental epidemiology at the Harvard School of Public Health.
Pruitt's memo Thursday also directs the agency to distinguish between what he called "background" levels of pollution vs. man-made levels.
The EPA says the administrator — in this case Pruitt — has the final say in determining "an adequate level of safety" when setting ceilings for health-damaging air pollution.
Paul Billings, a senior vice president of the American Lung Association, called the changes "huge."
The focus on health impacts of pollution limits "is fundamental to the Clean Air Act, and to the premise of protecting public health," Billings said.