Corning Stock Upgraded Ahead of Earnings: 3 Things You Need to Know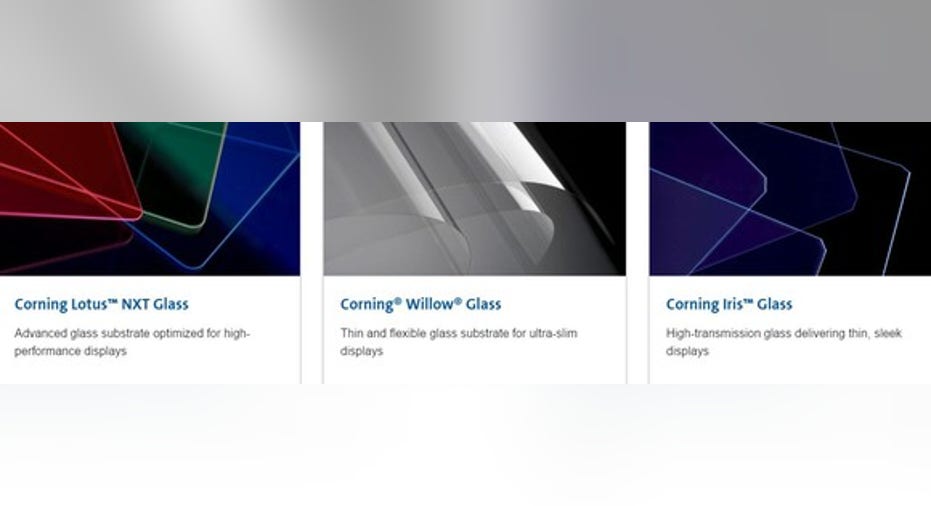 In just 20 days, Corning stock is slated to report its fiscal Q2 2016 earnings. One analyst isn't waiting around for the good news, however.
The news
Four months ago, investment megabanker Goldman Sachs upgraded Corning stock to buy on expectations that Corning -- which traditionally has made high-tech glass for use in the screens on flat panel TVs, computers, and smartphones -- will expand its business to begin installing glass in cars as well.
It wasn't a great bet. Corning turned in a pretty lousy quarter, chock-full of declines in revenue and profits, resulting in a big drop in the stock price. Nevertheless, this morning, Goldman doubled down on its bet, announcing that not only does it rate the stock a buy, but is so sure of its pick that it's adding Corning to its "conviction list."
Here are three things you need to know about the new rating.
Everyone knows Corning Gorilla Glass, but Corning makes all sorts of other glasses for all sorts of needs. Image source: Corning.
Thing No. 1: OK, so margins didn't bottom in Q1 -- but Q2 for sure!
Four months ago, Corning predicted that after a long slide, Corning's profit margin was "expected to bottom in 1Q16." Instead, it continued to fall, with gross profit margin dropping to 37.3% (versus 41% a year earlier) and net profits turning negative.
Undeterred, Goldman Sachs is parroting the same line this morning, telling investors that even if it was badly mistaken four months ago, this time, Corning will certainly "lead to the first sequential expansion for gross margins in a year" -- and greater profits for Corning, and profits for investors besides.
Goldman is now predicting that Corning stock will rise to $27 within a year, yielding profits of as much as 34% for investors who buy today.
Thing No. 2: Why?
What has Goldman Sachs feeling so optimistic? StreetInsider.com ran down the upgrade this morning, and this is what they said: "a glass volume recovery" is in the works at Corning. "Utilization cuts and inventory reductions," which prevent Corning factories from working at full capacity and hurt profit margin, "ended in 1Q16."
Meanwhile, "glass volumes have under-shipped demand for the past three quarters" industrywide, and that's created pent-up demand which will support glass pricing -- resulting in both increases in glass volume shipped and better prices -- and higher profits for Corning.
In short, Goldman may have been wrong four months ago, but it has "conviction" that when Corning reports earnings on July 27, Corning will provide it right.
Thing No. 3: And that's not all
One additional factor could magnify gains for Corning investors -- if Goldman is right about all the above. Last year, Corning reached an agreement to sell its stake in Dow Corning for $4.8 billion. According to the analyst, Corning will be pouring much of that cash into buybacks of its own stock.
In total, Goldman says it's expecting to see "more than $4bn of buybacks over the next year," and believes that by concentrating profits among fewer shares, Corning will add about $0.07 per share to its earnings in 2017. Analysts who are predicting only $1.56 per share in earnings next year, therefore, may be in for a (positive) surprise.
The most important thing: Valuation
Currently, these same analysts say Corning will probably earn $1.36 per share this year. So assume for a moment that Goldman Sachs is right about all the above. Corning earns $1.36 this year, and then flips the digits around and earns $1.63 next year.
That's 20% year-over-year growth -- far better than the 13% long-term growth rate that most analysts are positing for Corning. But is it fast enough to justify the stock's price?
Judging from data provided by S&P Global Market Intelligence, Corning stock sells for 39 times trailing earnings and about 15 times the consensus prediction for this year's profits. At long last, Corning stock is producing strong free cash flow, and sells for a multiple of 23 multiple when valued on FCF. The stock also pays a respectable 2.7% dividend yield.
In short, there's an argument to be made in favor of buying Corning stock if Goldman is right about the glass market hitting an inflection point this quarter, if profit margin rebounds, and if the buybacks arrive in the volume anticipated. Should everything work out exactly as planned, then I'd be willing to wager that Corning stock, at 23 times FCF and with a 2.7% dividend kicker, is a buy on 20% growth.
On the other hand, if any single one of Goldman's predictions fails to pan out -- as they failed to pan out last quarter -- then I fear Corning stock will turn out to be not fairly valued, but overpriced.
Caveat investor.
The article Corning Stock Upgraded Ahead of Earnings: 3 Things You Need to Know originally appeared on Fool.com.
Fool contributorRich Smithdoes not own shares of, nor is he short, any company named above. You can find him onMotley Fool CAPS, publicly pontificating under the handleTMFDitty, where he's currently ranked No. 306 out of more than 75,000 rated members.The Motley Fool recommends Corning. Try any of our Foolish newsletter services free for 30 days. We Fools may not all hold the same opinions, but we all believe that considering a diverse range of insights makes us better investors. The Motley Fool has a disclosure policy.
Copyright 1995 - 2016 The Motley Fool, LLC. All rights reserved. The Motley Fool has a disclosure policy.