Corning Fires on (Almost) Every Cylinder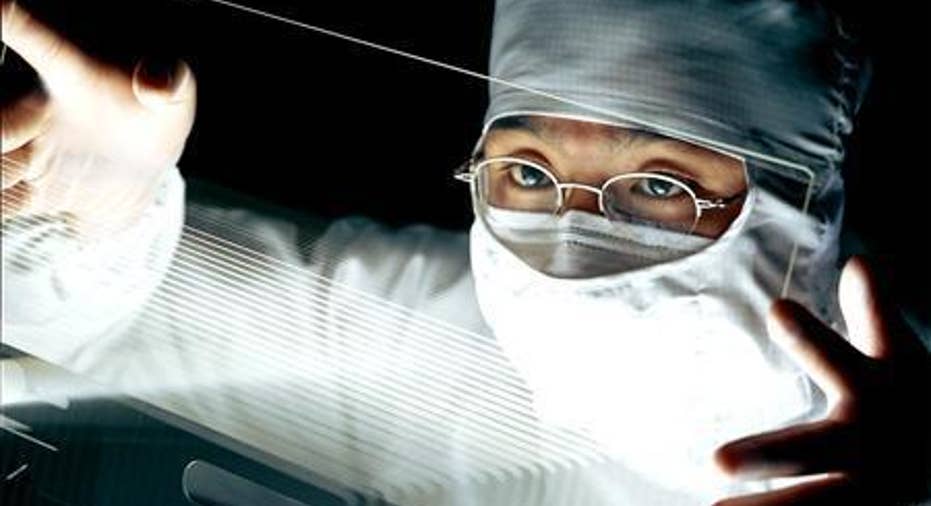 IMAGE SOURCE: CORNING INCORPORATED.
Corning Incorporated may have revealed weaker-than-expected first-quarter 2016 results on Tuesday. But even with shares down more than 8% as the market recoiled, that doesn't mean investors should be dissatisfied with the glass technology specialist's performance.
Let's take a closer look at what Corning achieved in its latest quarter:
Corning results: The raw numbers
| Metric | Q1 2016 Actuals | Q1 2015 Actuals | Growth (YOY) |
| --- | --- | --- | --- |
| Core revenue | $2.17 billion | $2.43 billion | -10.7% |
| Core net income | $340 million | $484 million | -29.8% |
| Core EPS (diluted) | $0.28 | $0.35 | -20% |
DATA SOURCE: CORNING INCORPORATED.
What happened with Corning this quarter?
Generated adjusted operating cash flow of $110 million.
Continue to expect full-year operating cash flow to be roughly consistent with 2015, when operating cash flow came in at $3.2 billion.
Completed a $1.25 billion accelerated stock repurchase program in January, then subsequently repurchased an additional $751 million in shares.
Ended the quarter with $3.5 billion in cash, $1.1 billion of which is in the United States.
Gross margin was 41%, in line with expectations.
Display Technologies segment revenue fell 14.7% year over year, to $829 million, while Display net income fell 24.1%, to to $223 million, both in line with expectations.
Experienced continued moderation in LCD glass price declines, including the smallest sequential first-quarter decline in five years.
Finalized LCD glass supply agreements for the remainder of 2016.
Optical Communications segment sales fell 12.6% year over year, to $609 million, below expectations. Optical net income fell 64%, to $26 million, due to both lower sales volume and costs associated with implementation issues with new manufacturing software.
Environmental Technologies sales fell 6% year over year, to $264 million. But that's also better than the 10% decline management anticipated due to strong demand for light duty substrates in North America and China. Environmental net income fell 22.9%, to $37 million, in line with expectations.
Specialty Materials sales dropped 16.5% to $227 million, as last year's first quarter volume benefited from a supply chain as it was building, where 2016 production ramps aren't expected until later in the year. Specialty Materials' core net income dropped 30.4%, to $32 million.
Life Sciences revenue rose 3.6%, to $204 million, and core earnings fell 5.3, to $18 million, both in line with expectations.
Dow Corning Corporation core equity earnings climbed 13.7%, to $58 million, well above expectations for $45 million.
Recall last quarter Corning announced a tax free "realignment" of its 50% interest in Dow Corning, where it will form a new entity wholly owned by Corning, as well as hold 40% ownership in Hemlock Semiconductor and $4.8 billion in cash. This transaction is expected to close by June.
What management had to sayAs Corning CEO Wendell Weeks said:
Regarding Corning's four-year plan, recall late last year the company outlined a goal of returning more than $10 billion to shareholders through dividends and repurchases, and to invest $10 billion in research, development, and engineering through 2019.
Looking forwardFor the current quarter, Corning expects revenue to increase sequentially for all of its businesses except Environmental, which will decline slightly from Q1 but remain consistent on a year-over-year basis. More specifically, Display segment should benefit from 8% to 10% growth in the retail glass market, Optical should increase over 20% sequentially (but fall in the mid- to high-single digits year over year), Specialty Materials should grow in the low-single digits on higher Gorilla Glass volume, and Life Sciences should increase in the low-single-digits compared to last year.
Corning also anticipates gross margin will improve sequentially to a range of 41% to 42%, with further gross margin expansion in the third quarter as Display volume and Optical sales each continue to rise.
Keeping in mind Corning has never been one to bend to Wall Street's quarterly demands, this was a solid quarter in which sales from Display, Environmental, Specialty Materials, and Life Sciences each met or exceeded expectations. And Optical only fell short because of a temporary issue that has since largely been resolved. Considering management already told investors to expect the first quarter to be Corning's weakest from a financial standpoint, I think long-term investors have no need to worry today.
The article Corning Fires on (Almost) Every Cylinder originally appeared on Fool.com.
Steve Symington has no position in any stocks mentioned. The Motley Fool recommends Corning. Try any of our Foolish newsletter services free for 30 days. We Fools may not all hold the same opinions, but we all believe that considering a diverse range of insights makes us better investors. The Motley Fool has a disclosure policy.
Copyright 1995 - 2016 The Motley Fool, LLC. All rights reserved. The Motley Fool has a disclosure policy.