Core Laboratories N.V. Earnings Hit by the Rig Count Slide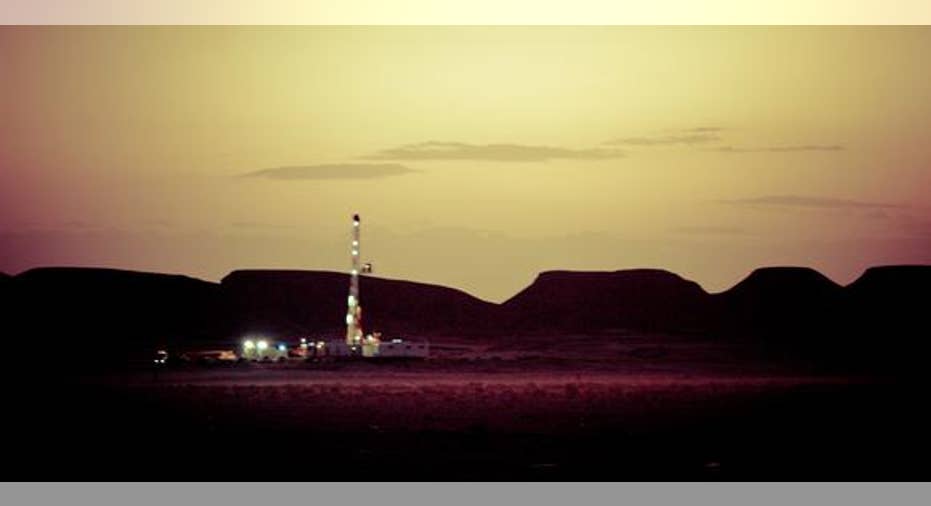 Image source: Flickr userHunny Alrohaif.
The global drilling rig count continues to fall, dropping by another 21% last quarter, which cut deeply into spending for oilfield services. That fall had an impact onCore Laboratories' first-quarter results, which missed its own guidance. On a more positive note, the company sees just one more tough quarter on the horizon before it expects that a "V-Shaped" recovery will take hold in the oil market driving an improvement in its financial results.
Core Labs results: The raw numbers
| Metric | Q1 2016 Actuals | Q4 2015 Actuals | Growth (QOQ) |
| --- | --- | --- | --- |
| Revenue | $153.6 million | $182.7 million | (15.9%) |
| Net income | $15.1 million | $27.7 million | (45.5%) |
| EPS | $0.35 | $0.65 | (46.2%) |
Source: Core Labs.
What happened with Core Labs this quarter?Core Lab is feeling the sting from the falling rig count.
In its fourth-quarter report, Core Labs issued first-quarter guidance that forecast its revenue to decline 10% to around $164 million, with earnings expected to be in range of $0.41 to $0.43 per share. It missed on both counts.
The main culprit driving these lower-than-expected results was Core's revenue description business, which saw its revenue drop 12% to $101.5 million. However, operating margins were a very strong 18%, which is the best of its peer group.0
The company's production enhancement division, which is primarily focused on shale plays and deepwater completions, was even harder hit after revenue slumped 22% from last quarter to $44.1 million. However, operating income in the segment vastly improved, with the company earning $4.1 million during the first quarter after reporting a loss of $639,000 last quarter.
That helped offset a much weaker result from Core's reservoir management segment. While revenue only dropped from $11.4 million to $8 million, operating income plunged from $3.5 million to just $487,000 because the "highly discretionary nature of participating in Core's joint-industry projects delayed spending commitments by oil companies."
On a more positive note, Core's free cash flow continues to be much stronger than net income, with the company delivering $43 million in free cash flow during the quarter. That's just down slightly from the $44.8 million in free cash flow it produced last quarter.
What management had to sayWhile Core continues to feel the impact of the oil market downturn, it sees the market turning a corner very soon. In fact, the company wrote in its press release that it "continues to anticipate a 'V-shaped' worldwide commodity recovery in 2016, with upticks expected to start in the third quarter."
It continued: "Global demand for hydrocarbon-based energy continues to improve, while worldwide crude oil supply peaked in the second half of 2015 beginning a decline that Core believes will continue through all of 2016 and 2017 ... This, coupled with the continuing decline in global production and the continuing increase in global energy consumption, should create a tight crude oil supply market for the second half of 2016, and that should lead to increased crude prices and industry activity levels worldwide."
That's one of the more bullish outlooks on the oil market to be found, with few analysts giving the oil market much, if any, chance of staging a recovery in 2016. It's also in stark contrast to what its larger oilfield service peer Schlumberger sees on the horizon. Last quarter, Schlumberger CEO Paal Kibsgaard went into detail about the financial pressure facing the energy sector, which will probably mute any impact from rising oil prices in 2016 on drilling activity. In fact, the Schlumberger CEO believes that "any significant recovery in our activity levels will be a 2017 event." Both companies can't both be right, so it will be interesting to see which outlook wins out, especially when Core Labs hasn't always been on target with its own quarterly guidance.
Looking forwardSpeaking of guidance, while Core Labs firmly believes it will see a pick-up in its business in the third quarter, it still expects that the second quarter will be a challenge. The company sees its financial results bottoming out this quarter, with revenue falling to between $145 million and $150 million, while earnings are expected to be in the range of $0.34 to $0.36 per share. However, it expects free cash flow to remain strong and continue to exceed net income again in the second quarter.
The article Core Laboratories N.V. Earnings Hit by the Rig Count Slide originally appeared on Fool.com.
Matt DiLallo owns shares of Core Laboratories. The Motley Fool owns shares of and recommends Core Laboratories. Try any of our Foolish newsletter services free for 30 days. We Fools may not all hold the same opinions, but we all believe that considering a diverse range of insights makes us better investors. The Motley Fool has a disclosure policy.
Copyright 1995 - 2016 The Motley Fool, LLC. All rights reserved. The Motley Fool has a disclosure policy.