Core Business Strength Helps LinkedIn Regain Its Footing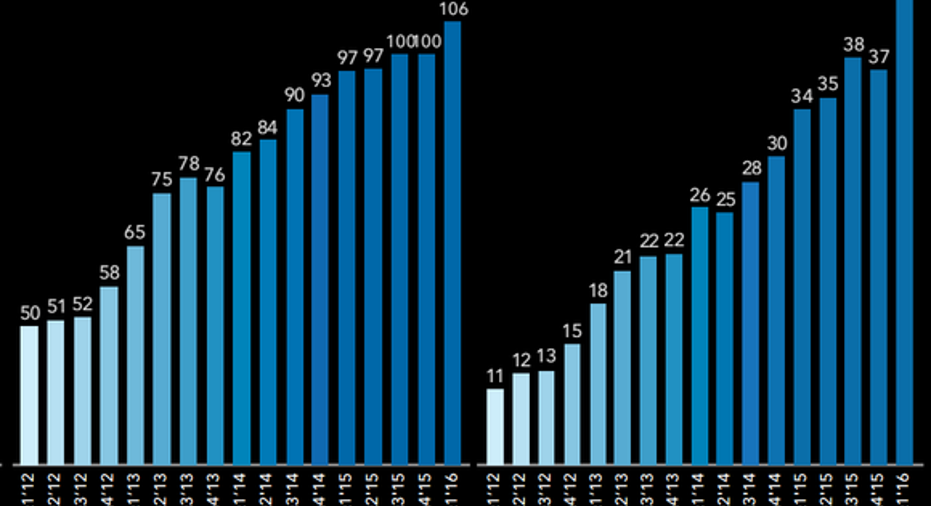 Improvement in closely watched metrics underscored management's confidence on LinkedIn's full-year 2016 outlook. Image source: LinkedIn Q1 2016 investor presentation.
Professional networking platform LinkedIn reported first-quarter 2016 results after the markets closed on Thursday, and indications of vigorous growth, along with management's raised guidance, appeared to reassure jittery investors about the company's near-term prospects.
For the quarter, LinkedIn booked revenue of $861 million, a 35% increase over Q1 2015. Net loss for the quarter of $45.8 million was roughly comparable to last year's $42.5 million loss, as higher product development and sales and marketing costs absorbed the increased revenue. Similarly, net loss per diluted share of $0.35 fell within range of last year's net loss of $0.34.
Talent solutions shows renewed potentialLinkedIn's increased top-line performance was led by growth in its largest segment, talent solutions, which expanded revenue by 41% during the quarter, to $558 million. This comprised nearly 65% of total company revenue during the period.
Talent solutions' business depends primarily on the success of its core hiring products, such as LinkedIn Recruiter. LinkedIn launched an updated version of Recruiter toward the end of 2015, and CEO Jeff Weiner's prepared remarks indicated that the product has indeed been reinvigorated. Weiner stated the following: "Currently, the number of candidates viewed per search is up more than 40%, and InMails per search are up more than 30%."
Outside of hiring, talent solutions' other revenue stream, learning & development, contributed $55 million to segment revenue. This business was formed out of the recent acquisition of online learning provider Lynda.com, and it enjoyed growth of roughly 12% from the last sequential quarter (Q4 2015).
Continued brisk revenue addition in talent solutions provided the critical difference between Thursday's report and the debacle LinkedIn endured last quarter, when it provided a full-year forecast which caught investors unawares. In that forecast, talent solutions was projected to grow during 2016 in only a "mid-20%" range. The aggressive 41% improvement posted in Q1 2016 suggests that full-year growth won't be so middling after all; we'll peek at the company's overall revised forecast below.
Other segments are exhibiting strength as wellTogether, the marketing solutions and premium subscriptions segments split the remainder of LinkedIn's revenue fairly evenly between them, recording sales of $154 million and $149 million, respectively.
Marketing Solutions achieved revenue expansion of 29%, and the big story within this unit was the phenomenal growth of sponsored content revenue, which increased 80% over the prior-year quarter. According to Weiner, sponsored content now represents 56% of marketing solutions revenue. Management indicated that in addition to its "redoubled focus" on content, the company is working on tools which will expand marketers' ability to target customers and increase conversion.
Premium subscriptions' revenue growth rate was the lowest of all three segments, at a still-decent 22% clip over the comparable quarter. Executives lauded the success of the sales solutions product in this segment, which grew 55%, and now comprises 40% of total segment revenue.
Members and engagement are trending higherLinkedIn's continued success can be traced to a handful of metrics which track the growth of its network, and how often and how meaningfully its members use the platform. In the first quarter of 2016, these benchmarks rose by healthy amounts. Cumulative members stood at 433 million, an increase of 19%, which Weiner called the company's "strongest net-add quarter since the beginning of 2014."
Member page views grew 34%, and unique visiting members expanded 9%, to an average of 106 million members per month. More important, LinkedIn reported that "page views per unique visiting member" grew 23%, hitting an all-time high in the first quarter, and thus pointing to the platform's increasing relevance.
The revised outlookHas it only been one business quarter since a muted outlook for 2016 unlinked shares of LinkedIn from the rest of the market, and sent them tumbling? On Thursday, management revised a number of key components of the full-year outlook. Citing the strength of its various initiatives and increasing member engagement, the company notched up its forecast 2016 revenue range of $3.6 billion to $3.65 billion, to a new band of $3.65 billion to $3.70 billion.
Additionally, LinkedIn's new 2016 adjusted EBITDA (earnings before interest, taxes, depreciation, and amortization) goal is $985 million to $1.0 billion. This is a significant revision from the $950 million to $975 million range management put forward last quarter.
Finally, for those investors who are still waiting for LinkedIn to be able to forecast positive net income on a consistent basis, and not just positive earnings as seen through the filter of adjusted EBITDA, the company's strong operating cash flow continues to provide reassurance. LinkedIn generated operating cash flow of $252 million in Q1 2016. Not only is this record cash flow for the network, it represents 50% growth over the prior-year quarter. Meaningful cash flow generation coupled with a solid balance sheet indicates that for now, LinkedIn the has appropriate tools at its disposal to keep chasing aggressive revenue growth.
The article Core Business Strength Helps LinkedIn Regain Its Footing originally appeared on Fool.com.
Asit Sharma has no position in any stocks mentioned. The Motley Fool owns shares of and recommends LinkedIn. Try any of our Foolish newsletter services free for 30 days. We Fools may not all hold the same opinions, but we all believe that considering a diverse range of insights makes us better investors. The Motley Fool has a disclosure policy.
Copyright 1995 - 2016 The Motley Fool, LLC. All rights reserved. The Motley Fool has a disclosure policy.