Copa Holdings' Huge Opportunity in 4 Charts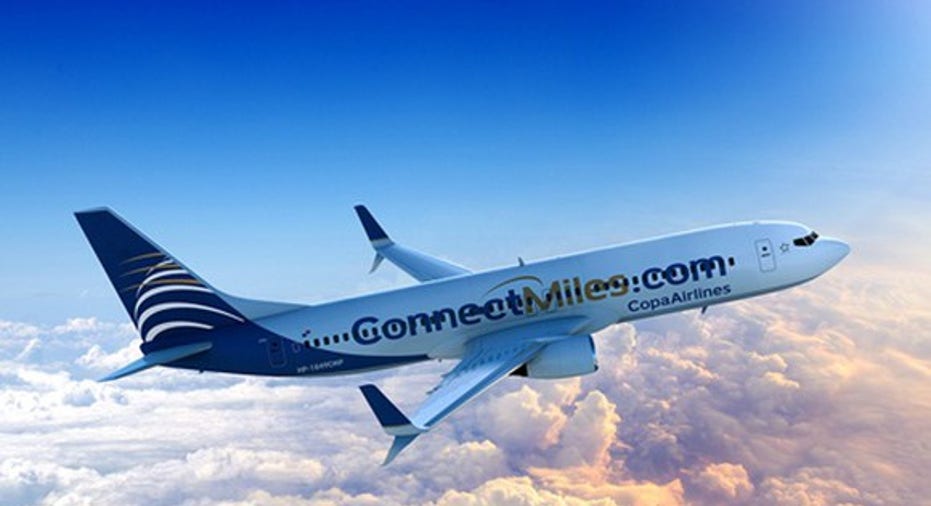 Copa Holdings (NYSE: CPA), the owner of Panama-based Copa Airlines, reported its fourth-quarter and full-year 2016 earnings in February, finishing the year strong with double-digit quarterly revenue growth and improved operating margins. After the rough economic environment Copa has endured over the last two years, investors cheered the improved outlook, bidding shares up to their highest levelssince early 2015.
While it was certainly a terrific quarter for Copa, a look at the company's performance over the last several years underscores the size of the opportunities still on the horizon for the Latin American airline.
Image source: Copa Holdings.
Revenue is ready to grow again
Data from Copa Holdings 10-K and Q4 2016 earnings release. Chart by author.
Copa was growing its top line at healthy rates until demand in many of its key markets -- primarily in Brazil, Columbia, and Venezuela -- began to crumble due to deteriorating economic conditions. As you can see from the chart above, 2015 was an awful year for Copa, with revenue decreasing 17%, driven by a 19% decrease in passenger yield (the average fare paid per mile, per passenger). These conditions persisted into 2016, with the company finally posting positive revenue growth again in the third quarter. For the fourth quarter, revenue was up nearly 13%, allowing Copa to finish 2016 nearly flat.
Revenue trends looks quite promising in 2017. With management citing improving demand again in Copa's markets, the airline is guiding for capacity growth of 5% to 6%. Additionally, the company will be rolling over some weak revenue comparisons over the next two quarters, making its year-over-year growth numbers look even better.
During the worst of times, RASM stayed above CASM
Data from Copa Holdings 10-K and Q4 2016 earnings release. Chart by author.
As you might expect, the company's unit revenue -- also called revenue per available seat mile (RASM) -- suffered along with its overall revenue numbers in recent years. Thankfully, Copa was able to deftly lower its unit costs -- called cost per available seat mile (CASM) -- to ensure an operating profit even during the worst of times. By running the business as efficiently as possible, and redeploying excess capacity to high-demand locations to keep its planes filled, Copa's management team steered the airline through some very dark days.
The good news for the future is that Copa is guiding for higher 2017 RASM of 10.4 cents, which would be the first RASM increase since 2013. Assuming CASM can at least stay flat, this means we should see the gap between RASM and CASM widen.
Operating margins are rebounding
Data from Copa Holdings 10-K and Q4 2016 earnings release. Chart by author.
As you can see, Copa used to regularly boast operating margins of 17% or more, until the economic troubles in its key markets took their toll. However, the company did manage to post operating margin of 12.4% for 2016, which was an improvement over 2015's low watermark of 11.8%.
Those 2016 numbers would have looked even better if not for Copa's costly fuel-hedge losses. Excluding those hedges, 2016 full-year margins would have been 16.7% -- much closer to the company's historical averages. And management sees even better days ahead, guiding for 2017 operating margins of 15% to 17% -- back near its pre-2015 levels.
Net income went away for a while, but it's back
Data from Copa Holdings 10-K and Q4 2016 earnings release. Chart by author.
Copa has historically been a very profitable airline. Even during a challenging 2016, the company managed $339.8 million in net income. But 2015 was an outlier year that needs some explaining. As is obvious by now, it was one of the most difficult years in the company's history, with operating revenue down nearly 17%. Compounding matters, Copa recognized a Venezuelan currency translation and transactional loss of $432 million that resulted in a large net loss for the full year.
That scenario, thankfully, won't be repeated. And with revenue set to expand in 2017, along with rising operating margins and disciplined cost control, we should expect to see Copa's net income rise nicely again this year as its business moves another step closer to its healthy, steady-state potential.
10 stocks we like better than Copa HoldingsWhen investing geniuses David and Tom Gardner have a stock tip, it can pay to listen. After all, the newsletter they have run for over a decade, Motley Fool Stock Advisor, has tripled the market.*
David and Tom just revealed what they believe are the 10 best stocks for investors to buy right now...and Copa Holdings wasn't one of them! That's right -- they think these 10 stocks are even better buys.
Click here to learn about these picks!
*Stock Advisor returns as of February 6, 2017.
Andy Gould owns shares of Copa Holdings. Andy Gould has the following options: short May 2017 $105 puts on Copa Holdings. The Motley Fool recommends Copa Holdings. The Motley Fool has a disclosure policy.