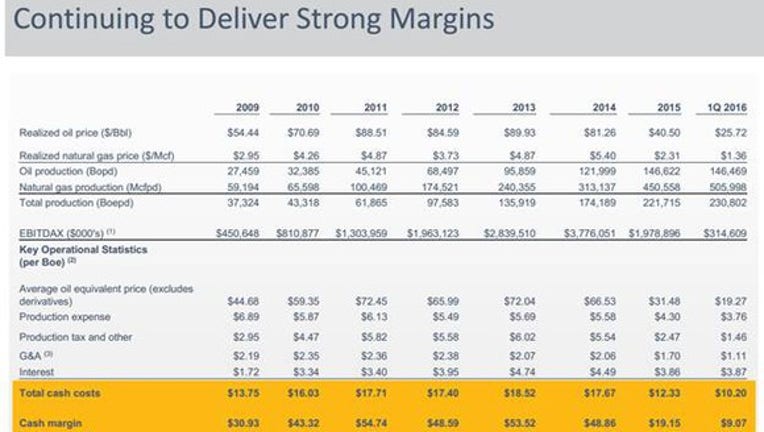 Everyone knows oil prices have been low, but few people may appreciate just how bad those prices were for Bakken producers in the first quarter. While West Texas intermediate (WTI) has been ugly, Bakken producers have had to settle for a discount on even the WTI price due to the cost of transporting the oil to Cushing were WTI is priced. Let's take a closer look at just how bad things were in Q1.
Who could have predicted this?
Today's WTI oil price would have seemed impossible two years ago. In January and February, we saw several days of prices under $30 per barrel, with a price as low as $26 coming up a few times.
Bakken producers had it worse still. In the first quarter of 2016, Continental Resources had an average realized sales price, excluding the effects of derivative positions, of $25.72 per barrel of oil and $1.36 per Mcf of gas. The realized price was $19.27 per barrel of oil equivalent which is the combined price of both the oil and natural gas production on an energy equivalent basis.
Without the effect of derivatives, Continental's first-quarter 2016 oil differential was $7.78 per barrel below the NYMEX daily average for the period. The quarter's realized wellhead natural gas price, again without the effect of derivatives, was on average $0.73 per Mcf below the average NYMEX Henry Hub benchmark price.
The differentials come from having to transport Bakken production to the Cushing oil storage terminal. The discount equals the cost of getting Bakken oil to Cushing.
Those numbers are nothing short of brutal. The only good news is that the slowdown in Bakken production resulting from low oil prices is going to lessen the differential price that Bakken production received. Pipeline capacity will finally have a chance to catch up with production, and producers won't have to use railroads to transport, lowering transport costs and thus the differential.
Image source: Continental Resources corporate presentation.
Adding to capacity are plans to expand of two existing pipelines and adding a new 225,000-barrel-per-day pipeline called Sandpiper, which EnbridgeEnergy Partners is building and operating.
Image source: Continental Resources corporate presentation.
This extra pipeline capacity should keep Bakken differentials lower for at least a couple of years, even if production in the region stops declining and starts growing again.
What did Q1 cash inflows and outflows look like?
From 2011 through 2014, the cash margin Continental was making from each barrel of production -- in other words, its operating profit -- was close to $50 most of the time. This is revenue less the costs of lifting the oil, royalties, general and administrative expenses, and interest. It excludes the cost of drilling the wells.
Image source: Continental Resources corporate presentation.
In 2015, that cash margin collapsed to $19.15 per barrel, and in the first quarter of this year it hit $9.07. At these prices it still made since to keep pumping oil because the company generated positive cash flow, but there's no way Continental could ever recover the upfront cost of drilling the original wells.
Image source: Continental Resources first-quarter earnings report.
Total cash flow, of course, also collapsed during the first quarter. Continental's Q1 2016 had cash flow from operations of $278 million, down almost 50% from Q1 2015 -- which was a pretty horrific quarter in its own right.
What to expect going forward
Q1 2016 was a dark time for Continental and all of its competitors. Shale oil doesn't function for long at those kinds of oil prices. While prices have recovered significantly in recent weeks, they're still too low for pretty much all of these producers.
The good news for Continental shareholders is that this company is not on its last legs, as so many operators are.
Image source: Continental Resources corporate presentation.
The health of Continental's balance sheet gives it the ability to wait for higher oil prices to arrive. The company has almost $1.9 billion of room on its revolving credit line and no worries that its banking group will change the size of that revolver -- the loan terms state no borrowing base redetermination. Moreover, the interest rate on Continental's debt is a reasonable 4.3% (bless those easy-money central bankers), and there are no debt maturities until 2018.
Compared with much of the oil patch, Continental is sitting pretty. That makes it a pretty sensible stock for those who believe oil prices are going to continue to head higher.
The article Continental Resources Sold Oil for Ridiculously Low Prices Last Quarter, How Can it Improve? originally appeared on Fool.com.
TMFWolfpack has no position in any stocks mentioned. The Motley Fool has no position in any of the stocks mentioned. Try any of our Foolish newsletter services free for 30 days. We Fools may not all hold the same opinions, but we all believe that considering a diverse range of insights makes us better investors. The Motley Fool has a disclosure policy.
Copyright 1995 - 2016 The Motley Fool, LLC. All rights reserved. The Motley Fool has a disclosure policy.