Consumer Sentiment Comes Back to Earth, But the Sky Isn't Falling
As President Donald Trump gets settled into his post as commander in chief, U.S. consumers are trying to understand what their new leader's policies mean for their pocketbooks, but diverging data proves they haven't made up their minds just yet.
After hitting a 15-year high in December, a gauge of consumer confidence from the Conference Board pulled back slightly in January as those surveyed said they were less optimistic about the outlook for business conditions, jobs and income prospects. Data released Tuesday showed the index fell to 111.8 from 113.3 in December, while economists expected a shallower dip to 113.
But the decline in optimism – both from consumers and this week in the U.S. stock market – might not be a sudden about-face from the nation on Trump and his policy agenda, said BNP Paribas Chief U.S. Economist Paul Mortimer Lee.
"What's happened is just after the election, the euphoria got carried away with itself. We've had a few days of lots of activity, lots of intentions [from the president], and lots of controversy. Does that necessarily tell you we're going to be in a state of controversy forever? I think that's just extrapolating too much," he said.
Lee continued that once Trump begins to work with Congress on solid policy proposals favored on the campaign trail – corporate and personal tax reform, renegotiating U.S. trade policies, repealing and replacing the Affordable Care Act – a more regular legislative process should take hold.
"The people who feel they lose are always more vocal," Lee said. "I think what we see [now] is more people who feel more negatively about Mr. Trump. What we're not sure about is what the average is. We know the left tail has moved more left, that's for sure. But what's happened to the center and the right tail? We don't know yet."
Though consumers' short-term economic outlook moderated somewhat from December, an assessment of their feelings about current conditions increased for the month, with more survey respondents considering business conditions to be "good," and job prospects "plentiful."
That fell in line with a reading last week on the University of Michigan's Consumer Confidence gauge, which showed the post-election surge in confidence pushed consumer optimism to the highest level in 13 years. The index rose to 98.5 this month, just above a reading of 98.2 in December. The move higher was boosted by optimistic views of personal financial situations and an overall positive economic outlook.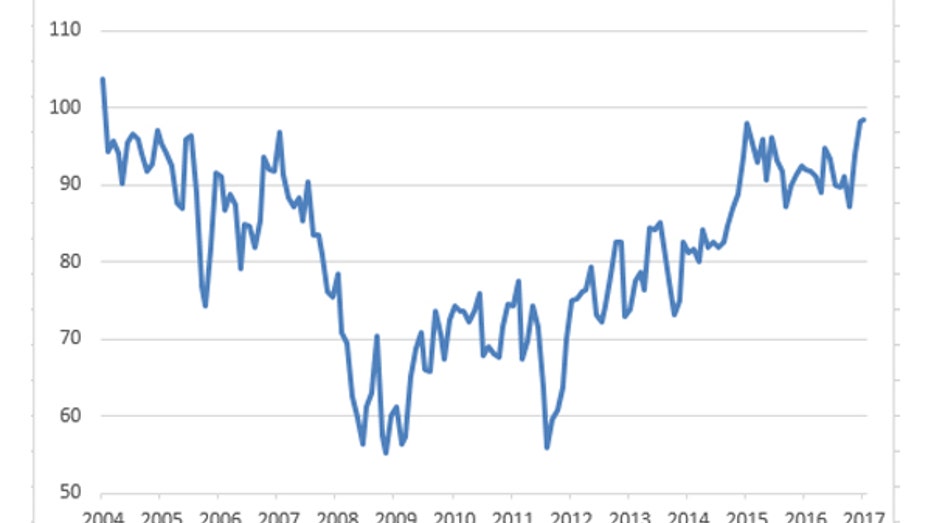 University of Michigan economist Richard Curtin, who directs the survey, cautioned though, the surge in confidence was based on Trump's campaign promises and is not yet impacted by economic outcomes. Further, he said consumers who were interviewed again after responding six months ago tended to show extreme swings in sentiment based on political ideology. In other words, Democrats became more pessimistic while Republican respondents were more optimistic about the political future of the U.S. and what it indicates for economic growth prospects.
Indeed, Trump's executive-order action during his first week in the White House has drawn some criticism, resulting in nationwide protests: The latest over the weekend in response to his move Friday to temporarily ban immigrants from seven predominantly Muslim nations from entering the U.S. That worry about future policy and the extent to which it could impact economic growth extended to financial markets this week, sending U.S. stocks off their post-election highs.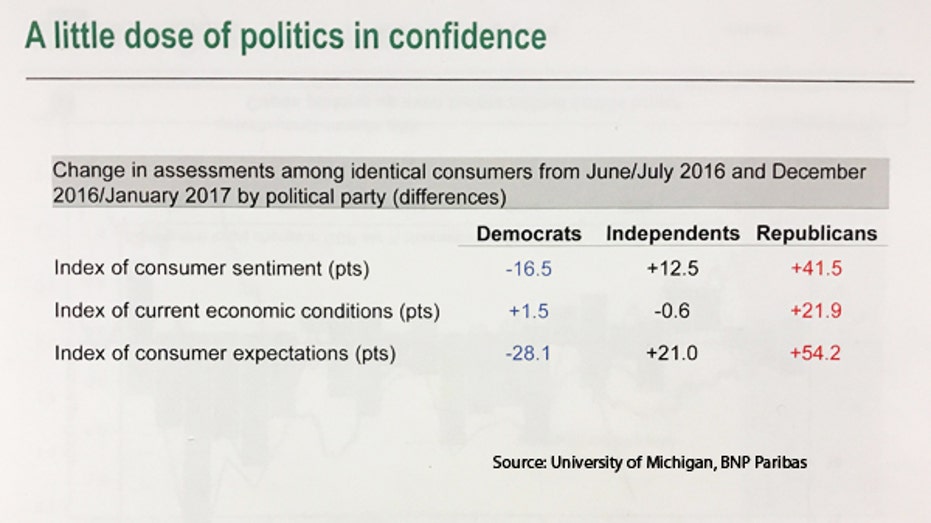 Regardless, IHS Director of Consumer Economics Chris Christopher, said consumer spending will remain a growth engine in 2017 supported by rising employment, disposable income and household wealth.
"Stock prices have climbed to new highs in January and home prices continue to rise in response to limited supplies. This report points to a first-quarter real consumer spending growth rate of around 3%, and real consumption growth is expected to pick up from 2.7% last year to 2.8% this year," he said.