Conn's Has Become a Crazy Investor's Best Buy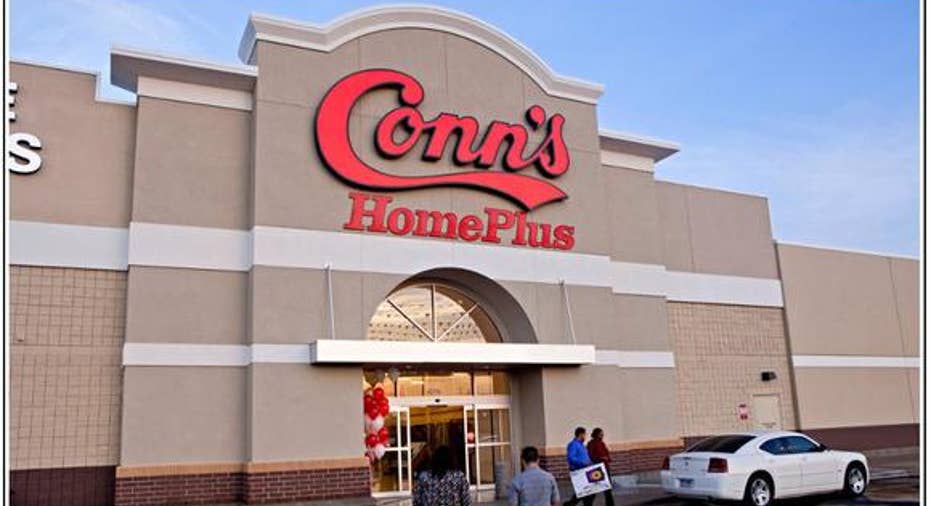 Image source: Conn's.
When it comes to wild price swings it's hard to beat Conn's these days. The consumer electronics retailer has been the poster child of volatility in recent weeks.
Conn's stock soared 20% last week, and the rally happened without any material news. This isn't the first time that the 103-store chain has had a big weekly move without any clear catalyst driving the rally or sell-off.
Let's check out how the last few weeks have played out for the rambling retailer.
| | | |
| --- | --- | --- |
| Week | Close | Change |
| 2/29/16 | $19.37 | 13% |
| 3/7/16 | $17.81 | (8%) |
| 3/14/16 | $17.06 | (4%) |
| 3/21/16 | $15.82 | (7%) |
| 3/28/16 | $12.12 | (23%) |
| 4/4/16 | $10.93 | (10%) |
| 4/11/16 | $12.45 | 14% |
| 4/18/16 | $15.40 | 20% |
Source: Yahoo! Finance.
Stocks that have a big move up or down in any given week often settle back into the ordinary, but that's not the case here. Conn's has posted double-digit percentage moves for four weeks in a row. Operating a chain of stores selling appliances, consumer electronics, and furniture will have its ups and downs, but Conn's is consistently wild.
Best Buy is the bellwether in this niche, and it's certainly not moving as erratically as its smaller rival. You have to go all the way back to last summer to find the last time that Best Buy stock experienced a double-digit percentage move.
There's a dramatic difference in each stock's beta, as you can probably imagine. Best Buy's beta over the past year is 1.05, implying that its volatility is similar to the general market. Conn's on the other hand is clocking in with a one-year beta of 2.18.
The concepts aren't exactly identical. Best Buy relies on small-ticket media items to drive a steady flow of traffic. Conn's also generates nearly a third of its sales on furniture pieces and mattresses, categories that are largely immaterial to Best Buy's business.
Then again, the volatility can't be explained by merely the differences in revenue mix. Most of Conn's swings are the result of its precarious situation as the financing provider for its customers that can't pay for its purchases right away. That rears its ugly head as a problem from time to time, and as of the end of March the percentage of its consumer financing that had been delinquent for more than 60 days stood at a problematic 8.9%. That's too many deadbeat borrowers, higher than the 8.7% rate at Conn's a year earlier.
Conn's had come through with a reasonable holiday quarter before that. Revenue moved higher as a result of store expansion offset a 1.7% year-over-year dip in comps. However, factor in Conn's decision to stop selling video games, digital cameras, and some tablets and comps would have been positive. Margins improved during the period. However, Conn's latest update showed a troublesome 8.5% slide in comps.
Shareholders know that Conn's is a bucking bronco. The stock soared 157% in 2013, only to shed 76% of its value in 2014. It bounced back with a decent gain of 26% last year, but now it's off by a whopping 40% so far in 2016. Will it stretch its streak of double-digit percentage moves to five weeks? It's certainly possible. The stock kicked off the new trading week with an 8% dive -- on no news, of course -- on Monday.
The article Conn's Has Become a Crazy Investor's Best Buy originally appeared on Fool.com.
Rick Munarriz has no position in any stocks mentioned. The Motley Fool has no position in any of the stocks mentioned. Try any of our Foolish newsletter services free for 30 days. We Fools may not all hold the same opinions, but we all believe that considering a diverse range of insights makes us better investors. The Motley Fool has a disclosure policy.
Copyright 1995 - 2016 The Motley Fool, LLC. All rights reserved. The Motley Fool has a disclosure policy.